COVID-19 Latest: Immune Evading Mutated SARS-CoV-2 Strains A222V Spreads In Italy And Europe, UK Approves Pfizer's Vaccine, America Doomed.
COVID-19 Latest
: As predicted, the next few months will be fun days for those who have been prepared in advance and have been taking advice from us. Stay locked up in your homes and sip hot
therapeutic teas
as we watch the fun that is about to happen in the arrogant countries like America and UK where their own incompetent and greedy governments have been misleading the majority of its ignorant citizens who only believe what their media and so called 'experts' say.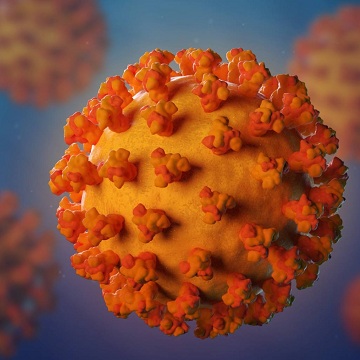 A222V Mutated Strain That Can Evade Both B And T Cell Immune Responses Fast Spreading In Europe.
In October, Thailand Medical News warned that a new SARS-CoV-2 mutation strain was fast appearing in Europe and that it had a mutation A222V which could possibly evade immune responses.
https://www.thailandmedical.news/news/sars-cov-2-mutated-variant-20a-eu1-with-a222v-mutation-on-it-becoming-prevalent-circulating-strain-in-europe-and-could-be-more-dangerous
Thailand Medical News found that of the two key mutations of this 20A.EU1 variant, ie the A222V mutation on the spike protein and the A220V in the nucleoprotein, the A222 mutation could be dangerous as its amino acid residue 222 is located within the B cell immunodominant epitopes which was already previously identified in another study. The A222V mutation may affect the structure of these epitopes.
https://pubmed.ncbi.nlm.nih.gov/32612199/
This could mean that this strain could have an immune evasive advantage in terms of B cell and T cell responses. Further detailed studies are urgently warranted on this. There could also be implications in terms of vaccine and therapeutic developments. As for the mutations on the ORF14 protein and also on the nucleoprotein we at TMN hypothesize that they could have a role in term of terms of interferon inhibition in the human host and again this needs further studies for verification.
An alarming new study reports the rapid rise to dominance of this new strain in Italy and the rest of Europe including UK. This strain or variant which we referred to as the 20A.EU1 variant, with the A222V mutation is termed the GV clade, is characterized by a single point mutation by the researchers.
https://www.medrxiv.org/content/10.1101/2020.11.28.20237016v1
The new study's findings emphasize the importance of understanding the virus's mutation dynamics. These alterations in the key antigens could affect accurate diagnoses and undermine the efficacy of vaccines and other interventions.
Urgent epidemiological studies are key to evolving a winning set of strategies against any infectious disease. The current pandemic of COVID-19 is no exception. Multivalent therapeutics and prophylactics will be essential long-term to prevent recurring waves of COVID-19 cases.
Virologists and genomic specialists first reported a new SARS-CoV- 2 variant with the A222V substitution in the spike glycoprotein in Spain during March, 2020. This spread quickly across the European continent from June onwards, and became the GV clade's ancestor. About 7% of current genomes uploaded to the GISAID database are due to this virus clade at present.
The new clustering analysis provided 57 unique sequences, which were shown, on phylogenetic analysis, to have one cluster of correlated sequences from clade GR, all from June, and retrieved from Rome, Lazio. There were 10 sequences, 9 from this laboratory and 1 from another laboratory in Sardinia, which was retrieved from GISAID, from August, and contained the A222V substitution (being part of the GV clade). This comprises 17.5% of all Italian sequences.
It was found that the infected individuals with these variants were (August-time) travelers returning to Italy from Sardinia or Spain, as well as those (in October) without known travel history.
It was found that during the study period, 3 other clades namely, GR, G and GH were circulating, with the GR clade comprising the dominant strains at around 68% of isolates. G and GH made up around 9% and 5% of circulating viral strains.
Also it is noteworthy that there were two other isolates from travelers, collected in August, one from an individual returning from Croatia and one from a Malta returnee, which belonged to GR and G clades, respectively. They also found three other isolates from a Neapolitan laboratory, which was from clade G as well.
Although this study depends on a small number of sequences, the findings show a sudden rise in the number of GV clade variants in circulation in this country, such that the A222V variant now makes up over 11% of sequences in the period from June to October. The earliest GV isolates were observed in August (on the 25th) and came from a Sardinian subject, with two others from travelers returning from that island or from Spain. However, all GV sequences in samples collected in October were from patients without a known history of travel, and presumably represent community transmission.
In summation, the research suggests that the GV clade was introduced into Italy in August, perhaps first in Sardinia and Lazio, among other regions, by travelers re-entering the country, and then spread widely among the local inhabitants. Such community transmission is still continuing to take place. More studies are required to understand the occurrence of this clade in other regions of Italy, and how it affects the spread of this virus.
The A222V mutation is in a spike protein region that does not impinge on the receptor-binding domain. Nevertheless, it is important to evaluate the mutation's role in enhancing the efficiency of viral transmission. Again, further studies should focus on the location of the mutation in a possible B cell-binding site, which may mediate altered immune cell recognition.
The strain is also now found to be in other parts of Europe including UK.
UK Approves Pfizer Vaccine For December 2020 Roll Out
It was announced on December 2, following the Medicines and Healthcare products Regulatory Agency (MHRA) approval of the Pfizer vaccine, BNT162b1, the UK has announced its plan to commence targeted vaccinations for frontline healthcare workers, nursing home patients and those with underlying health conditions as early as December 12.
This apparent targeted approach is aimed at protecting those most vulnerable to severe or critical COVID-19 (the elderly and those with potential comorbidities) as well as those most likely to become infected (healthcare workers) and transmit to others. When the capacity is available, the aim is to scale up the operation to the wider population in a phased priority approach depending on risk factors and other demographic considerations.
In being the first to roll out these vaccinations, the UK government believes it leads the charge in immunizing against SARS-CoV-2.
In November 2020, the large pharmaceutical company Pfizer, in collaboration with BioNTech, announced positive outcomes for their third and final phase of clinical trials, which involved human participants. The vaccine yielded an efficacy of 95%, significantly higher than the World Health Organization's (WHO) recommended target of 70%.
Traditional vaccines typically inject an attenuated or inactivated version of the virus to elicit a robust immune response; however the BNT162b1 vaccine is part of a new class of messenger ribonucleic acid (mRNA) vaccine that injects a part of SARS-CoV-2's genetic material within a surrogate lipid envelope. The mRNA, which contains the message for building the spike protein essential for the SARS-CoV-2's entry into the host cell, then stimulates the host's immune system to produce neutralizing antibodies that target the spike protein antigen.
It should be noted that mRNA vaccines were never approved in the past due to variety of reasons and also it should be noted that this vaccine is based on the AAV platform ie it uses the adeno-associated vector platform.
https://www.thailandmedical.news/news/breaking-covid-19-vaccine-exclusive-possible-dangers-of-using-adeno-associated-virus-aav-vectors-for-covid-19-vaccines-
The UK regulatory body responsible for approving new drugs and medicines, the MRHA, had been reviewing the Pfizer vaccinate candidate since October 2020, when the results of the candidate's clinical trials were submitted for scientific scrutiny. The MRHA's decision was also made with advice from the Commission on Human Medicines (CHM), the government's independent expert scientific advisory body.
Although this undoubtedly comes as a relief to many of the ignorant individuals, the road to mass immunization is still a long way off. Not only does the vaccination process require two jabs, within 21 days of each other, but the vaccine needs to be stored at cool temperatures before being administered, and the sheer volume of individuals needed to promote immunity will be straining the government's ability to deliver in the timely manner required to offset economic damage already done.
The British government may also face resistance from members of the public skeptical about the efficacy and safety of the vaccine. They also fear the news may breed complacency at a time when non-pharmaceutical interventions remain crucial. Experts emphasize the need to remain vigilant and follow the rules to stop the virus from spreading – including social distancing, face masks and self-isolation while the vaccination program gets underway. "We can't lower our guard yet," implores Prof Chris Whitty, the government's chief medical adviser.
The UK's Health Secretary Matt Hancock told media, "Today is a triumph for all those who believe in science. This is indeed a major development in the pharmacological fight against the COVID-19 pandemic; a moment many, including the government, have awaited with bated breath. Whether or not this marks the beginning of the end of the pandemic will depend on population compliance, a herculean logistical effort on the part of the government, and time needed to see how the vaccine's trial efficacy results hold up out in the population." No one is sure if this buffoon really knows what science is?
At present, the UK has reported 1.663 million cases and over 59,800 deaths.
America Has Reached A State Of Beyond Salvation
America has sadly plunged down to the lowest level in its history due to incompetence and greed involved in the management of the COVID-19 crisis by certain unscrupulous individuals. Also sadly, the American people are paying and will be paying a high price for this in the next few months and years.
The COVID-19 crisis is fast accelerating in the country to a point of no return and even if any COVID-19 vaccines are introduced, it is most probably going to be a futile effort , that is if the vaccines do not backfire and further aggravate the situation.
In the last 24 hours, 196,695 news COVID-19 infections were recorded in America and an alarming 2,831 Americans died!
(Source: Worldometer and The COVID-19 Tracking Project.)
COVID-19 hospitalizations have reached 101,520 with more than 29,000 patients in ICU and healthcare facilities are over stressed and there is now an acute shortage of nurses and doctors.
(Numerous healthcare staff have died in this crisis, some are still recovering while some have decided to leave the practice due to the government's policies.
As of today, reported total number of COVID-19 infections America stands at 13.92 million while more than 273,320 Americans have died from the COVID-19 the crisis.
About 85 percent of those who have been deemed as recovered are likely to suffer from a variety of health and medical conditions collectively known as Long COVID including conditions like fatigue, myocarditis, neurological and mental conditions etc.
The CDC estimates the actual number of those infected in America to be tenfold of current reported figures ie more than 130 million Americans. If this is really true, then lockdowns, mask and social distancing policies are no longer even capable of containing the crisis and neither will be vaccines.
The country is really in a state of no return and the arrogance of its people in terms of only believing what their media and 'experts' say is largely to blame for their downfall.
It must also be noted that America is the country where all the COVID-19 drug and therapeutic scams originated from, starting with hydrochloroquine, remdesivir, the convalescent plasma protocols, the monoclonal antibodies and soon certain of the vaccines.
Despite having so many experts and research institutions and money, it is one of the worst hit countries which make us to wonder.
For more
COVID-19 Latest
news, research or developments, keep on logging to Thailand Medical News.