COVID-19 Disinfectants: The Critical Need For Credible COVID-19 Disinfecting Services As Shutdown Eases
COVID-19 Disinfectants
: As various countries around the world ease shutdowns or lockdowns either as a result of COVID-19 infections decreasing or due to increasing economic pressure to restart up businesses, it is also imperative that more precautionary and safety measures along social distancing guidelines are put into place to prevent new spikes of infections.
Health authorities, companies and landlords needs to ensure that the safety of citizens and customers and their safety should be the first priority. For entities like shopping malls, restaurants, hotels, clinics and even hospitals and condo buildings, disinfecting common areas and frequently visited zones are a must.
Contrary to fallacies and misconceptions that disinfecting a place once in a while would suffice, studies show that the SARS-Cov-2 coronavirus can be spread by aerosol and airborne modes and also the novel coronavirus itself is extremely resistant to high temperatures and conditions and can also survive on various kinds of surfaces for days, thus the need for professional and credible disinfecting services.
There are about 19 companies offering disinfecting services in Thailand but when carefully analyzing the chemicals that they are using and the way that it is done and the frequency that they advocate, it is really questionable as to how effective are these costly services that they are offering.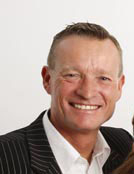 Mr Lars Homgaard Lang-Serial Entrepreneur
And Executive Dircetor Of Clean Zone Thailand

H
owever one new company that emerged on the scene since the start of the pandemic and has been going all the way out to ensure the safety of their clients and customers is a company called Clean Zone Services that is one of the many companies owned by serial entrepreneur Mr Lars Holmgaard Lang, a Danish national who has been in Thailand for a long time. Mr Lang who is in real estate, investments and also security platforms such as the distribution of high technology CCTV cameras etc while wanting ways to protect his own loved ones and family stumbled across the need for reliable and credible disinfecting services not only due to the current COVID-19 crisis but also against any other potential future health outbreaks.
It was observed that many companies in Thailand were merely using diluted versions of bleach or sodium hypochorite and in some cases these were not even done in the correct dilutions.
Though the WHO and also the BMA and various entities advocate the usage of 0.1 concentration of Sodium hypoclorite, there are no real studies that can support that it works against the SARS-CoV-Virus.
The US CDC recommends a list of chemicals that are endorsed by the US EPA agency as being suitable against the SAR-CoV-2 as they had prior efficacy against other viruses.
https://www.epa.gov/pesticide-registration/list-n-disinfectants-use-against-sars-cov-2
However this is misleading and dangerous as there needs to be proper studies to validate the effectiveness of disinfectants that are being used against the SARS-CoV-2 coronavirus and also the proper exposure time frame and concentrations used. To make matters worse, some of these disinfectants can actually harm ones respiratory system and health if used wrongly.
This is where Clean Zone comes in as Mr Lang had invested a lot of resources and also accessed collaborative studies with various research institutions to find the right type of chemicals to be used depending on the details of the location, its interiors, air-flows, materials predominantly used and functionality of the premises to be disinfected.
Mr Lang brought in a team of professionals to not only develop the new disinfecting services company but also to embark on extensive research to formulate the most effective protocols depending on client's premises, needs and business.
As Mr Lang pointed out, "There is no one standard disinfectant that can be used in all circumstances. For instance in hospital settings, the disinfectants used are high grade medical standard based chemicals which need to be done on a regular basis each day. In restaurant settings, we have a different range of disinfectants and even for gyms or saunas, depending on the interiors etc, we have a different protocol. For schools and nurseries, we have different protocols taking into consideration the health considerations and behaviours of different age groups of students.
How the disinfectants are applied is also critical and also certain disinfectants if used wrongly can be harmful to the respiratory health of individuals and can even make them more susceptible to all kinds of pathogens.
Clean Zone normally sends in a team to evaluate the premises before suggesting a specific disinfecting protocol and they even go into details such as disinfecting and cleaning air and ventilation ducts and also also-conditioning units. They offer a sort of precision and tailored disinfecting services
Clean Zone also carries a wide range of disinfectants from medical grade to food grade disinfectants, to even including organic and environment-friendly grades.
Clean Zone also has its own proprietary and patented system of notifying customers of its clients when the premises was last disinfected and the validation period. This not only gives reassurances to customers and patrons of these premises that are disinfected by Clean Zone but also monitors the 'well-being' of the premises.
Clean Zone has a wide range of disinfectants and also protocols depending on the premises to be disinfected and also to suit the budgets of the clients and the company also carries a wide range of other new disinfecting platforms using ozone, plasma, nanotechnology and even electromagnetic waves to deal with various pathogens not just the SARS-CoV-2 coronavirus. These also target dangerous bacteria, fungi and also the various other viruses.
Clean Zone employs a wide range of professionals in its company that are constantly researching new developments to ensure that only the best protocols are used to protect the health of all.
For more on
COVID-19 Disinfectants
, keep logging to Thailand Medical News