Coronavirus News: Prelude To COVID-19 Second Wave-France COVID Crisis Worsening, Spanish Virus Cases Soar By Over 12,000, Virus Spikes in UK
Coronavirus News
: As most people once again go out freely this weekend in denial of what is coming and how they are indirectly contributing to it, the official global COVID-19 deaths has now reached 916,125 while the official numbers of those infected have now reached more than 28.5 million. As we all know by the now the reality is that the actual numbers are much higher than this and it is going to rise exponentially in the coming cooler season.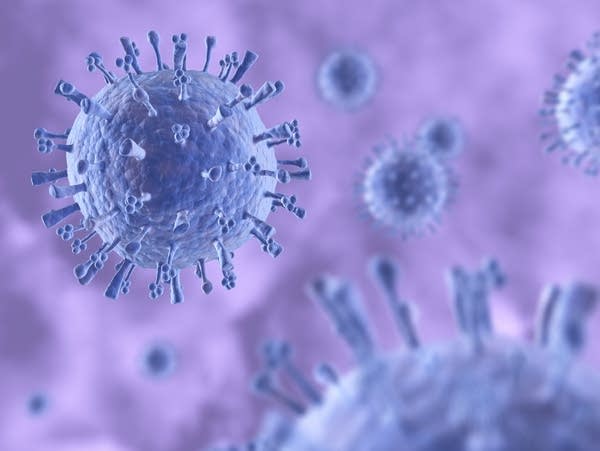 SPAIN
The official number of COVID-19 cases in Spain has leapt by more than 12,000, health ministry figures showed Friday, the biggest jump in a 24 hour period since the pandemic began.
The country this week became the first European Union country to surpass half a million COVID-19 infections, and it currently has a total of 566,326 confirmed cases according to the Spanish health ministry ie 12,183 more than a day before.
In the past two weeks Spain has reported between 7,000 and 8,000 new cases of the virus per day. On Thursday the country reported more than 10,000 new infections.
However while the number of confirmed cases is sharply higher, the mortality rate is far below that recorded at the height of health crisis in late March and April, when nearly 900 deaths a day were reported.
Fortunately in the last seven days the Spain only recorded 241 virus deaths.
The COVID-19 disease has killed nearly 30,000 people in Spain, one of the highest tolls in the world.
The country has also seen a surge in infections since a strict three-month national lockdown was lifted at the end of June, with Madrid facing the brunt of this so-called second wave of infections.
In order to curb infections, authorities have imposed fresh restrictions, ordering the closure of nightclubs and cocktail bars last month and making the use of face masks mandatory in public.
FRANCE:
Jean Castex French Prime Minister warned on Friday that the country was seeing a "clear worsening" of the COVID-19pandemic, but aimed to avoid a new nationwide lockdown that would hammer the economy.
It was reported that nearly 10,000 new cases have been recorded daily in the last two days, a record since wide-scale testing began, but Castex said a recent increase in COVID-19 hospitalizations was particularly worrying.
He added, "We have to succeed in living with this virus, without returning to the idea of a generalized lockdown. Our strategy is not changing. We must fight the virus without putting on hold our social, cultural and economic life, the education of our children and our ability to live normally."
He said 42 of France's 101 departments are now classified as "red zones" where the virus is circulating rapidly, up from 28 earlier this week.
Castex said the authorities in Marseille, Bordeaux and the overseas territory of Guadeloupe should by Monday present plans to deal with significant local outbreaks.
He did not announce any major new restrictions, urging people instead to respect social distancing guidelines and to wear face masks.&lt ;br />
However the quarantine period for individuals who catch the virus will be shortened to just seven days from 14, to better match "the period when there is a real risk of contagion," he said. (No scientific basis on this!)
He also said that testing capacities would be ramped up in response to long wait times for appointments and results. He added that priority cases involving people with confirmed exposure to COVID-19 patients or already showing symptoms will be given reserved spots at testing centers, and 2,000 more people will be hired to carry out contact tracing.'
Health officials have been increasingly concerned about the high number of infections in France, even if the death toll and admissions to intensive care are well below the highs recorded in March and April.
The authorities said 9,406 new COVID-19 infections were recorded on Friday after 9,843 were registered on Thursday, the highest number since large-scale testing began.
The country's France's total death toll from the pandemic stands at 30,893 after 40 more people died in hospital.
The current head of a scientific council advising the government on the pandemic, Dr Jean-Francois Delfraissy, said Wednesday that the government might soon have to make "tough" decisions to stem the outbreak.
Individuals at high risk because of old age or health problems including diabetes, obesity and respiratory issues might require a protective "bubble" around them, for example.
The French Prime Minister himself is in a seven-day period of self-isolation, having spent part of last weekend with the boss of the Tour de France Christian Prudhomme, who tested positive for COVID-19. Castex was later deemed virus-free after an initial test.
UNITED KINGDOM
It was announced that households in England's second city, Birmingham, are being urged to stop socializing with others from Friday as part of a dramatic tightening of COVID-19 restrictions in the wake of a sharp spike in new confirmed cases.
As a result of mounting evidence of a pick-up in transmission rates across the U.K., the mayor of the West Midlands, Andy Street, said tougher restrictions on household mixing in Birmingham, and the nearby boroughs of Solihull and Sandwell, were necessary in light of a big local increase in virus cases.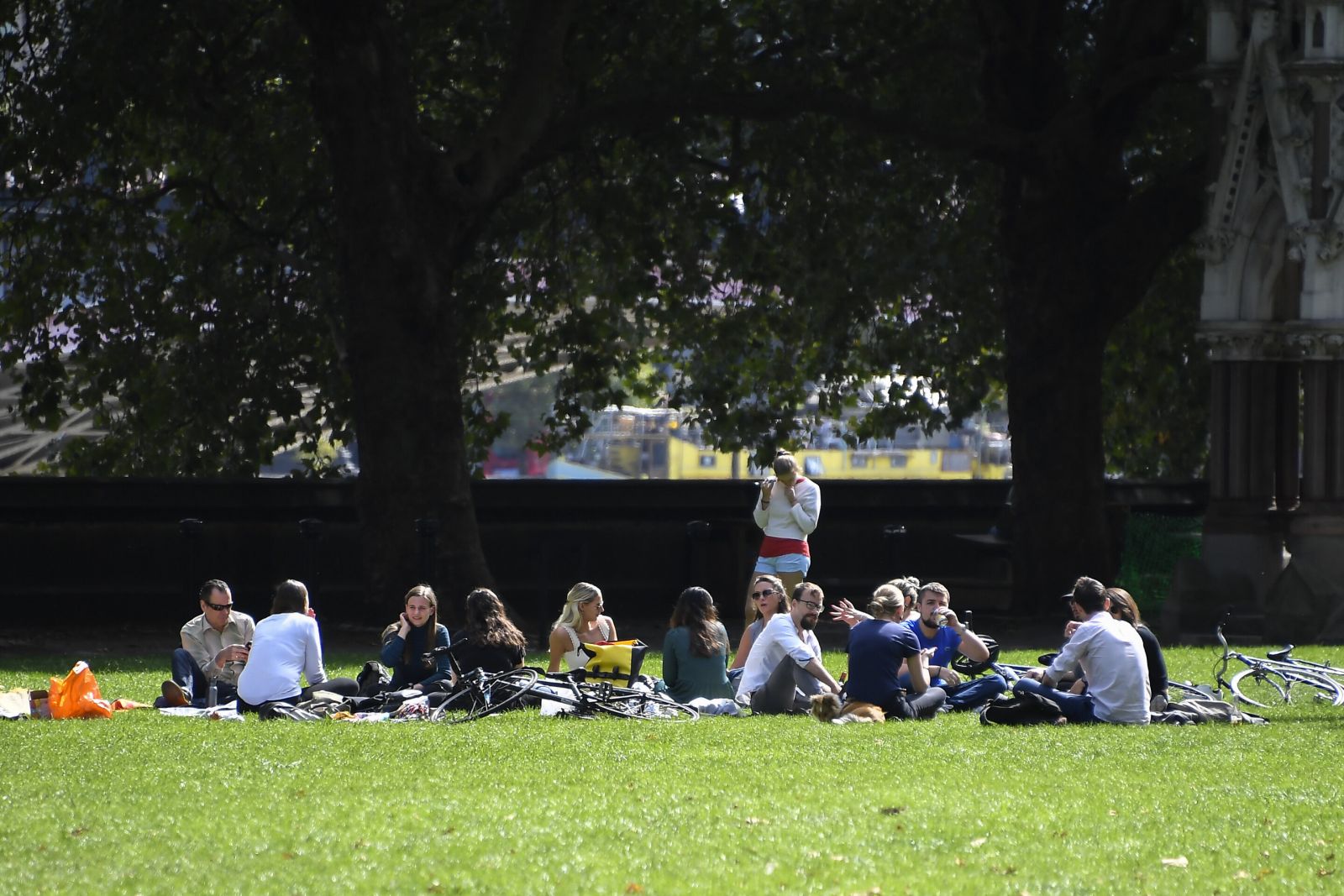 Brits still sitting in groups with no facial protective mask at Victoria Gardens, in London on Thursday, Sept. 10, 2020.
(AP Photo/Alberto Pezzali)
Although the ban formally comes into effect on Tuesday, Street advised affected residents "to avoid household mixing before then as it has been identified as one of the drivers of transmission."
The mayor said younger people have "to take responsibility" since the biggest growth in cases is among those below the age of 40. He also said that the restrictions don't apply to schools, workplaces or transportation.
Dr Justin Varney the city's director of public health, , said the uptick in cases is "linked primarily to private household gatherings" at the end of August.
The latest seven-day rate for the city according to NHS Digital data, to Sept. 8 showed 78.2 cases per 100,000, with 892 infections over the period among the highest in Birmingham since April's peak. For the previous seven-day period, the rate was just over 30.
The new move, which affects more than 1 million people, is the latest hardening of restrictions following a recent spike in cases across the U.K, particularly among young adults.
The British government, which has sole responsibility for public health matters in England earlier this week said social gatherings will be limited to six people from Monday both indoors and outdoors and that the new rules will be policed more stringently, including via the imposition of fines. The other nations of the U.K. ie Scotland, Wales and Northern Ireland have also announced similar restrictions on gatherings.
In the past week, the number of confirmed cases in the U.K. has spiked dramatically. The daily increase has been running at near 3,000 for much of this week, around double the number the previous week.
Alarmingly the Scientific Advisory Group for Emergencies, which advises the government on virus-related matters, said the virus' transmission rate was likely increasing across the whole of the U.K. It said the reproduction rate is now between 1.0 and 1.2, meaning anyone with the virus is infecting, on average, a little more than one other. At the height of the pandemic earlier this year, the R number was thought to be around 3. It was largely flat or below 1 over the summer, meaning the epidemic getting smaller.
In a survey of over 150,000 volunteers, who were tested between Aug. 22 and Sept. 7, by Imperial College London and polling firm Ipsos MORI, found that the epidemic was doubling every seven to eight days.
Health Secretary Matt Hancock said, "We've seen all across the world how a rise in cases, initially among younger people, leads to hospitalizations and fatalities. The pandemic is not over, and everyone has a role to play to keep the virus at bay and avoid another further restrictions."
Interestingly the Conservative government has faced strong criticism for its mixed messages since it started easing the coronavirus lockdown in late spring. It spent much of the summer, for example, encouraging people to eat out to help the hard-pressed hospitality sector and is now urging workers to return to their offices to help hard-hit businesses in city centers.
The United Kingdom has Europe's worst death toll from the virus, with just over 41,600 deaths within 28 days of testing positive.
The actual toll is believed to be far higher as the government tally doesn't include those who died without having been tested.
HUNGARY
Just as alarming, the number of new confirmed coronavirus cases spiked Friday in parts of eastern Europe, with Hungary and the Czech Republic registering all-time daily highs.
Viktor Orban Hungarian Prime Minister said his government was drafting a "war plan" to defend against the second wave of the pandemic. The plan's aim was "not for everyone to stay at home and bring the country to a halt ... but to defend Hungary's functionality."
The Hungarian prime minister said measures meant to protect the economy and spur growth would be introduced in the coming weeks. In the second quarter of the year, Hungary's gross domestic product fell 13.6%, the worst drop in the region.
He reiterated the need to protect the elderly, one of the group's most at-risk during the pandemic, and authorities have banned most visits to retirement homes and hospitals to stem the spread of the virus.
Wearing masks or other face coverings is mandatory on public transportation, in stores and in many public institutions. In Budapest, Hungary's capital city, people not wearing a mask on public transit can be fined 8,000 forints (US$26.50).
Although Hungary closed its borders to foreigners on Sept. 1, it has since announced several exemptions, including for people arriving from Poland, the Czech Republic and Slovakia, the three other members of Europe's Visegrad Group, or V4.
Orban said,"I believe that in the cross-European troubles, we can create a safe Central European island, within which and applying particular rules, movement and the possibility of a common life with the Slovaks, Czechs and Poles can survive."
The country reported 718 virus cases on Friday, 142 more than the country's previous 24-hour record. The Czech Republic reported 1,382 cases, which was over 200 more than its previous daily high and led to the return of face masks being mandatory in enclosed public spaces.
POLAND
Poland also registered an increase in new confirmed cases, with 594 reported Friday. While that was well below the record 903 cases the country recorded Aug. 21, it was higher than the 400-500 new cases of the previous days.
One possible reason for Poland's overall decline in reported cases since last month is that the government has implemented a new strategy which focuses primarily on testing symptomatic patients. People quarantined after contact with an infected person, however, will no longer need to be tested.
AUSTRIA
The Austrian government announced that it would reimpose stricter measures to curb a rise in new infections, particularly in the capital, Vienna.
Chancellor Sebastian Kurz said in Vienna, "Starting Monday face-masks will be mandatory again in those areas where they are already mandatory right now like in public transport, supermarkets—but additionally also in shops, services, in government buildings, in schools outside the classroom and in all forms of customer contact,"
He added, "If you want to hear a prognosis, I don't expect the situation to improve in the coming weeks. We can't promise that other measures won't become necessary too. The goal is to prevent a lockdown."
Austria reported 520 new cases on Thursday and 686 on Wednesday, considerably more than daily figures of less than 200 a month ago and a few dozen per day in May and June.
PORTUGAL
Portugal has been put back on Britain's quarantine list, meaning that starting Saturday people traveling from the southern European country's mainland to Britain must remain quarantined for 14 days after their arrival.
The President of Portugal criticized the rule, saying it punished his country's tourism-dependent regions.
Portuguese public broadcaster RTP reported President Marcelo Rebelo de Sousa saying late Thursday. "We have a certain feeling of unfairness because we don't close our doors to entries. There are other countries that have much more difficult and complicated situations."
For more
Coronavirus News
, keep on logging to Thailand Medical News.