Coronavirus Diagnostics: China Developing Antibody Tests To Add To Arsenal Of Tests For Greater Accuracy And Assessment
Covid-19 Diagnostics
: Medical and biotech researchers in China are developing and assessing new antibody tests in a bid to 'safe proof' diagnosis of the deadly SARS-CoV-2 coronavirus following concerns that existing screening platforms were failing to catch large numbers of infections and leading to the premature discharge of patients.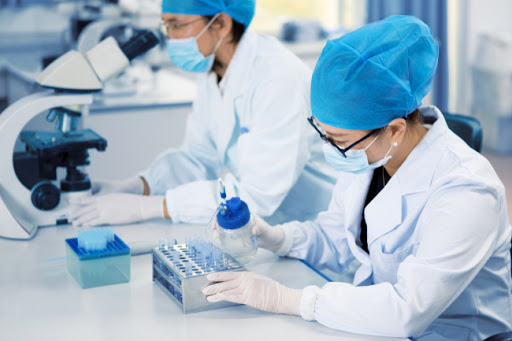 The new antibody tests constitutes part of the 'seventh national Covid-19 diagnostic and treatment criteria and guidelines' published on the 4th Of March by the National Health Commission, which is China's highest government health agency.
The new guidelines comes as a number of reports from provinces like Hubei, Hunan, Guangdong and Sichuan, as well as the municipality of Tianjin in Hebei, in which ,many recovered patients have been "re-diagnosed" with Covid-19 diseases again after testing negative for the disease and being released from hospital.
Such cases have drawn calls for more rigorous discharge requirements.
Physicians and healthcare staff in China have mostly been relying on nucleic acid tests (NATs) to diagnose Covid-19. That involves taking swabs from patients and testing them for specific types of molecules present in the genetic material of the new coronavirus. If those molecules appear in the sample, doctors isolate the patient for treatment.
But problems with have raised concerns that Covid-19 cases are going undiagnosed.
In February, Dr Wang Chen, a critical diseases expert and director of the Chinese Academy of Medical Sciences, told state broadcaster CCTV that "not all of those infected by (the virus) return positive NATs."
Though other public health experts later downplayed Wang's comments, nucleic acid test or NATs are by nature an imperfect testing mechanism.
For example, samples taken from parts of the respiratory tract where the virus is not present in large numbers may return false negatives. Similarly, samples contaminated by other types of genetic material may distort the test results.
Dr John Nicholls, a Professor in pathology at the University of Hong Kong, previously warned that taking samples from too high in the patient's throat could be part of the problem.
Dr Nicholls said. "There is significant evidence that the SARS-CoV-2 coronavirus is not as abundant as influenza in the upper respiratory tract and so if a sample is taken from this area rather than lower down in the respiratory tract it will lead to a false negative,"
Though some healthcare experts in China have been confirming some Covid-19 cases via genetic sequencing the technique is too costly and not all hospitals have the facilities to conduct it.
Antibody tests could come in as a 'savior' to help the current constraints.
Typically infectious diseases are caused by pathogens, of which viruses are one kind. When pathogens infect the human body, it stimulates an immune response, producing specific chains of proteins known as antibodies that bind to and neutralize them.
These antibodies circulate in the bloodstream for some time even after the patient has cleared the virus from their system and recovered. Their presence can tell doctors the patient had the disease even once they stop showing symptoms and even if they displayed them in the first place.
Dr Shen Yinzhong, director of immunology at the Shanghai Public Health Clinical Center said, "Antibody tests can be particularly useful when diagnosing patients who have previously returned negative NATs, when examining cases of 'reinfection' after patients have left hospital, and when basic-level medical facilities temporarily lacks the ability to conduct NATs,".
Basically, the new diagnostic criteria refer to two antibodies known as immunoglobulin G, or IgG, and a similar molecule called IgM. Although both are produced naturally, the former is commonly present in blood serum while the latter appears in the presence of recent or severe viral infections.
In the new published guidelines, doctors are allowed to confirm a Covid-19 diagnosis if the patient's blood tests positive for both IgG and IgM, if a negative IgG test turns positive, or if IgG levels are four times higher during the recovery period than during the acute stage of the disease.
Dr Shen explained that high IgM levels usually indicate a recent infection, while elevated IgG levels suggest the patient has entered the recovery stage or has completely recovered.
Dr She added, "No matter how you perceive or interpret it, if you find antibodies it proves there's been an infection."
Aside from the new antibody tests, the new guidelines also recommend the use of blood serum tests as a diagnostic tool.
Typically, blood serum is the straw-colored fluid that remains once all the clot-forming cells are removed, and can be screened for the presence of pathogens and other molecules.
Medical experts hope that continuously revising the diagnostic criteria will help keep the virus under control as the outbreak enters a crucial new phase.
The medical experts also note that its only just that many new studies on the new SARS-CoV-2 coronavirus are emerging that are beginning to shed some light on certain anomalies in the diseases and behavior of the virus.
For more on the latest of coronavirus diagnostics, keep logging on to Thailand Medical News.
Please also help share our site and articles online as being a poor entity that is not profit orientated, we do not have any support from any Thai Government agencies or private companies as most Thai companies and corporations do not think that health of medical issues are of importance as they are more busy with their own greed. We also do not also get any support from the local private hospitals and pharma companies, hence we do not have monies to pay American social media platforms like Facebook, LinkedIn and Twitter whose local offices and regional offices in Singapore, Thailand, and India will lower your feed exposure as you are not advertising with them. For example with LinkedIn, though we have like 12,000 followers on our personal acct,but less than 200 can actually see our daily news postings as LinkedIn lowers the feed. We have the same problem with Twitter as well . We are basically a Thai medical mediatech and general mediatech startup that has never received any support from any entities in Thailand due to the prevalence of nepotism, corruption and also ego and incompetence on the part of certain senior executives and also the fact that Thais do not know how to collaborate and work together!

We like to thank the 3.2 million odd regular readers who have been following us so far.