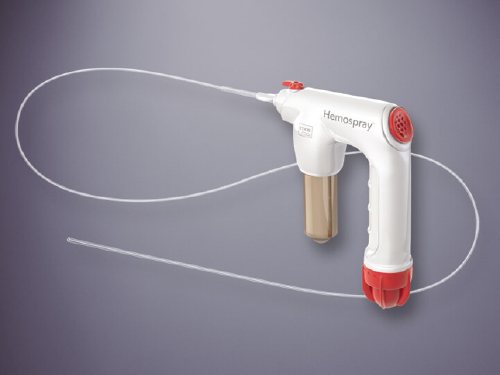 Cook Medical's:
Hemospray has been approved by the FDA for performing hemostasis during endoscopic procedures within the GI tract.

It uses the firm's unique inorganic powder as the active agent, which turns into a gel when it meets blood. The gel stays put and keeps the blood from passing through the treatment area.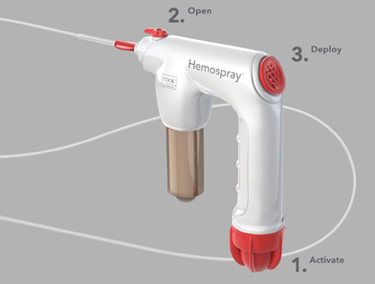 Since heat is not used for administering the powder, there's no potential for thermal damage to the guts.

Some details according to Cook:

In a summary of 19 studies of Hemospray comprising treatment of 234 patients, the combined rate of successful hemostasis was 88.5 percent. Rebleeding occurred within 72 hours in 16.2% after successful initial hemostasis with Hemospray.

Current endoscopic hemostasis treatment options can be challenging. Thermal, mechanical or contact devices can carry a risk of further tissue damage and require precise placement of the device directly onto the bleeding vessel. Hemospray represents a different approach to treat GI bleeds by helping to achieve hemostasis without the precision or direct visualization required of other current treatments. This makes Hemospray a treatment option for bleeding from damaged tissue where the bleeding source cannot be easily identified.

https://hemospray.cookmedical.com