China's Zero COVID Strategies Failing As New Surge Erupts Again With 450 New Detected COVID-19 Cases on Saturday Involving New Omicron Variants
China's stupid Zero COVID strategies involving lockdowns, stringent measures and constant testing is proving futile against the new Omicron variants that are spearing in the country. The only results from its constant lockdowns and inhumane restrictions imposed on its citizens are economic disruptions and an impending collapse of several industrial sectors in its economy.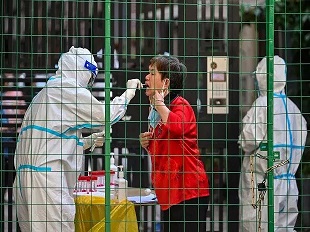 The country on Saturday reported its highest number of coronavirus cases since May, with millions in lockdown this weekend as authorities persist with their Zero-COVID policy.
Utilizing
Zero COVID
policies like snap lockdowns, long quarantines and mass testing, China is the last major economy still pursuing the goal of eliminating outbreaks, even as the strategy takes a heavy toll on the economy.
Health authorities in China reported 450 local infections on Saturday, up from 432 a day earlier. Most cases were asymptomatic. Local physicians and experts estimate that the real number of infections daily in the country could be as high as 20 to 25-fold but that authorities are underreporting so as to project an image that their stringent measures are working despite the fact that they are losing the battle against the new Omicron variants. Hospitals around the country are already filling up with symptomatic and severe cases.
The new omicron variants such as BA.2, BA.4 and BA.5 along with their numerous subvariants are causing a rising wave of cases that led to fresh restrictions this week in some parts of the country.
The capital of northwestern Gansu province, Lanzhou ordered its 4.4 million residents to stay home starting Wednesday, and a county in Anhui province went into lockdown from Friday.
The port of Beihai in the southern Guangxi region on Saturday also announced lockdowns in parts of two districts that are home to more than 800,000 people.
A government notice announcing the restrictions said, "Currently, the epidemic prevention and control situation in Beihai city is severe and complicated, and the risk of hidden transmission in the community is relatively high."
The steelmaking hub of Wugang in central Henan province earlier in the week, announced a three-day lockdown over a single COVID case.
The new rapid-spreading Omicron variants of the virus has been a major challenge for Chinese authorities, as they try to limit the economic damage caused by COVID restrictions.
The country has logged its slowest second-quarter growth rate since the initial COVID outbreak, with GDP expanding just 0.4 percent on-year.
Eswar Prasad, economics professor at Cornell University and former head of the IMF's China division commented, "China's economic data highlight the unfavorable domestic and external circumstances that, in tandem with the government's Zero-COVID strategy, are squeezing economic activity and emphasize the dire need for short-term policy measures to revive growth."
Americans have to be careful as there are certain entities in the United States lead by a Jew charlatan from the NECSI who has no medical background but is heading the Endcoronavirus org and so-called dubious World Health Network along with a Chines e American, a so called medical expert on twitter advocating for lockdowns and stringent measures in America and are also vaccine advocates. (Not sure if they are being funded by the big pharma!). Lockdowns in America or anywhere else are only going to cause an economic disaster for many that are already suffering.
For the latest on stupid
Zero-COVID
policies, keep on logging to Thailand
Medical News
.