China COVID-19 News: Chinese Officials Say That Tracking COVID-19 Cases Is No Longer Possible As Infections Rise Exponentially With BF.7 Sub-Lineages!
China COVID-19 News
: Chinese government officials have now claimed publicly that it is no longer possible to track COVID-19 infections in the country as the number of infections driven by various SARS-CoV-2 variants and sub-lineages including various BF.7 sub-lineages, BA.5.1.7 and BR.2.2 are rising exponentially and its near impossible to monitor especially asymptomatic infections.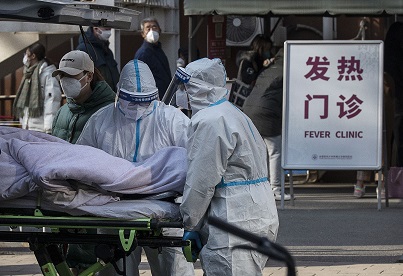 With more than three years of a strict Zero-COVID-19 policy coming to a sudden end last week and stoppage of mass testing and quarantines, the true scale of coronavirus infections in the country is now "impossible" to track, with officials warning cases are rising rapidly in Beijing and elsewhere in the country.
China's National Health Commission on Wednesday admitted its reported numbers no longer reflected reality since testing is no longer required for much of the country.
The NHC said in a statement to both local and international media, "Many asymptomatic individuals are no longer participating in nucleic acid testing, so it is impossible to accurately grasp the actual number of asymptomatic infected people."
The NHC media statement comes after Vice Premier Sun Chunlan told state media that the capital's new infections were "rapidly growing".
According to details released by the China Academy of Sciences-Beijing, there are more than 42 different SARS-CoV-2 variants and sub-lineages circulating in the country with the BF.7 and its various emerging sub-lineages leading the list in terms of predominance followed by the BA.5.1.7 and BR.2.2 sub-linages among the many others.
According to local
China COVID-19 News
coverages, hospitalizations are increasing all over the country along with disease severity being noted mostly in the elderly above the age of 60 years.
The Chinese leaders are however still determined to press ahead with opening up, with Beijing's tourism authority saying Tuesday that it would resume tour groups in and out of the capital.
As the country faces a surge in cases, many local and also international experts are warning that the country is ill-equipped to manage, with millions of vulnerable elderly still not fully vaccinated and underfunded hospitals lacking the resources to deal with an expected influx of infected patients.
The health authorities all the country has started setting up what are known as fever clinics which are quickly being overstressed by long waiting lines of sick individuals. However, even many of these fever clinics are quickly running out of test kits, basic NSAIDs and painkiller and even Traditional Chinese Medicine remedies are running scarce.
Although restaurants, shops and parks are now allowed to reopen, many are still closed due to lack of workers as many are sick with the virus.
Many Chinese citizens are now realizing that finding a way to live with the virus is not as simple as it seems.
Some with symptoms have opted to self-medicate at home, while others are staying in to protect themselves from getting infected.
B usinesses meanwhile are struggling as COVID-19 rips through the population and affects their staffing.
Hence in Beijing and many other cities across China, streets are largely empty. Ironically some of the scenes seems far worse than when COVID-19 measures and lockdowns were in place.
Now for example, without the government's intervention and help, many supermarkets, groceries and fresh markets do not have sufficient food stocks and most pharmacies have run out of even the basics.
Chinese citizens are complaining of sold-out cold medicines and long lines at pharmacies, while Chinese search giant Baidu said that searches for fever-reducing Ibuprofen had risen 430 percent over the past week.
Exponential demand for rapid antigen tests and medications has created a black market with astronomical prices, while buyers resort to sourcing the goods from "dealers" whose contacts are being passed around WeChat groups.
Similarly, as in Europe, the United States and also Canada, RSV infections and also influenza infections are also beginning to rise in China, further complicating the situation.
Meanwhile it is already being reported that the public healthcare infrastructure and hospitals in the country are already becoming overstretched with healthcare workers told to report to work even if they test positive for the SARS-CoV-2 virus or have mild symptoms!
China decision to remove all measures while it was in the midst of a COVID-19 surge was the worst thing that it ever did and people who protested against lockdowns and stringent COVID-19 measures are going to pay dearly as it is projected that the situation in China is going to be catastrophic in weeks to come.
Hopefully, when more virulent or lethal SARS-CoV-3 variants emerge in the country due to current kinetics of the COVID-19 crisis in the country, maybe China can relax its international travel restrictions so that the infected locals can once again act as human vectors to spread these newer variants and sub-lineages globally especially to countries dying for Chinese travelers!
For the latest
China COVID-19 News
, keep on logging to Thailand Medical News.