BREAKING! Forget About Monkeypox! Suspected New Variant Of Salmonella ST34 Strain Causing New Outbreak In The U.S. With 219 Infected, I dead and 12 In ICU!
Scientist are suspecting that a new variant of the Samonella ST34 strain which is already a new strain of Salmonella that arose as a result of the Salmonella Typhimurium strain acquiring a genetic material from a bacterial virus or bacteriophage called the mTmV virus.
https://www.microbiologyresearch.org/content/journal/mgen/10.1099/mgen.0.000456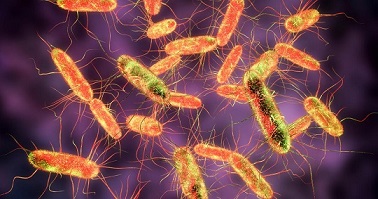 The new Salmonella ST34 strain with enhanced transmissibility and survival was already in circulation in the last few years but is now believed to have further mutated and is causing the new outbreak in the United States and it seems to be even more pathogenic.
The US. CDC has issued a notice with regards to this new Salmonella multistate outbreak since the 9
th
of June.
https://www.cdc.gov/salmonella/backyardpoultry-06-22/index.html
However, the outbreak is now increasing with another 347 individuals still pending test results in the last 24 hours besides the others that have already been confirmed.
As of now, 219 people have been confirmed infected with the suspected new variant of the
ST34 Salmonella
strain across 38 states in the United States. 27 individuals have been hospitalized with 12 under critical care and I person has died from this new Salmonella strain so far in the state of Tennessee.
It was reported that statistically, one in four sick individuals are children younger than 5 years.
The U.S. CDC has admitted that the true number of sick people is likely much higher than the reported number, as some people recover without medical care and are not tested for Salmonella and in many cases, doctors are not able to properly diagnose the infection and are simply treating patients generically under the condition of food poisoning.
To date, there is not much known about infection with this new strain of Salmonella that contains viral genetic material and the long terms effects of such an infection.
Also, it is not yet validated if the current SARS-CoV-2 pandemic has anything to do with the evolution of these new pathogenic strains.
Thailand Medical News had proposed a hypothesis that due to a change of the human immunity landscape in billions of humans that have been exposed to the SARS-CoV-2 virus, both dormant human host pathogens and also active pathogens are evolving and mutating.
https://www.thailandmedical.news/news/tmn-s-hypothesis-that-billions-of-post-covid-individuals-having-a-changed-immune-landscape-is-contributing-to-other-pathogens-mutating-needs-urgent-va
Perhaps the same could also be happening in the poultry, swine and other farmed animals as in the case of new salmonella strains emerging.
Also, with most post COVID individuals now confirmed to be having what is known as
COVID-19 Induced immunodeficiency
, they would be more susceptible to any kinds of p athogenic infections and also would most likely suffer more disease severity due to their impaired immune systems.
https://www.thailandmedical.news/news/breaking-italian-study-validates-previous-claims-that-sars-cov-2-infections-causes-immunodeficiency-conditions-worse-than-hiv-infections
With infection rates and deaths more than the mere 118 monkeypox cases currently in the United States that seems to be more confined to the gay community and also found within the subgroup of the more irresponsible gay men found indulging in unprotected communal sex activities, more attention needs to be paid to the Salmonella outbreak which is already in 38 states in the U.S. with one reported death so far!
Meanwhile the U.S. CDC has issued the following guidelines:
-Always wash your hands for 20 seconds after touching birds, their supplies or collecting eggs.
-Use a pair of dedicated shoes or boots for your coop and don't wear them inside your house.
-Keep birds and supplies outside the house to prevent spreading germs into your house.
-Don't let children younger than 5 years touch the birds (including chicks and ducklings) or anything in the area where the birds live and roam. This helps protect young children from getting sick, as their immune systems are still developing, are more likely to put items in their mouths or not wash hands fully.
For those that are unaware, most individuals infected with Salmonella develop diarrhea, fever, and stomach cramps 6 hours to 6 days after being exposed to the bacteria.
The illness usually lasts 4 to 7 days, and most people recover without treatment unless if they are immunodeficient! Children younger than 5, adults 65 and older, and people with weakened immune systems are more likely to have severe illness.
In some individuals, the illness may be so severe that the patient is hospitalized or they might die.
Study teams are currently studying these new Salmonella strains to understand its pathogenesis and potential long-term effects.
A possible similar outbreak in Europe since June, this time involving chocolate products is also being further investigated .
https://www.ecdc.europa.eu/en/news-events/3-june-update-monophasic-salmonella-typhimurium-outbreak-linked-chocolate-products#:~:text=As%20of%203%20June%202022,EEA%20and%20the%20United%20Kingdom.&text=This%20outbreak%20is%20characterised%20by,symptoms%20such%20as%20bloody%20diarrhoea
For more on the new
Salmonella ST34 variant
keep on logging to Thailand
Medical News
.