BREAKING! Experts Say That New Delta Sub-Variants Are Going To Fuel The Winter Surges. Yet Another Emerged Delta Sub-Variant AY.4.2 Is Striking Fears.
AY.4.2 Delta sub-variant
: For the last 4 weeks, various U.S. agencies were trying to curtail and suppress any data with regards to the multitude of emerging Delta-sub-variants and even a lot of data were not stopped from being uploaded on online sharing platforms concerning emerging strains and variants. Of the more than 142 distinct Delta sub-variants found so far, some with concerning mutations and deletions found on them and also some registering potential catastrophic immune evasive and ADE potential, the most concerning ones were AY.12, AY.29, AY.33 and AY.41 sub-variants which some experts are claiming have unique and worrisome pathogenesis and clinical manifestations.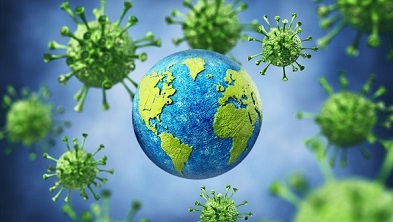 It is already estimated that by the start of the coming Winter in the Northern hemisphere in a few weeks' time, new surges will materialize globally, driven most likely by these Delta sub-variants and other variants. Its is also most like that the more concerning Delta sub-variants will emerge from countries like the United States, United Kingdom, India, Brazil. Indonesia and even Thailand due to a variety of prevailing factors.
Already a new report from the UK Health Ministry a few days ago indicated the rising prevalence of a yet a new offshoot of the Delta variant of COVID-19.
This new delta spawn is relatively new hence it does not have an official Pango lineage designation such as B.1.167.2 for the original Delta variant which is the nomenclature used by most scientists.
The identified novel Delta sub-lineage is being labeled as AY.4.2 and spots a unique Y145H mutation in the spike protein.
Initially identified in July of this year, AY.4.2 was found in 6% of the COVID-19 samples tested in the week beginning September 27, according to the UK Health Ministry, which noted the offshoot's "increasing trajectory."
This new sub-lineage is currently increasing in frequency. It includes spike mutations A222V.
The A222V mutation is thought to be associated with higher viral loads and better transmissibility.
https://www.medrxiv.org/content/10.1101/2020.10.25.20219063v2.full.pdf
https://www.medrxiv.org/content/10.1101/2020.11.28.20237016v1
Since the week beginning 27 September 2021 (the last week with complete sequencing data), this sublineage accounted for approximately 6% of all sequences generated, on an increasing trajectory.
As of October 16
th
14,385 sequences of
AY.4.2 Delta Sub-variant
have been detected in the UK!
This estimate may be imprecise due to known sequencing issues affecting position S:145 and the actual figures could be far more! Further detailed assessment is underway.
At present, the United Kingdom has one of the highest rates of infection in the world despite being one of the most vaccinated countries in the world. Daily infection rates are hovering betwee n 40,000 to 50,000 and daily death rates are around 100 plus.
Contrary to fake news being generated by the vaccine manufacturers and the American Democrats lead by Obama, who are controlling the COVID-19 narratives, in the UK, those who were double dosed with the vaccines are also ending being hospitalized and some also dying from breakthrough infections.
Reports are also emerging that the new AY.4.2 sub-variant is gradually spreading worldwide.
Israel has already just detected a case in its country a few hours ago.
https://www.timesofisrael.com/first-case-of-new-delta-mutation-ay4-2-diagnosed-in-israel/
Cases of the AY.4.2 have also been reported in the United States. Although at the moment AY.4.2 remains very rare in the U.S., this could be due to lack of genomic surveillance. where only s
To date, only six sequences have been recorded. It has only been detected in four states altogether. Oregon has three cases, and North Carolina, Washington, and Washington D.C., has only one case in each.
https://www.newsweek.com/delta-ay-variant-ay4-2-urgent-research-scott-gottlieb-fda-which-us-states-uk-1639842
The AY.4.2 has also been detected in Denmark.
Whether the new Delta offshoot is more infectious, the director of University College London's Genetics Institute, Professor Dr Francois Balloux, told Thailand Medical News that it is possible.
Dr Balloux said, "Its trajectory in the UK hasn't changed over the last 2 days. The increase also doesn't seem region-specific, which may suggest A.Y.4.2 is intrinsically more transmissible, rather than being carried by a demographic event."
However Dr Balloux warned that even an approximately 10% increase in infectiousness "does not explain much of the recent case rises in the UK. Assuming 10% higher transmissibility and a frequency of 10% only translates in 1% additional cases per ~5 day viral generation interval." The rise of cases overall in the UK since the end of July has been a staggering 85%.
The staggering rise could also be attributed to maybe other unidentified Delta sub-variants.
However, make no mistake, a 10% rise in transmissibility would be significant, especially since that's 10% more than the more well-known Delta variant first identified in India, B.1.167.2, which itself already spreads "much faster than other variants," according to the CDC. That would likely make AY.4.2 the most infectious Covid-19 variant documented to date.
The former U.S.FDA commissioner Dr Scott Gottlieb also tweeted about the AY.4.2 sub-variant over the weekend.
He tweeted, "UK reported its biggest one-day Covid case increase in 3 months just as the new delta variant AY.4 with the S:Y145H mutation in the spike reaches 8% of UK sequenced cases. We need urgent research to figure out if this delta plus is more transmissible, has partial immune evasion?"
Meanwhile British physicians are also reporting new clinical manifestations in those infected including severe gastrointestinal conditions which in some cases leads to sepsis and deaths, increases cases of oral mucosal lesions and conditions and also increased kidney injuries.
For sure, the coming Winter season is going to be a fun-filled season and with more moronic government leaders opening up their countries in coming weeks despite not being properly prepared, its really going to be catastrophic!
For more on the
AY.4.2 Delta sub-variant
, keep on logging to Thailand Medical News.