BREAKING! COVID-19 Vaccine: As Chinese Vaccine Developer Sinopharm Starts Phase 3 Trial In Abu Dhabi, Angry Devout Muslims Are Asking How Halal Are These Vaccines?
COVID-19 Vaccine
: It was announced that the First Phase-III clinical trial of Chinese state-owned pharmaceutical company Sinopharm's inactivated Covid-19 vaccine has started in Abu Dhabi.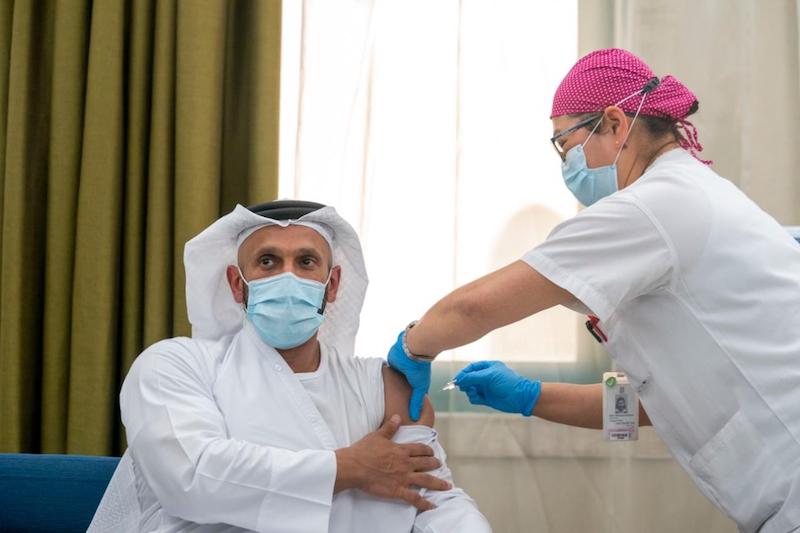 Head of Abu Dhabi's health department becomes first volunteer for
Covid-19 Phase III Chinese vaccine trials
Interestingly the UAE health authorities recently issued a permit for up to 15,000 volunteers to take part in the trials.
The clinical trials are the result of a cooperation partnership between Abu Dhabi-based G42 Healthcare, currently at the forefront of the battle against Covid-19 in the UAE, and Sinopharm's China National Biotec Group (CNBG).
The trials are being operated by health practitioners from Abu Dhabi Health Services (SEHA) who are providing facilities at five of their sites in Abu Dhabi and Al Ain in addition to a mobile clinic to ensure the trials are readily accessible to volunteers participating in the programme.
Dr Jingjin Zhu, President, Biological products, Sinopharm CNBG, said in a media statement, "We will work closely with our partner to complete this clinical trial successfully, and make this vaccine available to the people in need worldwide."
He further added, "With the full support of local authorities, cutting-edge technologies provided by our partner G42 Healthcare, and high-quality services and support from the medical and clinical entities, we will jointly contribute to the battle against Covid-19 worldwide."
The Islamic country, UAE was the preferred choice for the cooperation partnership to conduct the Phase-III trials for the inactive vaccine as the nation is home to over 200 nationalities, allowing for robust research across multiple ethnicities and increasing its feasibility for global application on the success of the trials.
SEHA and G42 Healthcare are working towards achieving a minimum of 5,000 participants in the first stage of the programme to ensure the robustness of the results.
Meanwhile many UAE citizens who are mainly Muslims are taking to various social media platforms and questioning details about the vaccine since it is from China.
China has a notorious track record for faulty and fake vaccines and coupled with the fact that no public media campaigns was conducted to educate people about the vaccine including furnishing details about the origin, mechanism and productions aspects of the vaccine, many local devout Muslims are concerned.
In particular, since vaccines can sometimes contain porcine gelatin or gelatin from pigs and also in certain cases lipids are used as adjuvants which could originate from animal sources including pigs, many devout Muslims are worried that their faith could be compromised.
Even though in the case of a vaccine against a virus, perhaps none of these ingredients might be applicable, no one has details about the ingredients and production process of these vaccines, the origins of the main medium etc of the vaccine that is being used by the Chinese company in Abu Dhabi.
It does not help either that the vaccine comes from China, a country of pig lovers and pig eaters.(They actually literally eat anything...that is what could have caused the crossover of the virus from animals to humans and trigered the whole COVID-19 pandemic that originated from Wuhan, China)
Though it might sound trivial as health issues are of more importance, for devout Muslims, many are seeking assurances that these vaccines are indeed halal and does not infringe on their faith.
It would also be interesting to see the reactions in India if ever a vaccine that had bovine based ingredients was used on the masses.
It is only right that people need to know details about the vaccines to give them more reassurances. Proper public education programmes and materials with all details should be provided for all to access and know about, by vaccine developers and audited by third parties.(not WHO as the lack credibility these days.)
Interestingly G42 healthcare, the company that is working with the Chinese vaccine developer, is actually an AI based company providing healthcare solutions that is seems to have many Indian executives.
For more on
COVID-19 Vaccine
, keep on logging to Thailand Medical News.