BREAKING! China Starts Using The Antibiotic Minocycline That Also Has Antiviral Properties To Treat COVID-19
SARS-CoV-2-Minocycline
: News has emerged that China is now using the antibiotic drug Minocycline to treat COVID-19 cases in various cities across China including Shanghai despite lack of published clinical trial studies showing its efficacy.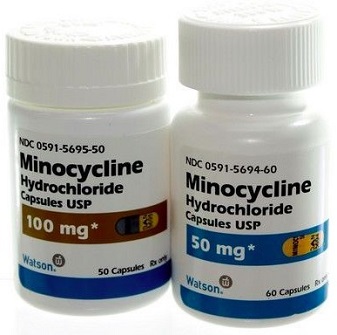 Chinese researchers from the Chinese Academy of Medical Sciences & Peking Union Medical College along with scientists from the Inner Mongolia Medical University did published a preprint study a few days ago that only involved a silico and vitro study on the possibility of using Minocycline to treat SARS-CoV-2 infections. (Details below)
Minocycline, sold under the brand name Minocin among others, is a tetracycline antibiotic medication used to treat a number of bacterial infections such as pneumonia. It is also used for the treatment of acne, rheumatoid arthritis, urinary tract infections, various respiratory infections, skin infections, chlamydia, tick fever and others.
Minocycline is also known to possesses anti-inflammatory, anti-oxidant, anti-apoptotic and immunomodulatory effects.
Past studies have shown that minocycline does have antiviral properties against various viruses including retroviruses (HIV), flaviviruses (Japanese encephalitis virus), enteroviruses (EV71) and even prevents respiratory syncytial virus Infections.
https://pubmed.ncbi.nlm.nih.gov/26177421/
https://www.ncbi.nlm.nih.gov/pmc/articles/PMC3121275/
https://www.sciencedirect.com/science/article/pii/S0753332219324035
https://www.mdpi.com/1999-4915/11/8/739/htm
Minocycline is also known to be able to inhibit West Nile virus infections.
https://academic.oup.com/jac/article/60/5/981/2357608
Interestingly, a few study findings have also emerged showing that minocycline is able to improve cognitive deficiencies associate with neuroAIDS.
https://www.ncbi.nlm.nih.gov/pmc/articles/PMC3174065/
https://nn.neurology.org/content/6/3/e551
https://www.medicinabiomolecular.com.br/sdi4/sdi4-arquivos/pdf/mb-0867.pdf
https://journals.plos.org/plosone/article?id=10.1371/journal.pone.0018688
As early as April 2020, researchers from India had also suggested repurposing Minocycline to treat COVID-19.
https://www.tandfonline.com/doi/full/10.1080/14787210.2020.1782190
In June 2020, Italian researchers also proposed repurposing minocycline to treat COVID-19.
/pmc/articles/PMC7320853/">https://www.ncbi.nlm.nih.gov/pmc/articles/PMC7320853/
A
SARS-CoV-2-Minocycline
study published in November 2020 by researchers from Venezuela also suggested that tetracyclines could be used to treat COVID-19.
https://link.springer.com/article/10.1007/s00705-020-04860-8
Japanese researchers also propose using minocycline with other existing drugs such as favipiravir to treat COVID-19.
https://www.liebertpub.com/doi/10.1089/regen.2021.0037
A study conducted jointly by Indian and Italian researchers showed the merits of using minocycline and other tetracyclines to treat COVID related ARDs (Acute respiratory distress syndrome) and COVID related ALI (Acute lung injury).
Thailand
Medical News
has also been advocating the usage of Minocycline since May 2021 in two of our seven COVID-19 treatment protocols along with other repurposed drugs and also supplements and herbal concoctions that is only available to a private community of readers.
There was not much interest from the WHO, the various big pharma entities and also other key groups as minocycline was a very cheap generic antibiotic, hence no proper large randomized clinical trials were ever conducted.
China in a sudden decision a fortnight ago, decided to use minocycline as they were already finding that existing drugs like Favipiravir, Remdesivir, Paxlovid and Molnupiravir were really not effective especially against the newly emerging Omicron B.2 subvariants.
The WHO which in reality has lost its credibility, has still been encouraging the usage of the drug Paxlovid despite many concerns now emerging about its efficacy.
https://www.thailandmedical.news/news/urgent-studies-needed-on-paxlovid-does-it-only-help-alleviate-symptoms-and-suppress-viral-load-for-a-while-but-does-not-help-in-total-viral-clearance
https://www.who.int/news/item/22-04-2022-who-recommends-highly-successful-covid-19-therapy-and-calls-for-wide-geographical-distribution-and-transparency-from-originator
The silico and vitro study sponsored by the Chinese Academy of Medical Sciences in Beijing showed that minocycline could be used to treat COVID-19.
The study team explored potential inhibitors of Severe Acute Respiratory Syndrome-Coronavirus-2 (SARS-CoV-2) for the treatment of novel coronavirus disease (COVID-19).
They conducted in silico screening of 135 clinical drugs targeting on 3-chymotrypsin-like protease (3CLpro, or Mpro).
Six drugs including anti-HIV drug (raltegravir), antibacterial drugs (cefonicid, cefoperazone, minocycline), and antidiabetic drugs (canaglifozin, glyburide) showed high binding affinities (≤ -8.5 kcal/mol) and interesting binding conformations compared with the designed co-crystal ligand N3 (-7.7 kcal/mol).
Significantly, the antibiotic minocycline, an inhibitor of bacterial ribosomal rRNA, showed the highest binding affinity (-9.6 kcal/mol). Valuable hydrogen bonding and hydrophobic interactions were found between minocycline and Mpro active site. Beside the hydrogen bond with Cys145, minocycline formed a Pi-Cation with His41, which strongly supported minocycline as a Michael Addition acceptor to bind with the catalytic site of Mpro.
The structure-affinity relationship was studied based on molecular docking of minocycline analogues.
Also, Minocycline showed in vitro Mpro inhibitory activity with IC50 of 5 mM.
Importantly, additional literature review found that minocycline had both in vitro and in vivo broad-spectrum antiviral as well as anti-inflammatory activities.
The study findings were published in on a preprint server and are currently being peer reviewed for publication into the journal by Springer Group: medicinal Chemistry Research.
https://www.researchsquare.com/article/rs-1528733/v1
Despite lack of any large clinical trial data, the Chinese health authorities started using Minocycline in various cities across China a fortnight ago including in Shanghai, where it was given to anyone that was tested positive for the virus and also those exhibiting symptoms. To date, the results have been encouraging and Chinese researchers are expected to also publish case reports on the usage of minocycline soon.
(Warning! Do not attempt to self treat using minocycline without consulting a licensed doctor who knows anything about how to use the drug minocycline correctly as there can be serious adverse effects using the drug incorrectly especially for those with sensitivities or existing medical conditions.)
For more on
SARS-CoV-2-Minocycline
, keep on logging to Thailand Medical News.