BREAKING! China Reimposes Lockdown In Key Provinces As New Worrisome SARS-CoV-2 BA.2 Subvariant Detected With Multiple New Mutations!
China COVID-19 News
: In the last few days, China has started witnessing an increase in daily new COVID-19 caseloads initially in the province of Anhui but now new cases have also surfacing in neighboring Jiangsu and Henan provinces.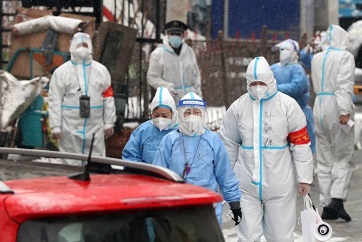 China has placed the province of Anhui with more than 1,7 million people under lockdown with plans to also impose lockdowns in Jiangsu and Henan in the next few days pending the caseloads. It was reported than Anhui province alone saw 460 new cases for July 3
rd
while 473 cases were detected on the July 2
nd
.
Researchers from the Chinese Academy of Sciences at Beijing said that they have detected a new SARS-CoV-2 BA.2 subvariant that is spotting multiple mutations.
According to their genomic sequencing data, the new BA.2 subvariant spots the following new mutations- S:L452R, S:R493Q (reversion), S:E340K, S:K356T, S:H49Y, S: D936H, S:69/70del, ORF1a:T3356I, ORF1b:A1895T, ORF3a:A39T,ORF3a:G100V, E:L21F, M:S4F
Experts say that this new BA.2 subvariant could be far worse than the new BA.2.75 variant that was detected in India recently and has started to spread globally.
https://www.thailandmedical.news/news/breaking-india-that-spawned-the-deadly-sars-cov-2-delta-variant-does-it-again-with-a-new-more-transmissible-and-lethal-variant-ba-2-75
China does not share much of genomic sequencing data on the various global platforms, making it difficult for leading international virologists to study developments in that country.
Despite China adhering to a stringent ZERO-COVID policy that often results in treating its citizens in the most unhumanitarian manner and also results in economic fallouts, the country has yet to date managed to successfully eradicate COVID-19 from its soil. In fact, many local Chinese experts and physicians say that the authorities are merely concealing the real extent of the crisis and also COVID-19 numbers so as to project that it has been on the right track.
According to
China COVID-19 News
outlets, the current outbreak in Anhui, where health officials first found hundreds of cases last week, comes as the Chinese economy begins to rebound from a months-long lockdown in Shanghai and disruptive COVID restrictions in the capital Beijing.
It was reported that two counties in the province: Sixian and Lingbi announced lockdowns last week, with more than 1.7 million residents only permitted to leave their homes if they are getting tested.
Video footage from state broadcaster CCTV showed empty streets in Sixian over the weekend and people lining up for their sixth round of mass testing in recent days.
Anhui's provincial governor Wang Qingxian urged local authorities to "seize every minute and earnestly implement quick screening" as well as rapid quarantine and reporting of cases, in a statement published by the Anhui government on Monday.
It was reported that neighboring Jiangsu province also reported 56 ne w local infections across four cities on Monday.
Another neighboring province Henan reported 34 cases for Monday.
Various photos shared widely online showed hundreds of people in hazmat suits lining up in the city of Wuxi in Jiangsu, appearing to be waiting for buses to quarantine facilities. Others showed babies in blue protective clothing carried by people with suitcases waiting outside a hospital in sweltering heat.
Wuxi is currently going through a heat wave with temperatures reaching up to 36 degrees Celsius (97 degrees Fahrenheit).
Chinese scientists are speculating that the new variants have also evolved to withstand extreme temperatures and environmental conditions.
Though cases remain low relative to China's vast population, officials insist the zero-COVID policy is necessary to prevent a healthcare calamity, pointing to unevenly distributed medical resources and low vaccination rates among the elderly.
However, the strategy has hammered the world's second-largest economy and heavy-handed enforcement has triggered rare protests in the tightly controlled country. China's international isolation has also prompted some foreign businesses and families with the financial means to make exit plans.
It should be noted that more than one-third of global solar panel manufacturing capacity is located in Jiangsu province, and it's also the leading producer of solar cells and wafers. The Yangtze River Delta is also a key maker of components for the iPhone and Mac laptops, semiconductor chips, as well as home to drugmakers and e-commerce operations. Some manufacturers still aren't back to normal after earlier outbreaks.
China reported 473 cases for Sunday, bringing nationwide infections to a level last seen in late May, when Shanghai was on the verge of lifting its lockdown.
Shanghai, the financial hub, which neighbors Jiangsu, reported three local cases Sunday. One was found outside government quarantine after six days of the city reporting no community infections. Zhao Dandan, a vice director at Shanghai's municipal health commission, cautioned in a briefing Sunday that the city still faces risks of a rebound in COVID cases.
The China's capital, Beijing reported no new cases.
However elsewhere, Ningde city in Fujian province found 10 new COVID-19 cases and implemented control measures. The city is the headquarters of Contemporary Amperex Technology Co., the largest maker of batteries for electric cars.
Also, Macau, which reported its first two COVID deaths of the pandemic on Sunday, said it wouldn't rule out locking down the entire city if its virus-control measures fail to curb transmission, Secretary for Social Affairs and Culture Ao Leong U said at a Sunday briefing.
Macau has announced it will conduct three more rounds of mass testing this week, with 650 workers from mainland China having arrived to provide support.
Meanwhile in Hong Kong, new Chief Executive John Lee said there is no immediate need for a universal compulsory COVID testing campaign in the city, but stressed a need to reduce daily infections, which have risen to the highest since April.
Thailand
Medical News
will be continuing to report on developments with regards to the new BA.2 subvariant detected in China.
For the latest
China COVID-19 News
, keep on logging to Thailand
Medical News
.