BREAKING! Authorities Warn That New York Could Be In The Initial Stages Of A 'Silent' Polio Outbreak With Hundreds Possibly Already Infected!
New York's Polio Outbreak
: New York health authorities are warning that the state could be in the initial stages of a 'silent' polio outbreak with the possibly that hundreds could already be in infected and are not aware of it plus many of them could be helping to spread the disease.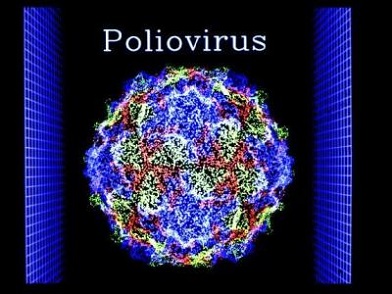 Heath officials issued a more urgent call Thursday for unvaccinated children and adults to get inoculated against polio, citing new evidence of possible "community spread" of the dangerous virus that will propel
New York's Polio Outbreak
.
There is now rising concerns about the potential spread of polio in New York, with the state health commissioner Dr Mary Bassett saying there could be "hundreds" of people infected as new evidence shows the virus has been found in samples from multiple counties.
New York state health department, which launched wastewater surveillance earlier this month after officials announced the first confirmed U.S. polio case in nearly a decade in an unvaccinated patient in Rockland County on July 21, says the U.S CDC confirmed the presence of the polio virus in samples taken from June and July in two geographically different locations of Orange County.
Although there are no active confirmed polio cases in Orange county, according to local county executives, it has a much lower polio vaccination rate (59.45%) among 2-year-olds than the state average (79.1%), which makes the community extremely vulnerable.
State health officials sought to underscore the point in a Thursday statement to the media, "These environmental findings which further indicate potential community spread in addition to the paralytic polio case identified among a Rockland County resident, underscore the urgency of every New York adult and child getting immunized against polio, especially those in the greater New York metropolitan area."
The urgent call to get vaccinated was later emphasized by New York State Health Commissioner, saying that the total number of individuals infected may be far higher than many would expect.
Dr Basset told media, "Based on earlier polio outbreaks, New Yorkers should know that for every one case of paralytic polio observed, there may be hundreds of other individuals infected."
She added, "Coupled with the latest wastewater findings, the Department is treating the single case of polio as just the tip of the iceberg of much greater potential spread. As we learn more, what we do know is clear: the danger of polio is present in New York today. We must meet this moment by ensuring that adults, including pregnant people, and young children by 2 months of age are up to date with their immunization ie the only the safe protection against this debilitating virus that every New Yorker needs."
Polio, or poliomyelitis, is a disabling and life-threatening disease caused by the poliovirus.
The polio virus spreads from person to person and can infect a person's spinal cord, causing paralysis (can't move parts of the body).
About 1 out of 4 individuals (or 25 out of 100) with poliovirus infection will have flu-like symptoms that may include:
-Sore throat
-Fever
-Tiredness
-Nausea
-Headache
-Stomach pain
Typically, these symptoms usually last 2 to 5 days, then go away on their own.
However, a smaller proportion of people (much less than one out of 100, or 1-5 out of 1000) with poliovirus infection will develop other, more serious symptoms that affect the brain and spinal cord ie:
-Paresthesia (feeling of pins and needles in the legs)
-Meningitis (infection of the covering of the spinal cord and/or brain) occurs in about 1 out of 25 people with poliovirus infection
-Paralysis (can't move parts of the body) or weakness in the arms, legs, or both, occurs in about 1 out of 200 people with poliovirus infection.
Paralysis is the most severe symptom associated with polio, because it can lead to permanent disability and death. Between 2 and 10 out of 100 people who have paralysis from poliovirus infection die, because the virus affects the muscles that help them breathe.
Interestingly, the polio strain the adult in Rockland County caught and subsequently became paralyzed suggests the chain of transmission did not begin in the United States. The strain the individual contracted is used in the oral polio vaccine, which contains a mild version of the virus that can still replicate. This means individuals who receive the oral vaccine can spread the virus to others.
However, the United States has not used the oral polio vaccine in more than 20 years. The U.S. uses an inactivated polio vaccine that is administered as shot in the leg or arm. The vaccine uses a non-replicating virus strain, which means people who receive the shot cannot infect other people.
The detected polio case in New York is genetically linked to the Rockland County wastewater sample as well as samples from the greater Jerusalem area in Israel and London in the United Kingdom. Health authorities in the U.K. declared a national incident in June after they detected polio in London sewage samples.
The New York state health department said, "New Yorkers should know that this does not imply that the individual case identified in Rockland County, New York has travel history to Israel or the UK."
Form more detailed genomic studies, researchers are speculating that source of the virus was from the United Kingdom and also that the strain has undergone some minor mutations that than the original found in the oral vaccines.
It should be noted that the United Kingdom is now a major hub for various new emerging pathogens from SARS-CoV-2 variants, monkeypox, various STIs etc as the locals there are extremely unhygienic and filthy plus many of the cheap sex British sex tourists like visiting third world countries in the African continent even in South America or South-east Asia for cheap sex.
Already it is emerging that many of these cheap British travelers are acting human vectors to help spread the monkeypox diseases globally.
The polio patient in Rockland County is the first person known to be infected with the virus in the U.S. in nearly a decade. Polio, once one of the nation's most feared diseases, was declared eliminated in the United States in 1979, more than two decades after vaccines became available.
Although a majority of people infected with polio have no symptoms, they can still shed the virus and give it to others for days or weeks.
Although all school children in New York are required to have a polio vaccine, the enforcement of vaccination rules in some areas can be lax. Rockland and Orange counties are both known as centers of vaccine resistance. Statewide, about 79% of have completed their polio vaccination series by age two. In Orange County, that rate is 59%. In Rockland it is 60%.
It was reported that the Orange County wastewater samples were initially collected from municipal wastewater treatment plants for COVID-19 testing.
Orange County Health Commissioner Irina Gelman told Thailand
Medical News
, "It is concerning that polio, a disease that has been largely eradicated through vaccination, is now circulating in our community, especially given the low rates of vaccination for this debilitating disease in certain areas of our County. I urge all unvaccinated Orange County residents to get vaccinated as soon as medically feasible."
Experts are also warning that already with lots of New Yorkers already exposed to the SARS-CoV-2 virus or re-infected a number of times, many will have dysfunctional immune systems or are even afflicted with COVID-19 induced immunodeficiency and are more likely to suffer disease severity when exposed to diseases like monkeypox or polio.
For the latest on the
New York's Polio Outbreak
, keep on logging to Thailand
Medical News
.