BREAKING! Americans Being Sold Poultry Meat Contaminated With A New Dangerous Drug-Resistant Salmonella Strain Despite CDC Being Aware!
Its November 2021, almost coming to 3 years and 7 months, since America's top disease detectives noticed a rare and virulent strain of salmonella circulating in the food ecosystem primarily in poultry meat but even as entities like the U.S. Department of Agriculture (USDA) and U.S. CDC are aware of this dangerous pathogen circulating in the food supply chains, nothing is being done due to lobbying from the chicken meat industry while thousands of Americans each year are getting infected with the new bacteria and hundreds dying each year. Maybe there is no action because both the Trump and Biden administrations and the greedy big pharma cannot justify yet another vaccine scam or overpriced toxic magic pill to 'milk' the American tax payers monies.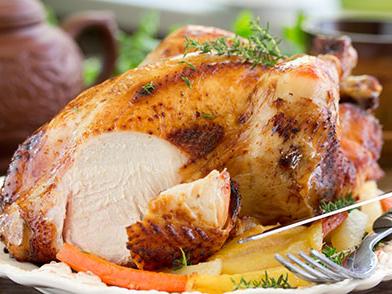 In the May of 2018, disease investigators from
ProPublica, a non-profit New York based investigative journalism platform
noticed a rare and virulent strain of salmonella. As people landed in the hospital, the source was unclear, and seemed to be all over the country. Now, even as the U.S. Department of Agriculture (USDA) and industry are aware of it, "contaminated meat continues to be sold to consumers."
Americans may have "expected federal regulators to act swiftly and decisively to warn the public, recall the contaminated poultry, and compel changes at chicken plants, or that federal investigators would pursue the root cause of the outbreak wherever the evidence led."
Unfortunately, that never happened, according to the full report published by
ProPublica
.
https://www.propublica.org/article/salmonella-chicken-usda-food-safety
Shockingly a team at the CDC closed the investigation 9 months in, even as people kept getting sick with multidrug-resistant Salmonella
infantis,
ProPublica
found. The USDA was "powerless to act," and "said nothing to consumers about the growing threat."
Grocers and restaurants continued selling chicken with Salmonella
infantis
and they continue to do so today.
One victim of the thousands infected with the new strain of Salmonella
infantis
was Arthur Sutton, who is thought to have eaten food contaminated with Salmonella
infantis
while celebrating his 70th birthday with his longtime partner Marva Lamping at their favorite Mexican restaurant in Bend, Oregon,
ProPublica
reported. After a 2-week hospitalization and multiple surgeries, Sutton succumbed to the infection on Aug. 16, 2019.
Each year, thousands of victims are landing in the hospital with roiling stomach pains, uncontrollable diarrhea and violent bouts of vomiting. The source of the infections seemed to be everywhere.
Even more alarming was that this strain of salmonella, known as multidrug-resistant infantis, was invincible against nearly all the drugs that doctors routinely use to fight severe food poisoning.
ProPublica
in its investigation, used the same genetic data available to the USDA and other agencies of Salmonella
infantis
samples taken from food and patients catalogued by the NIH. Through public records requests,
ProPublica
then linked the genetic data to both foods that victims had eaten, and processing plants where infected chicken samples originated.
An eight-month ProPublica investigation into this once rare, but now pervasive form of salmonella found that its unchecked spread through the U.S. food supply was all but inevitable, the byproduct of a baffling and largely toothless food safety system that is ill-equipped to protect consumers or rebuff industry influence.
Several European countries have dramatically reduced salmonella in poultry by combating it on the farms where chickens are raised. But over the past 25 years, the U.S. has failed to bring down the incidence of salmonella food poisoning even as the rates for E. coli and other bacteria have fallen dramatically.
Consumers may get the impression that the meat and poultry they find at supermarkets is safe because it bears the USDA seal of approval. But the agency doesn't prohibit companies from selling chicken contaminated with dangerous salmonella like infantis. And even when people get sick, it has no power to order recalls.
Instead, the agency relies on standards it can't enforce and that don't target the types of salmonella most likely to make people sick. The USDA's Food Safety and Inspection Service, unlike its counterparts in some countries, has no authority to control salmonella on farms, where the bacteria often spreads.
ProPublica, as part of its food safety investigation, has created an online database that lets consumers look up the salmonella records of the plants that processed their chicken and turkey.
Last week, after repeated interview requests from ProPublica and years of criticism from consumer groups, the USDA announced that it was rethinking its approach to salmonella. The agency didn't announce any concrete changes but said it would set up pilot projects and hold meetings in an effort to come up with a plan.
Shockingly one internal CDC presentation noted that this single strain is "responsible for an estimated 11,000-17,000 illnesses per year." But the CDC is limited in its ability to protect American consumers from foodborne illnesses. It has no power to order companies to take action or to provide information that would help it solve outbreaks.
And the CDC, despite noting that the strain was "widespread in the chicken industry," took the spotlight off infantis when it closed its outbreak investigation in February 2019.
Many brands of supermarket poultry products including Perdue, Tyson, Pilgrim's Pride, Perdue, Koch Foods, Pine Manor Farms and the processors that produce chicken for Costco and Whole Foods currently have plants with high rates of the types of salmonella most likely to make people sick.
Studies are also emerging that people that survived this pathogen continue to suffer from a wide range of gastrointestinal complications including IBD, IBS etc.
For more on this new pathogen, we suggest readers to peruse through the full report by ProPublica and to also help to support their initiatives by donating to them directly.
Thailand Medical News, the only
medical news
site that covers controversial health and medical issues.