Belgium Researchers Warn That More Hospitalized COVID-19 Patients Are Manifesting A Rare Chronic Liver Disease Known As Sclerosing Cholangitis. Could Be Variant Specific!
COVID-19 Clinical Updates
: Researchers from the University Hospitals Leuven-Belgium are warning that more hospitalized severe COVID-19 patients are manifesting a rare liver complication known as Sclerosing Cholangitis as seen in observational clinical studies done at their hospitals. As of now it is not known if this sudden rise in such liver complications can be linked to specific variant infection but scientists are beginning to suspect that there is a correlation that also needs to be studied in detail.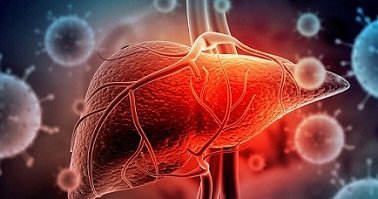 The study findings were published in the peer reviewed journal: Intensive Care Medicine
https://link.springer.com/article/10.1007/s00134-021-06445-8
In the clinical study, it was reported that four critically ill COVID-19 patients developed a complication similar to secondary
sclerosing cholangitis
, an inflammatory liver disease according to the study team.
The published case series involved four men, ages 48 to 68, who needed prolonged mechanical ventilation, renal support, and veno-venous extracorporeal membrane oxygenation (VV-ECMO) during the first 12 weeks of the pandemic in Belgium, according to Diethard Monbaliu, MD, PhD, from the University Hospitals Leuven and his colleagues.
Although secondary sclerosing cholangitis in critically ill patients (SSC-CIP) has an estimated prevalence of 0.05%, Dr Monbaliu told Thailand Medical News that he was surprised with the high incidence in this cohort in the first 3 months of the pandemic.
Dr Monbaliu offered comparisons between COVID-19 patients and influenza patients, saying in 3 months, four COVID-19 patients out of a cohort of 114 patients meant that 5.4% of mechanically ventilated COVID-19 patients and 30.7% of VV-ECMO-treated COVID-19 patients developed the condition.
He added, "In comparison, over a recent 28-month period" from April 2018 to 2020 "in our ICU, the incidence of SSC-CIP in VV-ECMO-treated influenza patients was 7%."
It has been known that severe COVID-19 can result in multi-organ failure, associated with elevated bilirubin, jaundice, and gamma-glutamyl transferase levels.
A past study conducted by Swiss medical researchers had reported an increased frequency of bile duct injury leading to secondary sclerosing cholangitis arising from COVID-19 compared to other critical illnesses.
https://onlinelibrary.wiley.com/doi/epdf/10.1111/liv.14971
Dr Monbaliu further added, "Our data, although from a small cohort, indicate a spectrum of severity, ranging from asymptomatic bile duct abnormalities to cholangiosepsis."
However the study team cited specific COVID-19-related disease factors in addition to treatment factors that could cause cholangiopathy and biliary ischemia in patients, such as hemodynamic instability and anesthetic drug-induced bile duct injury from the prolonged use of ketamine or parenteral nutrition.
Dr Monbaliu said, "Bile in itself ma y be toxic to the biliary epithelium due to its high content in hydrophobic bile acids. Ischemia and pro-inflammatory cytokines both inhibit the physiological defence of the biliary epithelium, in particular phospholipid secretion and the so-called bicarbonate umbrella, resulting in cholangiocyte necrosis."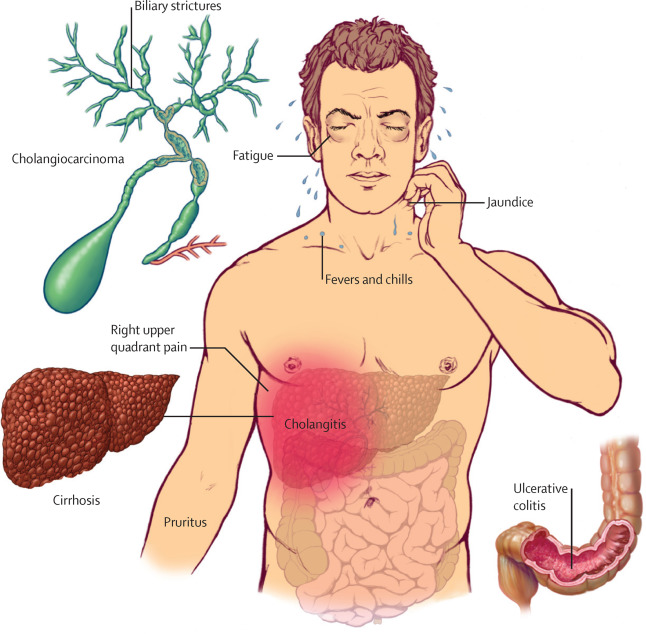 Sclerosing Cholangitis
Importantly in their study series, three COVID-19 patients admitted to the ICU from March to June 2020 developed cholestatic liver injury, which progressed rapidly after they recovered from acute respiratory distress syndrome. These cases of liver injury later evolved into secondary sclerosing cholangitis. During this time, a fourth patient with this condition was referred with the same condition, the authors said.
The study team analyzed detailed changes in liver enzymes, such as alkaline phosphatase, gamma-glutamyltransferase, alanine transaminase, and aspartate transaminase, as well as total bilirubin.
Dr Monbaliu added,
"SARS-CoV-2 RNA and nucleocapsid protein have been detected in the cholangiocytes and bile of patients with fatal COVID-19 pneumonia, suggesting that a direct cytopathic effect may occur."
Interestingly magnetic resonance cholangiopancreatography (MRCP) found focal strictures in the intrahepatic bile ducts of the ill patients in addition to intraluminal sludge and casts, described as "the radiological hallmark of SSC-CIP." Biopsies revealed biliary obstruction of the liver.
Also two of the patients in the case study required liver transplants due to refractory cholangitis, which led to irreversible damage. One of the transplant patients is doing well while the other died of septic shock after contracting pneumonia following transplant. Another of the patients in the series died after experiencing lethal hepatic hemorrhage. The fourth patient had a better outcome after experiencing only mild SSC-CIP.
The study team however cautions limitations of this case series include the short follow-up.
The team added that the risk for mild forms of COVID-19 to develop into secondary biliary cirrhosis is still questionable. Additional studies are also needed for assessing the outcomes of COVID-19 with cholangiopathy after liver transplantation.
The study team urged all doctors to be on the lookout for this complication, as the severity of this condition may vary among patients.
Dr Monbaliu warned, "Because of the bad prognosis, diagnosis should not be delayed, even though diagnostic ERCP [endoscopic retrograde cholangiopancreatography] and/or MRCP may be logistically demanding in the COVID-19 ICU setting. Early referral to a liver transplant center to evaluate the potential benefit of treatment may be needed."
For the latest
COVID-19 Clinical Updates
, keep on logging to Thailand Medical News.