As The Omega (Omicron) Variant Spreads Globally, Israel Decides To Close Its Borders And Ban All Flights. Other Smart Countries Expected To Do So Soon
The Omega Variant (We have decided to forego the stupid name bestowed on the B.1.1.529 by the incompetent and even more stupid entity ie the WHO, which has to date been one of the most hopeless agency from day one that the SARS-CoV-2 virus was discovered. In fact, we are still not sure why any media or anyone would be interested to listen to what these bunch of inept morons have to say! The world is in the present mess largely due to their incompetency and yet no heads have rolled yet!") has to date been detected now in Hong Kong, Israel, Italy, Germany, Belgium, UK, Australia, Czech Republic, Netherland and suspected cases in France, US, Qatar, Egypt, Philippines, Indonesia,India,Malaysia, Singapore and Myanmar are pending genomic sequencing results.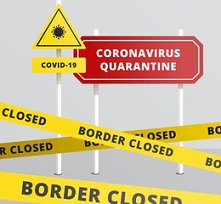 In reality, the
Omega variant
is already spreading around in the last 3 weeks extensively and countries that are merely banning flights from the African continent are being silly as such measures are not going to prevent the spread of the virus into their countries.
Israel to date has been the only wise country to impose a border closure and ban all inbound and outbound travel as a precautionary measure. The measures are being taken after emerging preliminary study data has confirmed that the Omega variant aka B.1.1.529 variant is indeed immune evasive and vaccine resistant.
Israel said it will ban the entry of all foreigners into the country, making it the first nation to shut its borders completely in response to a new and potentially more contagious Omega variant.
https://www.thailandmedical.news/news/breaking-preliminary-studies-now-show-that-b-1-1-529-is-about-500-times-more-infectious-than-delta-and-has-about-2-to-3-furin-cleavage-sites
Israeli Prime Minister Naftali Bennett said the ban would last 14 days and maybe more depending on the situation.
Interior Minister Ayelet Shaked told media, "Our working hypotheses are that the variant is already in nearly every country and the vaccines might not be that effective."
The ban will come into immediate effect at midnight on Sunday. An earlier travel ban on foreigners coming from most African states was imposed on Friday.
Dr Ran Balicer, head of the government's advisory panel on COVID-19, told media that the new measures were necessary for the "fog of war" surrounding the new variant, saying it was "better to act early and strictly" to prevent its spread.
It was reported on Saturday that Israel detected the new strain in a traveller who had returned from Malawi and was investigating seven other suspected cases. The seven people included three vaccinated individuals who all were placed in isolation.
Meanwhile Spain has decided to ban all unvaccinated British citizens from entering the country ad will soon upgrade that to include all vaccinated as well as the speculations that the Omega (B.1.1.529) variant might have originated from UK is now seemingly believable.
Only fully-vaccinated British tourists will be admitted to Spain from Wednesday as countries around the world tighten border restrictions a mid concern at the new Omicron (Omega) coronavirus variant.
https://www.thailandmedical.news/news/this-is-getting-hilarious-did-the-omicron-or-b-1-1-529-variant-originate-from-uk-and-not-the-african-continent
Until now, Britons could enter Spain by showing a negative PCR test result taken up to 72 hours before arriving, but from 1 December they will also need proof of a Covid-19 vaccination.
Rumors are adrift that Germany, Italy, Netherlands and Switzerland might also soon be closing it borders to all UK travelers soon.
The situation in the United Kingdom is kinda strange as despite being one of the most highly vaccinated countries, COVID-19 infection rates are going up and daily COVID-19 infection rates are hovering between 35,000 to 50,000 cases per day. The country has fully opened up its country and many restrictions and measures have been lifted. The British no longer practice social distancing nor even wear mask and the country seems like the perfect place for more new variants to emerge.
Some countries are reacting in strange manners to the emergence of the Omega (B.1.1.529) variant and are hyper-reacting in non-rational manners.
Switzerland or instance has imposed ban on all travelers from Israel after Israeli health authorities announced that the Omega variant was also detected on its soil.
Most countries should follow what China, Israel and Japan (Though Japan has not made any official public statements, typically all visa applications or permission to enter the country are being denied), that is to impose a border closure and impose a ban on all inbound and outbound travel. This is the only way to prevent new surges in their countries by the Omega variant.)
Countries that fail to do so will pay dearly in coming weeks and months.
It should be noted that most ATK test kits are unable to detect the new Omega variant and only certain Thermos Fischer PCR platforms are able to accurately detect the variant.
Please help to sustain this site and also all our research and community initiatives by making a donation. Your help means a lot and helps saves lives directly and indirectly.
https://www.thailandmedical.news/p/sponsorship
For more on the Omega (B.1.1529) variant, keep on logging to Thailand Medical News.