Androgenetic Alopecia treatment using Platelet-rich plasma injections.
Autologous treatment with injected platelet-rich plasma (PRP) yielded substantial improvement in hair count and shaft thickness in patients with androgenetic alopecia (AGA) after three monthly treatments, in a study that compared two treatment regimens.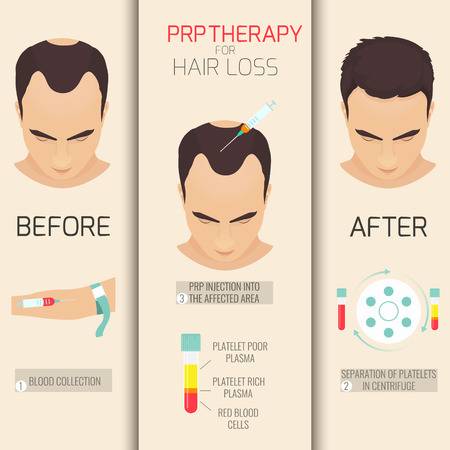 PRP is gaining popularity because of its efficacy in stimulating fibroblast proliferation, triggering the production of collagen and elastin, and boosting the quantity and quality of the extracellular matrix, noted the investigators, Amelia K. Hausauer, MD, in private practice in Campbell, Calif., and Derek H. Jones, MD, in private practice in Los Angeles. Both are also with the department of dermatology at the University of California, Los Angeles.
They undertook this study to determine the optimal number and timing of treatments in patients with AGA, comparing two different injection protocols over a 6-month period. The study evaluated 40
healthy men
(30) and women (10), whose mean age was 44 years, with AGA stages Norwood-Hamilton II-V (in men) and Ludwig I2-II1 (in women), recruited from a private practice in Los Angeles between November 2016 and January 2017. They were randomly assigned to one of two treatment groups: three monthly sessions followed by a fourth injection 3 months later (group 1), or two treatments, one at baseline and the second 3 months later (group 2). One of the men dropped out for reasons unrelated to the treatment.
Those with clinically stable effects of Food and Drug Administration–approved AGA treatments for 12 months were permitted to participate while continuing those treatments (topical minoxidil and/or oral finasteride), since PRP is often coadministered with other therapies. But additional products, devices, or medications used for hair regrowth were not allowed. The washout period for antiandrogen therapies was 90 days.
At 3 months, the mean increase in hair counts was significant in the first group only, but at 6 months, both groups experienced significant increases in hair count (
P
less than .001). However, those in the first group had superior results at 6 months, with a mean 30% increase in hair counts from baseline, compared with a 7% increase in the second group (
P
less than .001).
Both groups had significant increases in the mean hair shaft caliber at 3 and 6 months.
Overall, 82% of participants who completed treatment reported being satisfied or highly satisfied, and 72% expressed interest in continuing treatment after the study period; almost two-thirds considered the procedure "tolerable."
While the authors stipulated that they did not undertake the study primarily to predict treatment response to PRP, they uncovered some significant trends that they said warranted further evaluation, including the finding that those who had experienced hair loss for less than 5-6 years were more likely to have rapid and pronounced treatment response.
Their overall findings correlated with those of previous studies supporting the increase in density of hair or hair numbers, but the existing literature draws from studies that have been open label or unblinded, which makes it difficult to evaluate them head to head. The novel, subdermal injection technique used in the study "allows for fewer, more widely spaced injection points than the traditional nappage procedure ... because PRP can diffuse further once in the dee per, subgaleal space," they wrote. The investigators noted similar response between men and women, which is important given sparse data on the efficacy of PRP in women.
Weaknesses of the study included its small sample size and short follow-up period, the authors noted. Longer-duration studies have reported relapse between 3 and 12 months.
This study is the first of its kind to directly compare efficacy rates of two injection protocols, the authors wrote, cautioning that future studies are necessary to "fine-tune preparation methods, determine optimal maintenance schedule(s), and parse out clinical predictors of efficacy."
Reference: Hausauer A et al. Dermatol Surg. 2018 Sep;44(9):1191-200.