Alibaba HQ In Hanzhou And Other Cities In Zhejiang Into Lockdown An Hour Ago As Coronavirus Is Rapidly Spreading
The
coronavirus i
s fast spreading all over China with nothing that resembles a country whose government has got things under control. Certain International organizations are also making fake statements that things are under control in China when in reality just ask any doctor or health professional or any person on the street in any province.
Alibaba HQ
Literally all 33,427 hospitals in China are overflowing with patients and medical supplies are running out everywhere, patients are being turned away and there is literally not much test kits for the
coronavirus
.
New epicenters have sprung up in cities like Zhejiang, Chongqing, Henan and Hunan. Zheqiang and Chongqing are now the worst hit with many cities in those provinces looking exactly like Wuhan now. Thousands are sick with the
coronavirus
and are in critical condition.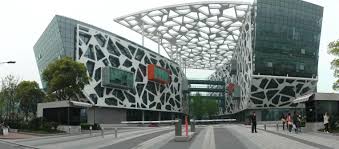 Alibaba HQ In Hanzhou
As of midnight on Tuesday, the government hurriedly closed and placed under lockdown even the Zhejiang cities of Taizhou, Ningbo, Wenzhou and also Hanzhou, home to tech giant Alibaba.
More than 24 million people will be affected just in Zhejiang alone, adding to tens of millions of people already affected by shutdowns in other cities.
Under new rules imposed in Zhejiang, only allow one person per household to go outside every two days to buy necessities, city officials said.
All transportation is banned and all offices, factories, schools, shops are all to be closed.
In addition, residential communities will only be allowed to use one entrance and residents must present ID each time they come or go, Zhejiang's government said on its official WeChat account.
Landlords were also forbidden from renting property to people from "severely affected areas such as Hubei" if they have travelled to their hometowns recently, it added.
In the Hangzhou districts, additional measures included mandatory mask-wearing and compulsory ID and temperature checks.
Zhejiang, the eastern province in which these cities sit has confirmed 829 cases, the highest number outside central Hubei province, the epicentre of the
coronavirus
outbreak and where more than 50 million people are under lockdown.
However many doctors are saying that the numbers infected with the
coronavirus
in Zhejiang could be thousands as all the hospitals are overflowing with patients just like Wuhan and other cities in the initial stages of the epidemic. The problem is that there are not enough test kits and assay reagents. Doctors have also reported hundreds of deaths in Zhejiang over the last 4 days but again these figures are not added to the daily tolls announced by the Health officials as the dead were neve r tested and it is not known if they had the
coronavirus
as China's stringent death and disease reporting protocol dictates that no death or infected numbers can be added on unless the infected parties or the dead had been previously tested.!
Chongqing will most likely be the next province to be placed under lockdown while there are some speculations that the government is planning a total nationwide shutdown with the exception of critical services and also certain factories and farms sometime by the 13
th
should things not get better.
It seems that the situation in China is seemingly getting worse day by day despite whatever claims can be made.
For accurate updates about the
China

coronavirus e

pidemic
or the
Thailand Coronavirus
scenario, keep on checking at:
https://www.thailandmedical.news/articles/coronavirus