What's Going On? As Daily COVID-19 Infections Continue To Surge And Deaths Are Increasing, Many Countries Are Dropping Their COVID-19 Measures!
In the United Kingdom, more than 112,000 New COVID-19 cases were recorded in the last 24 hours and alarmingly 1,121 COVID-19 deaths were registered!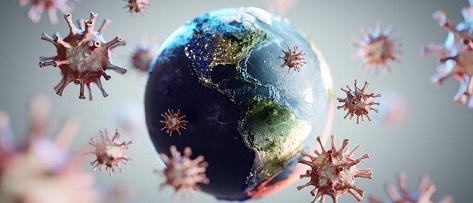 In the last 24 hours Italy reported more than 133,142 daily new COVID-19 infections against 57,715 the day before, while the number of deaths rose to 427 from 349.
France has reported 416,896 new cases, with 3,751 people in intensive care units for COVID-19, up by 51 and another 357 people dying from COVID-19 in the last 24 hours.
In the United States, more than 295,000 COVID-19 infections were registered for the day before and 3,579 Americans died from the COVID-19 disease.
In Denmark, 45,366 Infections and only 15 deaths were recorded but 1,070 people were hospitalized for COVID-19 for that day as they were displaying moderate to severe conditions and more than 82 per cent of these were fully vaccinated individuals. 28 persons are admitted to intensive care units of which 14 persons are on ventilators. Of the 28, all were fully vaccinated individuals!
Japan reported more than 142,000 new COVID-19 cases in the last 24 hours and 118 new deaths and 25,539 new hospital admissions for COVID-19, off which 78& were vaccinated individuals.
A common trend that is being seen worldwide is that most of the new infections are taking place in vaccinated individuals and despite claims that the existing vaccines prevent disease severity and mortality, this is not the case as a majority of those being hospitalized or dying these days are the vaccinated contrary to many false claims on the mainstream media!
In the last 24 hours 3,006,902 individuals globally were infected with the SARS-CoV-2 virus and more than 11, 392 people died.
To date, more than 382,556,840 people have been infected with the SARS-CoV-2 virus globally and more than 5.7 million people have died from the COVID-19 disease. (The real figures could be as high as 4 to 6-fold!).
In America alone, a total of 913,924 Americans have died from the COVID-19 disease so far!
https://www.worldometers.info/coronavirus/
Meanwhile despite the daily surges, many countries like Denmark, Norway, UK and Finland are also lifting COVID-19 restrictions.
Even Austria has lifted its "lockdown of the unvaccinated" while Switzerland is gearing up for a "turbo" reopening and Germany's finance minister has demanded an end date for COVID curbs as more countries prepare to ease pandemic controls.
These countries follow the Netherlands, Denmark, Belgium and France, who last week began to take steps to return to a semblance of normal life, with the Danish government declaring Covid-19 "should no longer be categorized as a socially critical disease" after 31 January.
Although infections, driven by the highly transmissible Omicron variant, are still hitting record highs and data continues to show hospital and intensive care admissions are surging in line with the cases, many leaders in a surprise twists are lifting restrictions and mandates.
It was also reported that Canada too soon might lift all restrictions and many other countries worldwide are also plan ning to do the same.
While the removal of stupid mandates and discriminations against the vaccinated are a welcome sign, the lifting of other restrictions including social distancing and masking in many of these countries is sending confusing signals and worst at a time when cases are high.
Such measures are providing an opportunity for newer variants to emerge plus the fact that it is now coming to light that irrespective of whether a person experienced only mild or asymptomatic infections, almost 92 percent of all infected are ultimately going to suffer long term health and medical conditions or what is being termed as long COVID-19 and some of these conditions can also have fatal outcomes.
The sudden change in the management strategies are sending mixed signals to many and some are wondering if a point has been reached where the authorities concerned have come to a conclusion that they cannot control the COVID-19 pandemic anymore or that they have done major screw-ups especially with regards to the vaccines.
With so many SARS-CoV-2 variants so far that has emerged and are continuing to emerge especially the various Delta subvariants (strangely no one is reporting about these!), the world is still using vaccines that was designed to work against the original Wuhan wildtype strain that is no longer in circulation for more than 17 months!
Daily emerging data from various is showing that not only are the fully vaccinated contracting the virus still, but there is a growing trend that more of them are also developing disease severity and some still dying from the disease!
Re-infections are becoming a common occurrence and most of those re-infected are experiencing symptoms that worse than before and even alarming, many are developing long-COVID conditions that are far more debilitating.
In coming months, we at Thailand
Medical News
predict that the world will be at a catastrophic stage and more so with the stupid attitude of many who think that as long as one was asymptomatic or only had mild symptoms, they are ok. The spike proteins of the SARS-CoV-2 virus and its variants, are the most toxic bio compounds ever known so far and what it is capable of doing to the human body over time is simply alarming. (We have been covering all that in reviews of numerous studies published on our site.)
The fact the SARS-CoV-2 virus is now found in wastewaters and also infecting many animals coupled with many who are immunocompromised are also contracting the disease without even knowing that they are immunocompromised, we expect a much more lethal and transmissible SARS-CoV-2 recombinant variant to emerge by late March. It is definitely going to be fun days ahead!
For more on
Long COVID
, keep on logging to Thailand Medical News.