Warning: Dangerous Trend Emerging From Coronavirus-People Self-Prescribing, Prices Of Kaletra Skyrocketing, Antiviral Resistance Next
Thailand
Medical News
is appealing to WHO, Government and Health Official Worldwide and doctors have to take note of a trend occurring in the last few weeks that have numerous ramifications.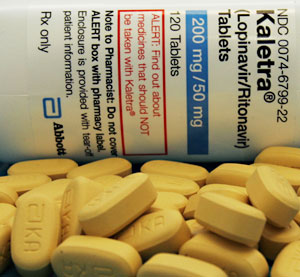 As a result of easy access to medical information online (we at Thailand
Medical News
are to be blamed too), numerous Chinese citizens who are unable to gain access to hospitals or get immediate medical treatment are now searching online for drugs that could help with the
coronavirus
and its accompanying symptoms and are either ordering them online or are getting friends or relatives in other countries to source for these drugs and sent it to them.
It is also not only the Chinese who are doing do but also overzealous individuals in other countries as a result of seeing what had happened in China ie the medical supply shortages including drugs and the difficulty of gaining access to medical treatments in times of breakout . Many are also becoming paranoid and stocking up on such drugs or worst consuming it, thinking that it will prevent them from contracting the
coronavirus
.
In Singapore, Thailand, Hong Kong, Malaysia, Philippine etc, pharmacies are reporting that NSAIDs are selling extremely well. From Paracetamol, Tylenol, Ibruprofen etc. At Mohd Mustaffa, a famous retailer in Singapore, people were seen buying up suppliesof Ibuprofen. When asked why, some were saying that they read online that the drug was being used in China for certain symptoms of the
coronavirus
such as fever and pain!
In some countries like Thailand, where antibiotics and steroids can be bought easily, the same is happening. Drug stores at Rama 4 road, just opposite the Chulalongkorn hospital are saying that there are running short of drugs stocks as a result of massive buying by Chinese, other foreigners and even Thais.
Many are also buying up influenza antivirals as despite the fact that it is a controlled drug that should be prescribed by a doctor, many pharmacies and underground networks are selling it easily including at pharmacies at Sukhumvit Road in Bangkok.
But what is most worrisome is that many after reading online, are now buying HIV antivirals such as Kaletra (Aluvia), the antiviral combo of lopinavir/ritonavir by pharmaceutical company AbbVie without doctors prescriptions and consuming it without any medical supervision.
In China already, there are reported cases even online of people saying that as a result of frustrations of not being able to get access to medical treatment, they are now self-treating themselves with drugs ordered online or procured via other means. Kaletra is the much talked about drug online in Chinese social media as it was a drug that was initially used by doctors in China during the initial stages of the
coronavirus
outbreak.(however note that recently it has been reported that patients are not responding well to the protocol or using kaletra with nebulized alpha-inteferon)
The original versions of Kaletra is already expensive and is in short supply and the prices of it has escalated tremendously such that a single 100 mg tablet costs US$ 60 per tablet at the moment!
As a result many are resorting to generic versions from India. The generic versions in India used to be selling for about US$ 18 per bottle of 60 100mg tablets. However the current prices are as high as US$ 300 per bottle!
Many illegal online drug stores and also retailers in India are reporting brisk sales and having problems keeping up with demand as a result of the
coronavirus
epidemic.
There is even an online network now where HIV users who get free drugs from governments are reselling their supplies to make profits.
There is also lot of fake drug manufacturers and sellers online who are keeping abreast with demand trends also flooding the market with fake antivirals.
Even Gilead's experimental drug for
coronavirus
, Remdesivir was reported seen online being sold by one illegal online drug store!
The dangers of taking drugs without proper medical supervision are enormous especially if the individual has any underlying medical conditions. Long term effects are also an issue.
Most HIV antiviral drugs are toxic in many ways and wrong usage can end up in serious health complications.
What is worst is that taking these HIV antiviral drugs when you do not have HIV or the
coronavirus
could lead to a new resistance being developed which could lead to serious consequences. The possibility of a new super virus strain that is antiviral resistant could easily emerge because of such reckless behavior.
For more updates about the
China

coronavirus

epidemic
or the
Thailand Coronavirus
scenario, keep on checking at:
https://www.thailandmedical.news/articles/coronavirus