European Society Of Cardiology Warns That COVID-19 Affects Heart In Many Ways. Fatalities And Excess Deaths Due To COVID-19 Induced Heart Issues Rising!
COVID-19 and the Heart
:The European Society of Cardiology and its researchers are warning that the SARS-CoV-2 coronavirus that causes the COVID-19 disease also affects the heart in so many ways and that fatalities and excess deaths due to COVID-19 induced heart issues are also rising.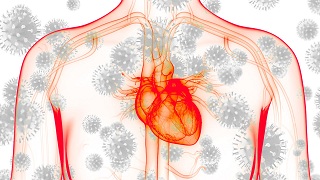 The report was published in the peer reviewed e-Journal of Cardiology Practice (An official journal of the European Society of Cardiology)
https://www.escardio.org/Journals/E-Journal-of-Cardiology-Practice/Volume-21/covid-19-and-the-heart
The report warns that COVID-19 leads to a variety of heart issues including myocardial injury, injury of cardiac valves, echocardiographic abnormalities, electrocardiography variations, arrhythmias, myocarditis, heart failure, Takotsubo cardiomyopathy, cardiogenic shock and pericardial disease.
Alarming myocarditis and myocardial injury are the most common occurring heart issues due to COVID-19.
The report stated, "The SARS-CoV-2 virus is known to cause myocardial injury in some individuals and, when present, is associated with a fourfold increased risk of mortality. Myocardial injury was associated with a mortality rate of 51.2%, compared with 4.5% without cardiac injury, and was present in 59% of non-survivors. Myocardial injury is an independent predictor of in-hospital mortality. "
The researchers added, "Circulatory cytokines and chemokines released during an inflammatory process can lead to plaque instability. In COVID-19, pericardial effusions are seen rarely, arrhythmias in 16.7% and cardiogenic shock/death in 37.5%-69.4%. Also many antiviral drugs can cause cardiac insufficiency and arrhythmia. Unfractionated heparin/low molecular weight heparin (LMWH) remains the best choice of anticoagulation for admitted patients."
The
COVID-19-Heart
research team added that cardiovascular complications of COVID-19 infection are a marker of poor prognosis. Early detection and surveillance of patients at risk of myocardial injury are essential in patients with COVID-19 pneumonia. They also said that serial ECGs are helpful in identifying higher-risk patients.
Many doctors are also warning that heart issues are also a rising condition in Post or LONG COVID and many so called 'recovered' patients even if they had only suffered mild conditions during the SARS-CoV-2 infection should constantly go for frequent heart check-ups. The same also applies for those who were asymptomatic.
In fact many doctors across the globe are reporting high cases of patients dying from heart issues especially heart failures.
Strangely there seems to be a concerted effort by many governments to play down the issue of rising excess death rates due to COVID-19 induced heart issues and in fact to not even link them to COVID-19 related deaths.
Fact checkers, investigative journalists and researchers should urgently check into these claims.
We have also deliberately also left out po st-vaccination myocarditis and post vaccination heart issues as we do not want to delve into an even more controversial arena.
Thailand Medical news suggest that those having recovered form COVID-19 and want to maintain their heart health take the following supplements ie Coenzyme Q10 (Co Q10), Omega-3 fatty acids, Magnesium, D-Ribose and L-Carnitine. (When buying supplements, only stick to the following credible brands: Thorne Research, Nature's Way, Natural Factors, Solaray, Doctor's Best, Natrol and Piping Rock.)
The herbal supplements of Red Sage (Salvia miltiorrhiza and the active phytochemical found in it-Tanshinone) and Red Hawthorn berries are also good for heart health and regeneration of cardio tissues and cells. In fact Red Sage is also useful for Post COVID lungs. (Those wishing to procur either herbal product can contact us as our sister company: Northern Thai Herbs are wholesalers and retailers of these products).
Consuming lots of green tea also helps ie at least 2 to three cups per day.
For more about
COVID-19 and the Heart
, keep on logging to Thailand Medical News.
Read Also:
https://www.thailandmedical.news/news/guide-to-myocarditis-a-dangerous-heart-condition-affecting-up-to-78-percent-of-covid-19-infected-symptomatic-or-asymptomatic-individuals
https://www.thailandmedical.news/news/breaking-swedish-study-shows-that-covid-19-is-now-a-key-driver-for-heart-attacks-and-strokes
https://www.thailandmedical.news/news/long-covid-new-research-confirms-that-covid-19-has-lasting-effects-on-heart-rate-and-other-physiological-as-well-as-behavioral-issues
https://www.thailandmedical.news/news/covid-19-drugs-study-published-in-journal-of-the-heart-rhythm-society-warns-that-remdesivir-can-cause-dangerously-low-heart-rate-in-covid-19-patients
https://www.thailandmedical.news/news/alarming-study-findings-shows-that-sars-cov-2-disrupts-heart-muscle-contraction,-often-leading-to-heart-failure
https://www.thailandmedical.news/news/long-covid-19-news-study-shows-that-survivors-have-a-59%-increased-risk-of-dying-within-six-months-after-contracting-the-sars-cov-2