Houston Study Shows That SARS-CoV-2 Infections Results In Decreased Myocardial Blood Flow, Affecting Cardiovascular Health In Many With Long COVID!
A new study by researchers from the Houston Methodist DeBakey Heart & Vascular Center at Houston Methodist Hospital has demonstrated that SARS-CoV-2 infections results in decreased myocardial blood flow which can impact cardiovascular health and also cause a variety of other heart related issues especially in Long COVID patients.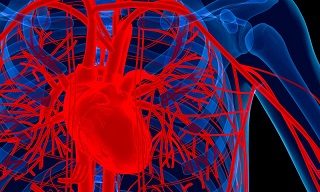 According to the study team, their research findings suggest that patients with prior COVID-19 infection have higher rates of reduced myocardial flow reserve (MFR) that are likely related to new onset endothelial injury or exacerbation of pre-existing endothelial dysfunction especially in the obese and that reduced MFR is a marker of a poor prognosis.
Corresponding author, Dr Mouaz H. Al-Mallah MD, MSc told Thailand
Medical News
, "Although our research is limited by single-center design, use of chart review for follow-up, and high prevalence of cardiovascular risk factors, including obesity, our study findings are particularly relevant to long-haul COVID-19, as persistence of the acute endotheliopathy and inflammation can hypothetically lead to endothelial dysfunction and potentially explain long-haul COVID-19 cardiopulmonary symptoms."
The study findings were published in the peer reviewed journal: JACC: Cardiovascular Imaging.
https://www.sciencedirect.com/science/article/pii/S1936878X2200417X
The study findings show that patients with prior COVID may be twice as likely to have unhealthy endothelial cells that line the inside of the heart and blood vessels and offers a new clue in understanding COVID-19's impact on cardiovascular health.
The study team examined the coronary microvasculature health of patients with prior COVID-19 infection who had lingering symptoms.
The research population consisted of 101 cases with prior COVID-19 infection matched to 292 control subjects (mean age 65 ± 11 years, 51% men). Cardiovascular risk factors were prevalent (hypertension [61%], diabetes [43%], dyslipidemia [49%], obesity [55%]) and comparable in cases vs control subjects (P > 0.10).
The median number of days between the COVID-19 diagnosis and PET imaging was 190 (IQR: 84-266) days. The most common indication for imaging was chest pain (66% vs 54%; P = 0.032 in cases vs control subjects), followed by dyspnea (41% vs 37%; P = 0.52 in cases vs control subjects). The rates of reversible and fixed perfusion defects were comparable in cases versus control subjects.
The study findings found that a higher proportion of cases had a reduced global MFR (58% vs 28%; P < 0.001) and global MFR normalized to patients' rate systolic blood pressure product (44% vs 26%; P < 0.001) when compared with control subjects.
After adjusting for matching variables, patients with prior COVID-19 had a statistically significant higher odds of having an MFR <2 (OR: 4.0 [95% CI: 2.4-6.6]; P < 0.001) and a normalized MFR <2 (OR: 2.4 [95% CI: 1.4-3.9]; P = 0.001).
The study results were similar on sensitivity analysis of patients with no prior coronary artery disease with normal perfusion study (OR: 2.9 [95 % CI: 1.6-5.6]; P = 0.001), of patients with diabetes, and when stratified by time from COVID-19 to PET imaging. After a median follow-up of 323 (IQR: 199-465) days, 34 patients experienced major adverse cardiovascular events. Annualized event rates were higher in cases versus control subjects and in those with an MFR <2.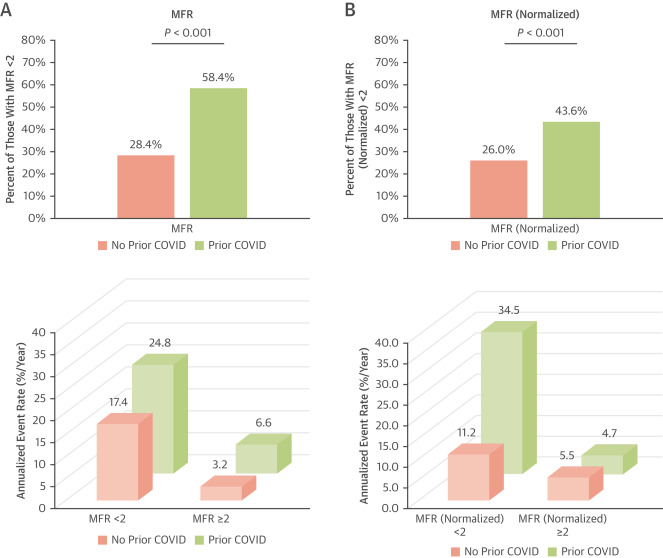 (
A) Global myocardial flow reserve (MFR) <2 and annualized rates of the composite outcome (including all-cause death, myocardial infarction, heart failure admission, and unplanned revascularization—percutaneous coronary intervention or bypass surgery occurring >90 days after positron emission tomography imaging) were higher in cases versus control subjects. (B) Results were similar with global MFR normalized to patients' rate systolic blood pressure product.
To date, this is the first published study linking reduced blood flow in the body and COVID-19.
Utilizing a widely available imaging tool, called positron emission tomography (PET), the study team found a 20% decrease in the ability of coronary arteries to dilate, a condition known as microvascular dysfunction.
The study team also found that individuals with prior COVID-19 infection were more likely to have reduced myocardial flow reserve and changes in the resting and stress blood flow which is a marker for poor prognosis and is associated with a higher risk of adverse cardiovascular events.
Dr Al-Mallah further added, "We were surprised with the consistency of reduced blood flow in Post COVID patients within the study. The study findings bring new questions, but also help guide us toward further studying blood flow in COVID-19 patients with persistent symptoms."
It has already been known that dysfunction and inflammation of endothelial cells is a well-known sign of acute Covid-19 infection, but little is known about the long-term effects on the heart and vascular system.
In the early part of the pandemic, studies indicated that COVID-19 could commonly cause myocarditis in those infected with the SARS-CoV-2 virus.
Another study conducted by researchers from Mayo Clinic- Rochester-USA and Brigham and Women's Hospital-Harvard Medical School, Boston-USA interestingly found that cardiovascular complications was a very high occurrence in many Post COVID individuals.
https://www.nature.com/articles/s41569-021-00631-3
While clinicians continue to see Post COVID patients with symptoms like shortness of breath, palpations, fatigue, arrhythmias, cardiac injury and other heart issues after their SARS-CoV-2 infection 'recovery', the cause of Long COVID is mostly unknown.
Detailed studies are warranted to document the magnitude of microvascular dysfunction and to identify strategies for appropriate early diagnosis and management. For instance, reduced myocardial flow reserve can be used to determine a patient's risk when presenting with symptoms of coronary artery disease over and above the established risk factors, which can become quite relevant in dealing with
Long COVID
.
The study team next plans to conduct clinical studies to discover what is likely to happen in the future to patients whose microvascular health has been affected by COVID-19, particularly those patients who continue to have lingering symptoms, or Long COVID.
For more on Microvascular Issues And
Long COVID
, keep on logging to Thailand
Medical News
.