Utah Study Shows That Intermittent Fasting Prevents Risk Of COVID-19 Disease Severity
A new study by American researchers from Intermountain Medical Center-Utah, Stanford University-California, University of Utah, Rocky Mountain University of Health Professions-Utah and University of California San Diego has found that intermittent fasting helps prevent the risk of COVID-19 disease severity.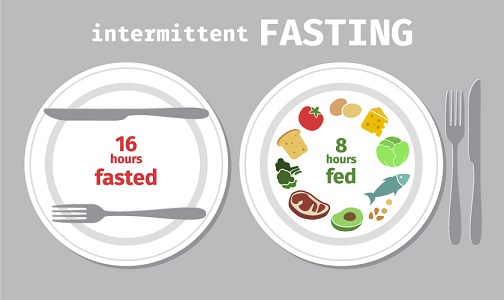 The practice of intermittent fasting, also known as intermittent energy restriction, is any of various meal timing schedules that cycle between voluntary fasting and non-fasting over a given period. Methods of intermittent fasting include alternate-day fasting, periodic fasting, and daily time-restricted feeding.
Intermittent fasting may have similar effects to a calorie-restriction diet, and has been studied in recent years as a practice to possibly reduce the risk of diet-related diseases, such as metabolic syndrome.
https://www.thailandmedical.news/news/time-restricted-eating-and-intermittent-fasting:-mounting-medical-evidences-shows-that-it-the-way-forward-towards-a-health-lifestyle
https://www.thailandmedical.news/news/another-study-confirms-time-restricted-eating-can-lead-to-weight-loss,-lower-blood-pressure-and-numerous-health-benefits-
https://www.thailandmedical.news/news/study-shows--new-%E2%80%98diet%E2%80%99-regimen-known-as--time-restricted-eating-actually-improves-health
https://www.nejm.org/doi/10.1056/NEJMra1905136
https://www.ahajournals.org/doi/10.1161/CIR.0000000000000476
https://www.ncbi.nlm.nih.gov/pmc/articles/PMC6304782/
https://onlinelibrary.wiley.com/doi/10.1111/obr.12787
https://journals.lww.com/jbisrir/Abstract/2018/02000/Intermittent_fasting_interventions_for_treatment.16.aspx
The AHA or American Heart Association states that intermittent fasting may produce weight loss, reduce insulin resistance, and lower the risk of cardiometabolic diseases, although its long-term sustainability is unknown.
https://www.ahajournals.org/doi/10.1161/CIR.0000000000000476
A 2019 review concluded that intermittent fasting may help with obesity, insulin resistance, dyslipidemia, hypertension, and inflammation.
https://www.nejm.org/doi/10.1056/NEJMra1905136& lt;/a>

According to the study team, Intermittent fasting boosts some host defense mechanisms while modulating the inflammatory response. The study findings found that lower-frequency fasting is associated with greater survival and lower risk from COVID-19-related comorbidities. This study evaluated associations of periodic fasting with COVID-19 severity and, secondarily, initial infection by SARS-CoV-2.

The study involved a longitudinal observational cohort study in a setting single-center secondary care facility in Salt Lake City, Utah, USA with follow-up across a 24-hospital integrated healthcare system.

https://clinicaltrials.gov/ct2/show/NCT02450006
Study participants enrolled in the INSPIRE registry in 2013–2020 were studied for the primary outcome if they tested positive for SARS-CoV-2 during March 2020 to February 2021 (n=205) or, for the secondary outcome, if they had any SARS-CoV-2 test result (n=1524).
No treatment assignments were made; individuals reported their personal history of routine periodic fasting across their life span.
A composite of mortality or hospitalization was the primary outcome and evaluated by Cox regression through February 2021 with multivariable analyses considering 36 covariables. The secondary outcome was whether a patient tested positive for SARS-CoV-2.
The total number of subjects engaging in periodic fasting (n=73, 35.6%) did so for 40.4±20.6 years (max: 81.9 years) prior to COVID-19 diagnosis.
The study findings showed that the composite outcome occurred in 11.0% of periodic fasters and 28.8% of non-fasters (p=0.013), with HR=0.61 (95% CI 0.42 to 0.90) favoring fasting. Multivariable analyses confirmed this association. Other predictors of hospitalization/mortality were age, Hispanic ethnicity, prior MI, prior TIA and renal failure, with trends for race, smoking, hyperlipidaemia, coronary disease, diabetes, heart failure and anxiety, but not alcohol use. In secondary analysis, COVID-19 was diagnosed in 14.3% of fasters and 13.0% of non-fasters (p=0.51).
The study findings concluded that routine periodic fasting was associated with a lower risk of hospitalization or mortality in patients with COVID-19.
The study team told Thailand
Medical News
that fasting may be a complementary therapy to vaccination that could provide immune support and hyperinflammation control during and beyond the pandemic.
The study findings were published in the peer reviewed British Medical Journal Nutrition, Prevention & Health.
https://nutrition.bmj.com/content/early/2022/06/30/bmjnph-2022-000462
https://intermountainhealthcare.org/news/2022/07/new-intermountain-healthcare-study-finds-people-who-practice-intermittent-fasting-experience-less-severe-complications-from-covid19/
It should be noted that intermittent fasting was not linked with a smaller chance of getting COVID-19, but it was linked with getting a less severe infection
This is the first research to date testing intermittent fasting and COVID-19 outcomes and was conducted on men and women in Utah who were, on average, in their 60s and got COVID before vaccines were available.
Approximately 1 in 3 individuals in Utah fast from time to time ie higher than in other states.
One of the reasons for this is because more than 60% of people in Utah belong to the Church of Jesus Christ of Latter-day Saints, and roughly 40% of them fast …typically skipping two meals in a row.
It was found that those who fasted, on average, for a day a month over the past 40 years were not less likely to get COVID, but they were less likely to be hospitalized or die from the virus.
Dr Benjamin Horne, PhD, of Intermountain Medical Center Heart Institute in Salt Lake City and the lead author told Thailand Medical News, "Intermittent fasting has already shown to lower inflammation and improve cardiovascular health."
He further added, "In this research, we're finding additional benefits when it comes to battling an infection of COVID-19 in patients who have been fasting for decades."
Dr Horne however warned that intermittent fasting shouldn't be seen as a substitute for getting a COVID vaccines. Rather, periodic fasting might be a health habit to consider, since it is also linked to a lower risk of diabetes and heart disease, for example.
He also stressed that anyone who wants to consider intermittent fasting should consult their doctor first, especially if they are elderly, pregnant, or have diabetes, heart disease, or kidney disease.
The study team looked at data from 1,524 adults who were seen in the cardiac catheterization lab at Intermountain Medical Center Heart Institute, completed a survey, and had a test for the virus that causes COVID-19 from March 16, 2020, to Feb. 25, 2021.
It was found that of these patients, 205 tested positive for COVID, and of these, 73 reported that they had fasted regularly at least once a month.
A similar number of patients got COVID-19 whether they had, or had not, fasted regularly (14%, versus 13%). However, among those who tested positive for the virus, fewer patients were hospitalized for COVID or died during the study follow-up if they had fasted regularly (11%) than if they had not fasted regularly (29%).
Significantly, even when the analyses were adjusted for age, smoking, alcohol use, ethnicity, history of heart disease, and other factors, periodic fasting was still an independent predictor of a lower risk of hospitalization or death.
The study team says that several things may explain the findings ie a loss of appetite is a typical response to infection. Fasting reduces inflammation, and after 12 to 14 hours of fasting, the body switches from using glucose in the blood to using ketones, including linoleic acid.
Dr Horne explained, "There's a pocket on the surface of SARS-CoV-2 that linoleic acid fits into and can make the virus less able to attach to other cells."
https://www.science.org/doi/10.1126/science.abd3255
He added, "Intermittent fasting also promotes autophagy which is the body's recycling system that helps your body destroy and recycle damaged and infected cells."
Importantly Intermittent fasting also produces elevated levels of galectin- 3 in the body.
https://www.nmcd-journal.com/article/S0939-4753(22)00119-3/fulltext
Galectin-3 is a carbohydrate-binding lectin that is secreted by macrophages and is best known for its regulatory functions in inflammation, immunity, and cancer.
https://www.sciencedirect.com/topics/biochemistry-genetics-and-molecular-biology/galectin-3
Studies have shown that galectin-3 directly binds to a wide variety of pathogens, activates the innate immune system impacts respiratory infections, increases expression of human genes encoding proteins with antiviral capacities and inhibits viral replication!
https://www.hindawi.com/journals/mi/2017/9247574/
https://www.sciencedirect.com/science/article/pii/S1684118219301495
https://www.sciencedirect.com/science/article/abs/pii/S0014299914003902
Galectin-3 is also known to have both immunomodulatory and anti-inflammatory properties.
https://academic.oup.com/glycob/article/25/2/136/2901771
https://www.hindawi.com/journals/mi/2017/9247574/
https://www.sciencedirect.com/science/article/pii/S0735109712023881
The study team concluded that intermittent fasting plans should be investigated in further research "as a complementary therapy to vaccines to reduce COVID-19 severity, both during the pandemic and post pandemic, since repeat vaccinations cannot be performed every few months indefinitely for the entire world and vaccine access is limited in many nations."
For more on
Intermittent Fasting And COVID-19
, keep on logging to Thailand
Medical News
.