The US Food and Drug Administration has approved cemiplimab (Libtayo) for use in patients with locally advanced or metastatic cutaneous squamous cell carcinoma (cSCC). This agent is the first to be approved for advanced cSCC and is intended for those who are not eligible for curative surgery or radiation.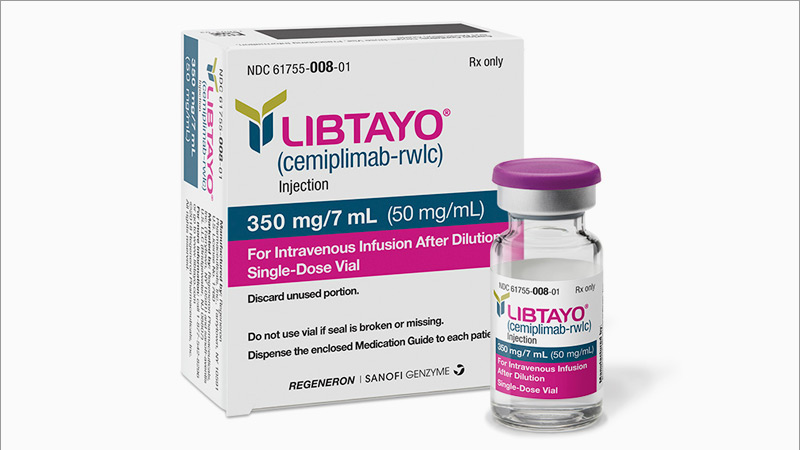 Researchers reported on the efficacy of cemiplimab in expansion cohorts of a phase I trial and a phase II study involving a cohort of patients with metastatic cSCC, according to a recent study published in the
New England Journal of Medicine.
"Among patients with advanced cSCC, cemiplimab induced a response in approximately half the patients and was associated with adverse events that usually occur with immune checkpoint inhibitors," wrote the study authors, led by Micheal R. Migden,MD, of the Departments of Dermatology and Head and Neck Surgery at the University of Texas MD Anderson Cancer Center in Houston.
After basal cell carcinoma, cSCC is the second most
frequent skin cancer
. Although surgery cures the condition in 95% of cases, US deaths caused by advanced cSCC were estimated at between 3,900 and 8,700 in 2012.
Given the rising incidence of cSCC since 2012, this number is likely to be higher today, according to outside expert Emily S Ruiz,MD,MPH director of the High-Risk Skin Cancer Clinic at Dana Farber/Brigham and Women's Cancer Center. "We don't actually know how many patients have metastatic or unresectable cSCC in the United States since cSCC is not included in cancer registries, [thus] making it difficult to generate these estimates," Ruiz said.
In the current study, Migden et al hypothesized that advanced cSCC could respond to immunotherapy due to the cancer's high mutation burden and its strong association with immunosuppression. Specifically, they hypothesized that, in the context of immune checkpoint blockage, a high mutation burden might render these tumors sensitive to effector T cells.
Cemiplimab, a human monoclonal antibody vs programmed death 1 (PD-1), was administered intravenously at a dose of 3 mg/kg every 2 weeks. Patients were evaluated for treatment response every 8 weeks in both the phase 1 cohort expansions and the phase 2 metastatic cSCC cohort.
Of 26 patients, 13 (50%) responded to cemiplimab (95% CI, 30–70). In the phase 2 metastatic cSCC cohort, 28 of 59 patients (47%) responded (95% CI, 34–61). In these 28 patients, the duration of response was greater than 6 months in 57%. After combining all 75 patients with metastatic disease, the response rate was 47% (95% CI, 35–59).
A minimum of 15% of metastatic cSCC patients experienced adverse events, including diarrhea, fatigue, nausea, constipation, and rash, with 7% discontinuing therapy as a result. More serious adverse events included immune-mediated adverse reactions, such as pneumonitis, colitis, hepatitis, endocrinopathies, skin problems, kidney problems, and infusion-related reactions.
During an interview with
Cancer Network
, Ruiz reflected on the importance of the FDA's approval of cemiplimab. "Cemiplimab is far superior to other agents for locally advanced and metastatic cutaneous squamous cell carcinoma, and, before immunotherapies, we had very little to o ffer these patients," she said. "Prior systemic agents used for this disease included chemotherapy, typically platinum-based regimens, or
EGFR
inhibitors. With the recent FDA approval, we now have a therapeutic option for these patients that has a 50% response rate."
Sarah Tuttleton Arron, MD, PhD, an associate professor of dermatology in residence at the University of California in San Francisco, pointed out the need for alternatives to cemiplimab."This is the first systemic agent specifically tested for cutaneous squamous cell carcinoma and gives dermato-oncologists a new treatment in the armamentarium against this devastating cancer," she said. "We still need more research on agents to treat cSCC in patients who are unable to take cemiplimab, such as organ transplant recipients. The lifelong immunosuppressive
drugs required to maintain a transplanted
organ cause a dramatically increased risk of cSCC, but stimulating the anticancer immune system with cemiplimab would also trigger life-threatening organ rejection," Arron noted.