UK COVID-19 News: Britain Sees More Than 58,000 New COVID-19 Infections In Last 24 Hours, 407 COVID-19 Deaths. Lockdowns May Extend Into March
UK COVID-19 News
: The COVID-19 crisis in Britain is fast escalating and the UK healthcare system might witness a total collapse if things do not improve in the next few days. Already hospitals are overflowing and more than 58,000 new COVID-19 infections were reported in the last 24 hours along with 407 COVID-19 Deaths. To date, the United Kingdom has now climbed up to the fifth position in terms of countries with the most COVID-19 infections with America still leading the race efficiently! As of now, the UK has more than 2.72 million COVID-19 infections and a total of 75,680 British citizens have died from COVID-19 so far. They are still far behind the United States that has more than 354,000 Americans who have died from the COVID-19 disease so far.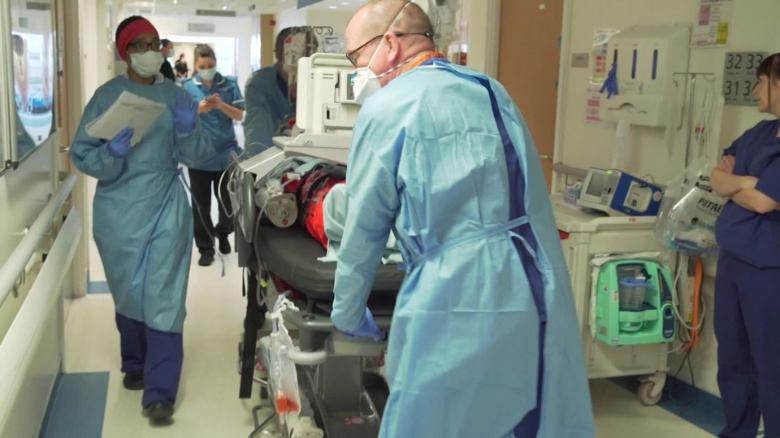 Currently multiple nations have suspended flights to and from the United Kingdom due to a new mutated COVID variant, the B1.1.7 strain.
Despite introducing Tier 4 restrictions in London and southeast England due to the new COVID-19 strain, the British government decided to enact a full national lockdown for a third time to curb the spread of the coronavirus.
The new quarantine will last at least until the middle of February, according to a statement by Prime Minister Boris Johnson. This is what the new lockdown means for Britons:
-non-essential shops will be closed;
-household mixing is prohibited;
-people are only allowed to leave home for work, childcare, and medical reasons;
-schools will be closed;
-outdoor exercises are recommended to be limited to once a day. Indoor and outdoor sports venues will have to be closed;
-people should leave home for work only if it is absolutely necessary for them (like in the construction industry);
-university students will have to study remotely, as campuses are closed;
-restaurants (already closed for dining under Tiers 3 and 4) will be banned from sending takeaway alcohol;
-weddings and civil ceremonies will be restricted to 6 people and only allowed in "exceptional circumstances". The limit at funerals is still 30, but wakes and other ceremonies are also restricted to 6 guests.
Meanwhile cabinet office minister Michael Gove told media today morning that he could not say precisely when the lockdown, announced as lasting six weeks, would be lifted, warning of "very, very difficult weeks".
The new measures will be reviewed from February 15, he said, but the government cannot "predict with certainty" whether they will be lifted then.
He said, "I think it is right to say that as we enter March we should be able to lift some of these restrictions but not necessarily all."
These measures began in England on Tuesday morning and will become law in the early hours of Wednesday morning.
It was reported that Scotland, Wales and Northern Ireland are also bringing in strict lockdowns including school closures.
The new lockdown comes as the surge of a new strain of the virus that is said to be more infectious threatens to overwhelm hospitals, despite the rollout of two vaccines, including UK's own Oxford University/AstraZeneca shot from Monday, bringing hopes of beating the virus in the coming months.
The new measures were announced despite the roll-out of the AstraZeneca vaccine on Monday - the second in the country following the UK launching a mass vaccination campaign with the Pfizer/BioNTech medication in December.
However the vaccination programmes in the country are taking a strange turn with the anticipated second doses now being delayed.
The United Kingdom has already vaccinated over one million people.
It was also reported that schoolchildren will not sit crucial end-of-year exams needed to enter higher education as usual, Gove said.
He said, "We will be putting in place alternative arrangements."
Gove also said the UK could impose new restrictions on international travel. Currently quarantine is compulsory for those arriving from some countries but not virus testing.
The minister said he had discussed this with the leaders of the other UK nations, adding: "We will be coming forward very shortly with new proposals."
The British prime minister had been under pressure from scientists, opposition parties and the UK's devolved nations to act more decisively. Earlier, Scotland said it would lock down again for the rest of the month.
In a race between the inoculation campaign and COVID-19, the spread of a new variant strain of the virus is threatening to win, the UK's chief medical officers warned as they elevated a national alert level to the maximum five.
On Britain's emergency alert scale, that signals a risk of health care services being overwhelmed within 21 days without urgent action.
However unlike the first lockdown last spring, elite sports including Premier League football will continue.
In the first time around, Britain kept its borders open to international travel. But the government said it was now reviewing whether to take action on inbound flights after another new strain emerged in South Africa.
Health officials underlined the severity of the spread now compared to last spring, owing to the variant which emerged in southeast England.
Alarmingly hospital admissions are now 40 percent higher than the spring peak reached on April 12
th
2020. On January 4
th
2021, there were 26,626 COVID patients in hospital in England an increase of more than 30 percent on the same day a week before.
UK medical officers said, "We are not confident that the NHS can handle a further sustained rise in cases and without further action there is a material risk of the NHS in several areas being overwhelmed."
For more on
UK COVID-19 News
, keep on logging to Thailand Medical News.