U.S. Medical News: Doctors Warn That Mu Variant Is Fast Spreading In Massachusetts And Elsewhere. More Vigilance Needed On Mu's Sub-Variants!
Mu variant:
Physicians from various hospitals in Massachusetts are warning that COVID-19 patients infected with the SARS-CoV-2 Mu variant are appearing in many hospitals in the state, indicating that the Mu variant is fast spreading. They urge more close monitoring and extra vigilance as the variant could take over the Delta variant as the dominant strain in a matter of weeks.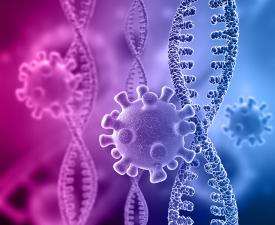 Many experts and virologist initially played down the risk of Mu being a dominant variant over a period of time as it only 1.2 times more transmissible than the original wildtype strain.
https://www.medrxiv.org/content/10.1101/2021.08.06.21261734v2.full.pdf
Furthermore since the Delta is twice more transmissible than the original SARS-CoV-2 strain, the chances of the Delta variant being superseded by a new variant that was less transmissible were less.
However what most experts are failing to realize was that all these emerging variants are by themselves rapidly evolving with a variety of unique mutations occurring giving rise to a number of sub-variants that are trying to be more transmissible, more virulent and more evasive to various human host immune strategies including those induced by the various COVID-19 vaccines. Basically the variants are trying to gain viral fitness in all aspects. The Delta variant has to date given rise to more than 130 unique sub-variants that are concerning and experts are still trying to classify them. In the same light, the Mu variant has also given rise to new sub-variants; some are which experts are cautioning could be more transmissible.
Genomic surveillance is still behind in many American states and even in other countries and in some cases, details are not being picked up.
The Boston-based doctors warn that experts need to continue to closely monitor the
mu variant
to see if it takes over for delta as the dominant strain
The Mu variant labeled a "variant of interest," by the World Health Organization, has been detected in 49 states American, with official cases reported in Illinois. The variant is not yet listed as being monitored by U.S. health officials.
The Mu variant carries several key mutations in the genetic code for the spike protein ie the crown-like bumps on the surface of the virus that help it invade our cells. These mutations could make it resistant to antibodies produced by vaccines or a prior infection, which target the spike protein to neutralize the virus.
https://www.medrxiv.org/content/10.1101/2021.05.08.21256619v2.full
Emerging studies showing its resistance to current COVID-19 vaccines and various antibiotic therapeutic protocols are warranting an upgrade of the variant by WHO to that of a VOC or variant of concern. The Mu variant is also resistant to normal human immune responses.
https://www.thelan cet.com/journals/laninf/article/PIIS1473-3099(21)00482-5/fulltext
https://www.biorxiv.org/content/10.1101/2021.09.06.459005v1
Doctors based in Boston are warning that the state of Massachusetts already has the MU variant circulating around.
Boston Medical Center's Dr. Davidson Hamer said, "It is a variant of interest-great interest since it has now spread to many countries and nearly every state in America. The reason it is of great interest is that it may be able to evade natural and vaccine-induced immunity. This has implications for re-infection, vaccine failure, and possibly monoclonal antibody treatments not working."
Dr Daniel Kuritzkes, chief of Brigham and Women's Hospital's infectious diseases division, explained that the Mu variant originated in northern South America and that the variant has now been detected in other countries as well, having been responsible for some clusters in England.
The Mu variant contains genetic mutations that indicate natural immunity, current vaccines or monoclonal antibody treatments might not work as well against it as they do against the original ancestral virus, the WHO said. The strain needs further study to confirm whether it will prove to be more contagious, more deadly or more resistant to current vaccines and treatments.
Dr Kuritzkes added, "It could be that the same mutations that make a virus harder to neutralize might also reduce the ability of a virus to be transmitted. We'll only know for sure over time."
On the whole, COVID case numbers have been on the rise in Massachusetts and nationwide as the highly infectious delta variant spreads, including among those who are fully vaccinated.
Dr Shira Doron of Tufts Medical Center in downtown Boston said, "The delta variant is so contagious, that no other variant has been able to compete with it for dominance. The time to really watch for new variants is when the delta wave has receded."
Dr Kuritzkes further added, "The Delta remains the dominant strain in Massachusetts, with most recent data showing that it accounts for 99% of cases, But the Boston-based doctors agreed that experts need to continue to closely monitor the data to see if mu takes over. It is impossible to predict whether Mu will take hold and become the predominant strain."
Dr Hamer added, "We need to watch it closely to see if it displaces delta. If delta is more readily transmissible than mu, delta may continue to predominate."
However experts are warning that the Mu variant is already evolving and that sub-variants which could be more transmissible are emerging and warrants immediate studies. So far one sub-variant has been classified by the GISAID platform ie B.1.621.1 but experts are saying that at least another 7 more that have been detected just in the United States alone!
Data obtained from about 10 days ago showed that California has recorded 384 Mu variant cases, with 167 cases contained in Los Angeles County area. Until recently, Alaska had the highest number of Mu cases, with 146 people testing positive for the variant. With its relatively small population, of 730,000 people, Mu made up four per cent of the state's sample size.
Unconfirmed sources say that in Massachusetts, more than 85 cases of the MU variant were detected at the same time ie about 10 days ago.
As of today, Mu accounts for more than 2,463 plus cases across America according to the Global Initiative on Sharing All Influenza Data. (GISAID)
https://www.gisaid.org/hcov19-variants/
However experts and physicians are complaining that access to sequencing is limited coupled with the fact that the Biden administration is creating "roadblocks" to proper reporting of all COVID-19 infections, COVID-19 deaths, breakthrough infections, hospitalization rate and also sequencing data while constantly trying to lay the blame on the Republican state governors who are no better off and are also doing the same!
This suppression of data to the medical and research community and also to the public is preventing all from seeing the actually scenario of the COVID-19 crisis in America currently including the actual spread of the Mu variant.
The Biden administration seems to be more on a strange quest to get everyone vaccinated fast despite emerging data that the vaccines are losing efficacy and breakthrough infections are on the rise. The notion that the vaccines prevent disease severity and mortality risk are also being challenged with daily emerging cases. It is also strange that President Biden who election campaign was backed by many big pharmas is not focusing on antiviral therapeutics but only focused on vaccines.
https://www.newsweek.com/big-pharma-joe-biden-fix-drug-pricing-1534809
Many are already speculating that the Mu variant is likely to cause the next wave of surges in the coming Fall and Winter globally while the lambda variant seems to be waning. However the various emerging Delta sub-variants are also of concern along with the C.1.2 variant which is also seems to be spreading fast globally.
For more on the
Mu variant
, keep on logging to Thailand Medical News.