U.S. Hit By New SARS-CoV-2 BA.4 And BA.5 Variants Surge. 118,027 New COVID-19 Infections, 367 Deaths In last 24 Hours With 29,866 Hospitalized!
U.S. Medical News
: The United States had entered a new phase of the COVID-19 crisis with the new SARS-CoV-2 BA.4 and BA.5 variants both simultaneously gaining predominance in circulation and is on an upward trend of potentially displacing the main BA.2.12.1 variant that accounts for about 54% of all new genomic sequences.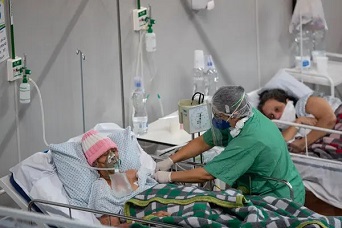 Online data shows that the BA.4 variant now accounts for about 6.56% of all sequences in the United States over the last 7 days while the BA.5 variant stands at about 11.25%.
However, it should be noted that many hospitals, counties and states in the United States are no longer doing frequent genomic sequencings let alone the fact that testing is way down across the country due to the Biden's administration policy of closing down many free testing centers.
With that in mind, the official figures released in the last 24 hours showing 118,027 new COVID-19 infections and 367 COVId-19 deaths in the last 24 hours might not reflect the true state of affairs in the country. Again, the reported COVID-19 hospitalizations of 29,866 and 3,419 in ICU does not correlate with hospitalization rates and beds available in various states which are reflecting higher values.
In states like New York, Florida, North Carolina, Nebraska, Texas, Arizona, Arkansas and California where the BA.4 and BA.5 surges are rising, a corresponding increase in hospitalizations is being witnessed indicating that the BA.4 and BA.5 variants do contribute to disease severity irrespective of vaccination status.
U.S. Medical News
reported that in New York alone, there are currently more than 2,300 COVID-19r related hospitalizations. (
www.healthdata.gov
)
Despite the potential dangers the new SARS-CoV-2 variants could cause, the Biden administration is simply down playing issues as the midterm elections are around the corner.
To make things worse, the U.S government under the Biden administration has even dropped all COVID-19 testing requirements and health screenings for all international travelers coming in the country since last week, thereby increasing the risk of new SARS-CoV-2 variants or even other new viruses or even the monkeypox virus from coming into the country and infecting and spreading among the general American population.
With masses being ill-informed by ignorant health officials and so called experts that all Omicrons variants are mild and with the relaxation of all preventive measures including masking in certain states, we can expect to see an increase in hospitalizations, and also mortality and excess deaths as the BA.4 and BA.5 variants and their ever emerging sub-variants are not only more transmissible, more immune evasive and more pathogenic and fusogenic, but they are also able to replicate much faster and literally disarm the host immune system. So, although at first it will be more disastrous for those belonging in the vulnerable groups ie the aged, the young and those with existing comorbidities, those are healthy despite initially having mild symptoms will still suffer more long term health effects.
It should also be noted that many studies are already indicat ing that these new BA.4 and BA.5 variants are also resistant to almost all of the known antiviral substances that in the past had effects against the earlier SARS-CoV-2 variants due to extensive mutations on the Mpro and Nsp5 proteins.
It is expected that within 4 to 6 weeks' time, the BA.4 and BA.5 variants will be the dominating variants in circulation in the United States where reinfections and coinfections are going to the trending issue along with disease severity and increased mortality.
For the latest
U.S. Medical News
, keep on logging to Thailand Medical News.