U.S. COVID-19 Updates: Wisconsin Facing Record Hospitalizations Opens New Overflow Facility
U.S. COVID-19 Updates
: America is facing a new surge in COVID-19 cases and the coming winter season will see a catastrophic scenario never seen in its history where it is projected that millions more of Americans will contract the SARS-CoV-2 while hundreds of thousands will be severely ill and will ultimately die.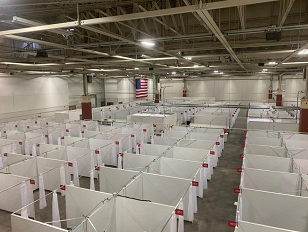 To date more than 220,180 Americans had died from the COVID-19 disease while more than 8.2 million have already contracted the SARS-CoV-2 coronavirus. In the coming months, the figures are expected to multiply exponentially. Already America is seeing daily new COVID-19 cases of an average of more than 55,000 cases in the last few days and those numbers are on a steady climb.
In Wisconsin that so has a total of 173,891 reported COVID-19 infections and 1,600 deaths, in the last 24 hours saw another 3,777 new COVID-19 cases and 12 deaths.
The state is reporting a record number of COVID-19 Hospitalizations with more than 1,000 COVID-19 patients in hospitals.
The continued high levels of COVID-19 cases and deaths, has forced Wisconsin to open an overflow facility for treating patients with the coronavirus but officials do not expect to bring patients to it until this coming Thursday at the earliest.
Julie Willems Van Dijk, deputy secretary of the state Department of Health Services told Thailand Medical News, "We are in crisis here in Wisconsin, and so we are ready to accept patients as the need arises. The trajectory does not look good. We need to be prepared for that."
CEO of the alternate care facility at Wisconsin State Fair Park in West Allis, Deb Standridge, said staff were talking to hospitals around the state about their needs and evaluating COVID-19 patients for potential transfer Thursday.
The Wisconsin Hospital Association said a record 1,017 patients were hospitalized with COVID-19 including a record 246 in intensive care. Dane County reported a record 78 hospitalizations for the coronavirus as of Tuesday.
Meanwhile in Madison, SSM Health St. Mary's Hospital, UnityPoint Health-Meriter and UW Hospital were not planning to immediately send any patients to the overflow facility, spokeswomen said. The hospitals have rescheduled a few procedures to help maintain adequate capacity, they said.
SSM Health spokeswoman Lisa Adams said, "Use of an alternate care facility is a part of our surge planning, should it be needed at a later date."
Wisconsin still boosted the daily averages to 2,840 cases and 17 deaths, the state's highest levels of the pandemic. Wisconsin had the second-highest COVID-19 case rate in the country, after North Dakota,
according to the COVID Tracking Project
.
Willems Van Dijk added, "We can anticipate, as we look at the numbers of cases here, that this is not going to go away anytime soon. Some people will get much more ill, require hospitalization and unfortunately will succumb to this disease."
The new 530-bed overflow facility is ready for now to care for up to 50 patients, but could increase capacity quickly if needed, Standridge said.
The overflow facility w ill accept COVID-19 patients ages 18-70 who have been hospitalized at least two days and recovered enough that they have relatively normal vital signs, such as a temperature of 100 or less, Standridge said.
COVID-19 patients will typically stay three to six days, possibly receiving oxygen and intravenous medications, before going home, she said.
Fortunately there will be no charge for the care, which will be covered by federal pandemic relief funds allocated to Wisconsin.
Standridge said, "It's not clear how long the facility, known as an ACF, will remain open. We're not taking the ACF down until there is evidence that the pandemic has passed."
Thailand Medical News will be providing frequent updates on the COVID-19 situation in the various states in America as the country enters the start of its expected catastrophic phase of the COVID-19 pandemic and the rest of the world is anxiously looking at the way the crisis is being mismanaged in what was once an advanced country.
For more on
U.S. COVID-19 Updates
, keep on logging to Thailand Medical News.