U.S. COVID-19: American COVID-19 Death Toll Now 205,114, Total Numbers Infected: 7,149,073, Cases Rising In New York, Country Opening Up To More Infections
U.S. COVID-19
: USA has now recorded a total of 205,114 deaths and more than 7,149,073 in the country have been infected. In the last 24 hours, 37,418 new cases were recorded and only 355 COVID-19 deaths were recorded.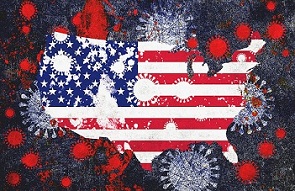 Despite the low death rates and moderate infection rates in the last few days, the rate of positive COVID-19 tests is ticking up in New York, especially in neighborhoods with large Orthodox Jewish populations, the state's governor Andrew Cuomo said on Monday.
Cuoma tweeted that of the 52,936 tests reported on Sunday, 834 were positive, or 1.5 percent of the total.
Previously the positive rate had been at only one percent for several days.
The state of New York became the global epicenter of the pandemic in spring, recording 23,800 cases in March alone, but in recent weeks officials have touted the lowest test positivity rate and infection rate among major US cities.
Although a 1.5 positive rate is still relatively low, it conceals hot spots deemed "worrying" by health authorities, particularly parts of Brooklyn that have large populations of Orthodox Jews.
In certain of these neighborhoods, the infection rate has risen to five or six percent, and has been linked to the Jewish holiday of Yom Kippur that ends Monday, health officials warned.
The New York Governor also cited Rockland County and Orange County, suburbs with large Orthodox Jewish populations, as areas where the positive rate is increasing.
The infection rise is particularly concerning as public schools in the US financial capital prepare to re-open classrooms for part time learning in-person, a move the city has already postponed twice.
New York health commissioner, Dave Chokshi told media on Friday, "This may be the most precarious position with COVID-19 we have experienced in months."
Health authorities have warned that they will inspect non-public schools including Jewish religious schools in the coming days, and sanction establishments where social distancing and mask rules aren't being implemented.
Meanwhile, US President Donald Trump on Monday announced the distribution of 150 million rapid coronavirus tests ordered from Abbott Laboratories that are able to deliver a result in 15 minutes and display it in a similar format to a home pregnancy kit.
Trump said, "Here's our plan,50 million tests will go to protect the most vulnerable communities, such as nursing homes and assisted living facilities, and the other 100 million tests would go to states and territories to assist them in opening their economies and schools."
It was reported that each of the kits cost the federal government US$5, and the health department said in a statement that Abbott plans to make 48 million kits available monthly in the coming weeks.
Medical experts have for months been calling for widespread adoption of this low-cost technology, called antigen tests, so that individuals can test themselves several times a week though the current approval is only for the test to be performed by a h ealth care professional.
Furthermore the turnaround time offers obvious advantages for stemming the spread of the virus.
However it comes with a trade-off they are less sensitive than the standard polymerase chain reaction (PCR) tests and therefore more likely to return false negatives.
The reasons for this are because the PCR tests use sophisticated lab equipment capable of detecting trace amounts of the virus' genetic material.
However if it takes a week or so to return a result, a PCR test isn't clinically meaningful as the patients have either already recovered or become more obviously sick.
The antigen tests on the other hand, work best when a individual has a lot of virus in their nose, which is probably also the point at which they are most contagious.
The rapid antigen tests use a paper strip containing coronavirus antibodies that react when they touch the virus's spike protein, similar to how a home pregnancy test reacts to hormones.
Normally the antigen tests may require further confirmation by a PCR test, particularly if a person tests negative but appears to have symptoms, since this could mean the bulk of the virus has migrated from the upper to the lower respiratory system.
Harvard epidemiologist Dr Michael Mina said the Abbott test order "is terrific and is a great start." However, he added, the amount being distributed by the government was "simply not sufficient" and production should be multiplied ten or twentyfold.
On other U.S.news, hundreds of thousands of elementary school students are heading back to classrooms Tuesday as New York City enters a high-stakes stage of resuming in-person learning during the coronavirus pandemic, which is keeping students at home in many other big U.S. school systems.
Already twice delayed, the elementary school reopening comes over spurts in virus cases in some city neighborhoods after a summer of success at keeping transmission fairly stable in the city as a whole.
Mayor Bill de Blasio told media, "It's a big moment for the city with in-person learning for middle and high school students scheduled to begin Thursday, as many as half a million kids could be in school in the course of this week."
Interestingly with over 1 million public school students, New York City initially had a more ambitious timeline than many other big U.S. school systems for bringing children back to schoolhouses this fall. Families have the option of choosing all-remote learning, and a growing number are doing so, 48% as of Friday, up from 30% six weeks earlier, according to city Education Department statistics.
Numerous other students are already back in the city's virus-altered version of in-person school, learning sometimes in classrooms and sometimes at home.
Already pre-kindergarteners and some special education students began showing up September 21 as online instruction began for the rest of the student body.
Originally students were due back September 10, but the start date was pushed back, repeatedly, after the city teachers' union said it wasn't safe to open schools because of outdated ventilation systems, an insufficient number of school nurses and other issues. At one point, the United Federation of Teachers threatened to strike.
The Teacher's union was still pressing for changes as recently as Friday, when the city agreed to let more teachers work from home when instructing students remotely, rather than having to come in to school to conduct online classes.
Meanwhile the principals' union said the late-breaking change was too much. Principals had already complained that the city was creating a staffing crunch by planning to have three different groups of teachers—one for all-remote students, another for in-classroom pupils and a third for blended-program students when they're at home.
Mayor de Blasio and Schools Chancellor Richard Carranza "have entered into grossly irresponsible staffing agreements," the Council of School Supervisors and Administrators called Sunday for the state to take control of the school system for the duration of the pandemic.
New York Governor Andrew Cuomo said Monday that he understood the concern of the principals' union and that the state would monitor virus testing data to determine whether any steps need to be taken concerning New York City schools.
Also many other big school systems around the country began the fall term online, though some are reopening physical schools. In Florida, for instance, students opting for in-person learning returned to schools September 21 in Palm Beach County, where the nation's 10th largest school system has over 197,000 students.
Most of America is opening up and lifting restrictions as per Trump's administration directives as the strategy is to ignore the seriousness of any health issues and offer 'placebo' solutions like non-properly tested vaccines, ineffective drugs etc till the elections are over. There is also a concerted effort to control all COVID-19 reporting data till then, hence daily infection and death rates in America should not be regarded as credible at the current times.
For more
U.S COVID-19
News, keep on logging to Thailand Medical News.