Time For Thailand To Do Away With Mask Mandates As Local Experts Say Omicron is Mild And That COVID-19 Jabs Offers Protection!
The last week has seen daily new COVID-19 infections In Thailand hover above the 20,000 mark and it's a sign that the current mask mandates are not helping to prevent COVID-19 infections in the country especially when the new Omicron variants are concerned.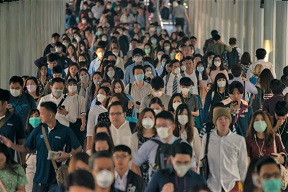 According to local
Thailand COVID-19 News
sources, the last 24 hours has seen 21,881 new COVID-19 cases and only 59 COVID-19 deaths. (Note that all figures in Thailand is not reliable as the authorities have a reputation for disseminating fake news!)
Many Western countries where the local medical and health experts are supposedly better trained and have a better understanding of the SARS-CoV-2 coronavirus transmissions and spread, have already removed mask mandates.
In Thailand, as the local doctors and government health officials keep on saying that the current Omicron variants are 'mild 'and that the vaccines are 'truly offering sufficient protection', maybe it is time to eradicate mask mandates starting with all the health care workers especially doctors.
In fact, doctors should only be allowed to wear the mask if they are doing surgeries and nothing else as it would make it more comfortable for the patients to see the full faces of these local doctors when they come in to seek medical consultations and treatments.
The Thai doctors should stick by their claims and public comments and should also set an example to install confidence in the locals.
At least if the claims by the doctors come to be false, it would be them that would be contracting the infections first and hopefully dying from it or suffering from it rather than the whole population.
But if they are not yet confident to do away with mask mandates, then these stupid and ignorant local doctors should keep their mouths shut and refrain from publicly telling the masses that the current surge is mild or that the vaccines truly offers full protection!
It would be better for the Thai government to actually lead the policy changes and eradicate mask mandates as they want the turn the current pandemic into an endemic status plus they are saying that the country must learn to live with the virus coupled with the fact that they want the whole economy to be opened so as to install confidence and faith in the economic prowess of the country……what a better way than to do away with mask mandates.
A country with people wearing mask only installs fear and worries and already it is coming to light that even wearing a N95 mask is not much of a use unless you are wearing a bubble outfit and staying in a really sterile environment with extreme measures for constant disinfections.
Politicians, government officials and all uniformed personnel should be the first to do away with these mandates.
As for me, I will simply stay in isolation till the current surge is over but it will be fun to see the mess created by those making stupid claims and stupid policies and advocating 'half-baked' measures.
For more on
Thailand COVID-19 News
, keep on logging to Thailand Medical News .