Three New Cases In Singapore, 96 Individuals Under PUI Status In Thailand, With Warnings That Phuket, Pattaya, Hua Hin, Chiang Mai & Bangkok Could Become Infected Zones!
Singapore has announced three more cases with the
2019-nCoV
coronavirus
bringing the total to 10 while there are more than 70 suspected cases that are awaiting test results. Close to two hundred people are under quarantine for having being in contact with the infected and suspected cases.
Australia also has new cases bring the total to 7.
Canada now has two more confirmed cases besides the initial one in Toronto. The total is now 3 with 2 in Toronto and one in Vancouver.
Thousands of suspected cases of individuals being infected with the coronavirus are sprouting up all over the world, almost 92 percent being Chinese Nationals.
The current updated number of
coronavirus
infected cases globally stands at
:Thailand
(14 cases), Hong Kong (10 cases), Singapore (10 cases), Malaysia (7 cases), Australia (7 cases), United States (5 cases), Macau (5 cases), Taiwan (5 cases), South Korea (4 cases), UAE (4 cases), Japan (4 cases), France (4 cases), Germany (4 cases), (Canada (3 cases), Vietnam (2 cases), Nepal (1 case), Mexico (1 case) and Africa-Cote d'Ivoire (1 case), Sri Lanka (1 case), Ukraine (1 case)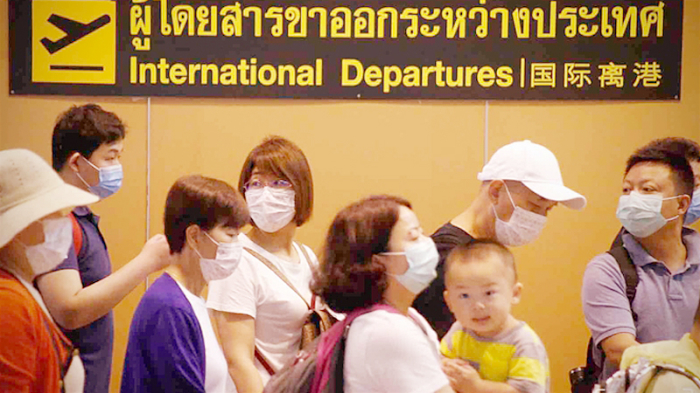 Meanwhile in
Thailand
, there are now besides the confirmed 14 cases, another 96 individuals who are classified under the "PUI" status or Patients Under Investigations and though some have been under that status for almost 4 days now, many are wondering why the test results are taking such a long time. A few hundred more are under observations and most of them are Chinese nationals (however who is observing them and where they are is a great mystery.) Also despite the fact that
Thailand
has been ranked as the 6th country in the world for Global Health Preparedness by some so called experts from John Hopkins, to date there has been no quarantine facilities set up or people being placed under quarantine for those who had been in contact with the infected or suspected or PUI cases. There are only specially designated hospitals for treatment with those showing symptoms. In fact, there is no record of follow ups with those who have been in contact with the infected unless they are family member staying in the same dwellings or are showing symptoms. Whereas Singapore that has a lower ranking on that so called credible report, has quarantine centres and also follow up with all that have been in contact with the infected not just family members for example restaurant staff, taxi drivers, maids, etc.
On a slightly disturbing note, Thai authorities this evening warned that tourist cities in
Thailand
could become hotspot zones for the
coronavirus
infections! Such cities included Bangkok, Chiangmai, Phuket, Hua Hin, Pattaya, Chiang Rai, Samui, Phangnga, Krabi and Hadyai.
Dr Tanarak Plipat, deputy director-general of the Department of Disease Control said, "An outbreak in
Thailand
is possible. As in Japan, it will start with local transmission on a very limited scale and later grow to the provincial level."
He added, "We are closely monitoring sensitive areas with large numbers of Chinese tourists such as Chiang Mai, Phuket and Bangkok, which are highly possible to be specific outbreak areas."
China
is reportedly facing a medical crisis as medical supplies are running low all over the country and there is also an acute shortage of medical staff to deal with overflowing patients all over the country. There is a massive shortage of drugs such as NSAIDs, Ibuprofen, Steroids, Surgical Gowns, Masks, Diagnostic KIts and Devices etc.
For more updates about the
China

coronavirus

epidemic
or the
Thailand Coronavirus
scenario, keep on checking at :
https://www.thailandmedical.news/articles/coronavirus