Thailand is one of the few countries in the world
where antibiotics are not properly controlled by the public healthcare authorities or the various medical organization. Though its not an OTC (over the counter) drug, you can still walk into any pharmacy and ask for any antibiotic and the pharmacists on duty will not even wink an eye and ask you what you are planning to take it for. Even worst, Thais have a bad habit of even consulting the pharmacist about their medical conditions without consulting a doctor, and without the necessary detailed training required and proper diagnosis, many pharmacists tend to prescribe drugs without knowing the full medical history of the individual. In some larger crowded pharmacy shops in the city run by traditional Sino-Thai families, there is only one licensed pharmacists who might or not be at the shop while the rest of the non-trained staff are dispensing medications!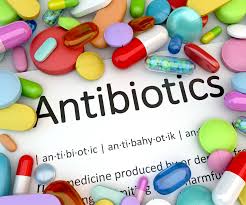 So what we can see sometimes are cases like this, Thais with a simple sore throat getting dispensed with Tetracycline capsules (witnessed this myself at a pharma shop at Saphan Kwai area) or broad spectrum antibiotics like Augmentin being dispensed for a simple case of diarrhea of which the cause is unknown(another incidence at a major pharma shop opposite the Chulalongkorn Hospital at Rama 4 Road) and then there was a case of a pharma staff prescribing Ciprofloxacin, a fluoroquinolone antibiotic to a 73 year old man who was complaining of slight itching after urination, at a major pharma outlet at Sukhumvit Road.
These are just some examples but like in the first case, Tetracycline which is a broad spectrum antibiotic normally used as a second line for certain STDs disease as well, if misused in a patient with slight sorethroat that could have been a result of a viral infection and not a typical streptococcal infection, the individual could develop resistance and if ever contracts a STD in the future, will not only have an issue getting treated but could also develop a drug resistant infection. The same goes for misusing a broad spectrum antibiotic like Augmentin for a diarrhea infection that is caused by what, was unknown in the first place. In the last case, prescribing Ciprofloaxcin to a 73 year old male patient without asking if the individual had any underlying medical conditions could have resulted in a fatal death as fluroquinolone usage has been proved to be linked to cardiovascular deaths.
Out of 8 local pharmacists we interviewed, we discovered that none had full knowledge about the various types of antibiotics and the effectiveness on different types of bacterial infections or symptoms, or even safety concerns when patients had underlying medical conditions or even when and how to use them in order ie as first line treatments or second line. etc.
The problem of the lack of proper knowledge of antibiotic prescription is not only confined to pharmacists but in many government hospitals, private hospitals and also smaller private clinics, where broad spectrum antibiotics are being easily dispensed by 'lazy' doctors despite prior warning by medical bodies in Thailand, to avoid such practices and the dangers of Antimicrobial Resistance (AMR).
Its not just the over prescription and often the prescription of the wrong antibiotics that is a problem, but often patients or users are not being warned about the need to finish the whole regimen and not to stop half way if symptom tend to be better, as this too can lead to resistance being developed by the microbial organisms that were not totally eradicated.
With the growing rise in studies showing the side effects of antibiotic usage linked to other conditions including
cardiovascular incidences
, kidney problems and a hosts of other health condition, both pharmacists and doctors need to keep abreast with such studies and developments before prescribing any antibiotics.
Latest studies are also showing how antibiotic usage alter the microbiome in the gut and even other parts of the body and how this can have serious effects on the body and can give rise to newer medical conditions and also epigenetic changes to certain critical genes that can give rise to cancers, autoimmune diseases and inflammatory conditions.
Thailand Medical
News is only touching on the tip of the iceberg with regards to antibiotic misuse, the problem is actually more extensive.
The pharma drug market in Thailand was worth approximately US$ 7 billion in 2018 or about Bt 211 billion! Antibiotics constituted about 0.2 percent or about Bt 422 million! For a population of about 70 million people, that sounds like a lot of antibiotics!
Medical and Health authorities need to act fast and impose more restrictions on antibiotic sales and dispensing and also provide more product trainings to doctors and pharmacists and also general education about antibiotic usage to the public or else Thailand might end up achieving the distinct status of being the Hub of Antibiotic Resistance Diseases in Asia Pacific or a 'XDRpolis' (XDR:Extensively Drug Resistance)