Thailand Coronavirus Updates: 21 Year Old Thai Male Becomes 42nd Infected Case. New Legal Measures Take Effect Sunday
Thailand coronavirus
infected toll has now climbed to 42 as the Ministry Of Public Health announced the 42
nd
infected case today.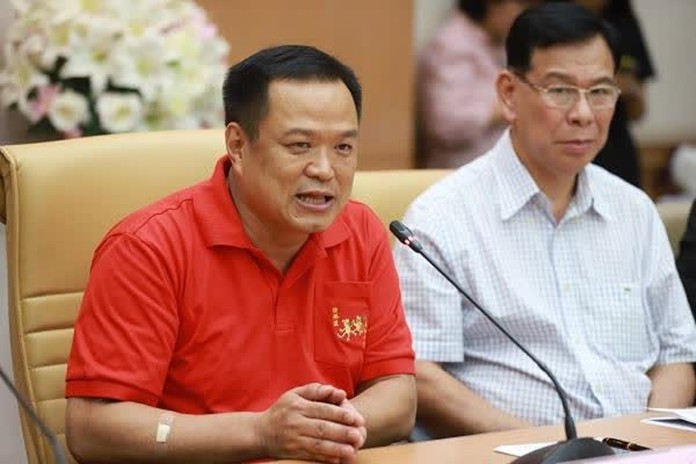 Left: Thailand's Public Health Minister, Anutin Charnvirakul and Right : Dr Sukhum
Kanchanaphimai, the ministry's permanent secretary, two of the key coronavirus
warriors that have been effectively controlling the situation in Thailand making it safe.
Dr Sukhum Kanchanaphimai, the ministry's permanent secretary said that the latest case was a 21-year-old Thai salesman whose job brought him exposure to foreign tourist.
Thailand has not yet had a death from the
coronavirus
, though 28 patients have recovered and 14 are being treated in hospital.
In fact
Thailand
is one of the few countries that have managed to control the
coronavirus
situation extremely well thanks to the efforts of its Prime Minister, General Prayut Chan-o-Cha and also the initiatives and strategies Of Public Health Minister, Anutin Charnvirakul.
Despite criticisms and unproven allegations,
Thailand
has managed to keep the situation under control due to a few strategies that even the public has not aware of such as constant surveillance of all tourist in the country and even on locations that could be high risk zones. The Public health ministry has been working diligently with the support of the Ministry Of Interior, Ministry Of Defence, Ministry of Digital Economy and Ministry Of Transportations using officials, police and army personnel to constantly check on all areas to procur any intel about possible infected individuals etc.
Coupled with numerous other strategies that the Minister of Public Health, Anutin Charnvirakul had put into place including procurement of stockpiles of test kits, ventilators, drugs etc,
Thailand
is really one of the few places that is best prepared to handle an epidemic if it ever breaks out.
Contrary to popular believe, Thailand's stringent screenings of travellers is also paying off.
Thailand Medical News
has done an investigative study involving all 1,620 hospitals and there are no such covers or concealments as many are claiming, there about 720 plus cases of suspected
coronavirus
cases
or PUIs ie patients under investigation and in most of those cases, the nucleic acid tests and CT scans have proven negative but health authorities still keep these patients hospitalized and monitor them as a further preventive measure till symptoms disappear and in most cases they are actually simple common cold or flu.
Most the efforts of the government are actually being hampered by local ignorant Thais who are still visiting high risks infected countries to take advantage of cheap flights and hotel packages while putting themselves and others at risks.
However a new legal regulatory measure that comes into effect tomorrow will designate Covid-19 giving authorities more weapons to combat the spread of the
coronavirus
. This includes people who fail to notify authorities of recent travel to high risk countries or failing to take necessary precautions if they have symptoms.
The new "dangerous communicable disease" announcement, signed by Public Health Minister Anutin Charnvirakul, is based on provisions in Sections 5 and 6 of the Communicable Disease Act. It was published in the
Royal Gazette
on Saturday.
The new announcement empowers officials to order people suspected of being infected with Covid-19 in
Thailand
to undergo treatment and put them in quarantine, and to close venues affected by the
coronavirus
, among other measures.
Thailand
is actually of a the few countries that could actually escape the full impact the global
coronavirus
pandemic if only the Ministry of Tourism and Ministry Of Finance would agree to close the border of the country and also suspend all air travel in and out of the country for a while till the pandemic scales down.
For more on
Thailand Coronavirus
situation, kindly keep logging on
Thailand Medical News