Thailand Coronavirus Updates: 1,204 Suspected Cases In Thailand, Including Three Detected Yesterday From Airport Screenings
According to the Disease Control Department Head, Dr Suwannachai Wattanayingcharoenchai from Thailand's Ministry Of Public Health, till the 29
th
Of February, there were 2,953 reported suspected cases or PUIs (patients under investigations) under surveillance for possible coronavirus infections. It was revealed however that most of them had contracted influenza and about 1,752 have since been discharge. The remaining 1201 are still under observations. Also of the 42 confirmed infected coronavirus infections, 30 have so far 'recovered" and have been discharged from hospitals.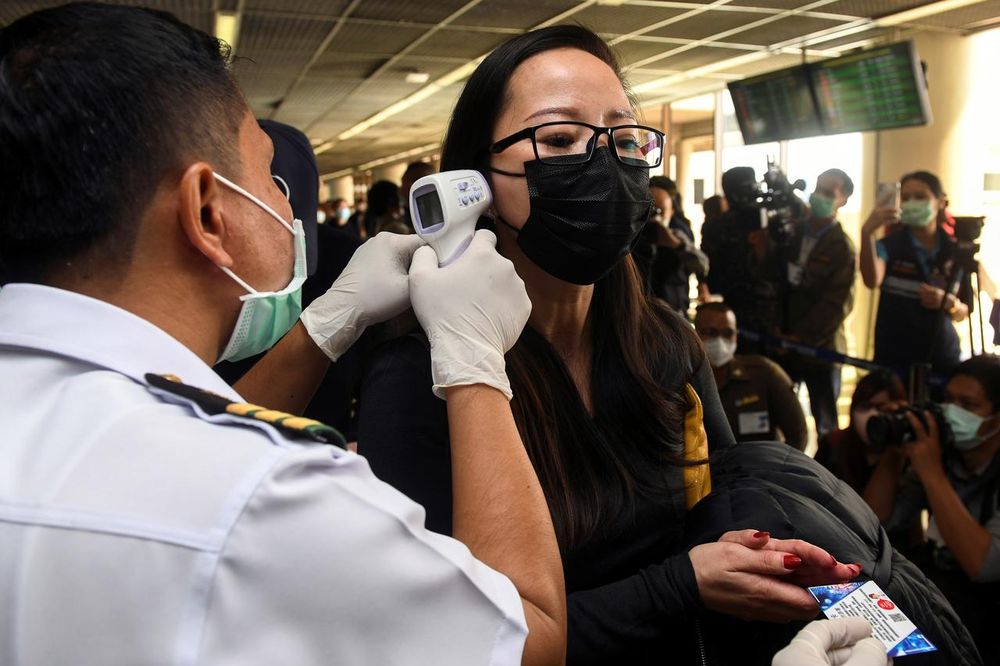 Meanwhile, Airports of Thailand (AOT), the operator of the airports reported that out of 105,677 passengers that were screened while passing through the six airports yesterday, three suspected Covid-19 cases were detected.
It was reported that at Don Mueang International Airport, a male Indian national, aged 39, flying in from Narita Airport in Japan on an AirAsia X flight had 37.7 degrees Celsius temperature but showed no signs of coughing or runny nose. He was isolated by airport medical team and admitted to Bamrasnaradura Infectious Diseases Institute.
Over at Suvarnabhumi Airport, a departing a female Japanese national aged 27, showed symptoms of coughing and runny nose with 37.1 degrees Celsius temperature. She was identified as a possible coronavirus patient and taken to Bangplee Hospital.
Meanwhile over at Phuket International Airport, a male German national who had travelled from Singapore on a SilkAir flight, showed symptoms of coughing, runny nose and had 38.6 degrees Celsius temperature. He was taken to Vachira Phuket Hospital also as a suspected Covid-19 patient.
Private Hospitals In Thailand Facing Mask Shortage And Staff Exposed To Coronavirus Risk.
It was also reported that private hospitals in Thailand are facing an acute shortage of surgical masks following the outbreak of the SARS-CoV-2 coronavirus according Dr Chalerm Harnpanich, Head of Thailand's Private Hospitals Association.
Dr Chalerm explained that the reason for the mask shortage was due to the Department of Internal Trade (DIT)'s placing masks as a controlled product, forcing manufacturers to submit their products to the DIT, making it difficult for private hospitals to buy face masks from their existing suppliers.
He added, "We have contacted the DIT to buy face masks but the officials told us to join the queue like other entities wishing to buy face masks in bulk."
Dr Chalerm said that a survey by the association revealed that over 250 private hospitals nationwide have or will have inadequate supply of face masks.
He further added, "We would like to ask the government and Department of Internal Trade to provide sufficient face masks to private hospitals, or at least reserve enough supply for us to buy to prevent further spreading of the coronavirus."
Thailand's First Coronavirus Death Facing Queries and Probe.
Thailand's first death from the coronavirus, a male aged 35 has raised a lot of questions from various medical experts in the field and a probe has been ordered by the national committee on communicable diseases.
Dr Thiravat Hemachudha, head of King Chulalongkorn Memorial Hospital's Centre for Emerging Diseases is leading queries about the reported death as it was reported that the patient never had any underlying diseases and his two lungs were affected by pneumonia, which indicates that he had contracted Covid-19 from the beginning. However the Ministry of Public Health made claims that the patient had developed dengue initially raising doubts if proper diagnosis was being made by the doctors there.
Dr Hemachudha said, "I think the Public Health Ministry probably made some inaccurate assessment of the patient's conditions and diseases. A lab result found he had dengue fever without detecting dengue virus."
The dead male patient was reported to be a product consultant of a company which sells products at a duty-free shop run by King Power at its Srivaree branch in Samut Prakan's Bang Phli district.
As he had tested positive for the new coronavirus, other employees went through medical checks and the outlet was cleaned and has been closed due to a sharp drop in shoppers.
The Ist of March also marked the first day that new state measures against Covid-19 disease, now listed as a dangerous communicable disease, took effect.
Dr Hemachudha however warned that despite stringent measure to manage the coronavirus, authorities have to do more by intensifying their screening of people suspected to catch the virus.
He warned, "Eighty per cent of Thai people who contracted the virus showed little or no symptoms but are still able to spread the disease. The virus lodges deeply in the lower part of windpipe and lungs, so patients will not cough or have a sore throat when they first develop the disease. This also explains why tests on fluids taken from noses and throats often turn out negative."
To read more updates on the
Thailand Coronavirus
situation, keep logging on to Thailand Medical News.