Thailand Coronavirus News: Thailand Records 100 Days Without Local COVID-19 Cases or Transmissions. New Cases Are Foreigners Or Overseas Returnees
Thailand Coronavirus News
: Thailand celebrated its 100 Days without any local COVID-19 cases or transmissions. The country has been lucky as it was only exposed to the milder strains of the SARS-CoV-2 coronavirus since the epidemic plus it is speculated that due to epigenetic changes as a result of the excessive usage of herbs in Thai cuisines and dietary habits, Thais have developed a robust and healthy immune and body system to withstand the effects of the virus and prevent severity of the disease. How much of the population were affected and are asymptomatic is not known as testing were limited in the initial stages of the pandemic and testing were normally done on patients who are exhibiting moderate to severe conditions during the initial stages or when there was high profile cases and contact tracing was initiated. We have had many reported cases of individuals who were turned away in the initial stages of the pandemic when they reported mild symptoms to certain hospitals and were told to only return if the symptoms worsened. Fortunately in most cases it never did.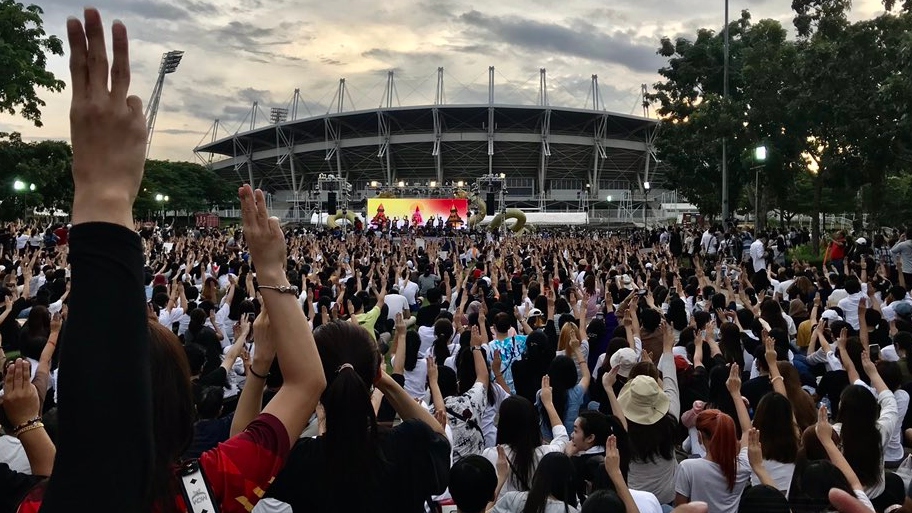 Sadly, Thailand is back to normal again with frequent political protests and
mobs,a trend started by the yellow shirts that caused the country to fall,
then followed by the red shirts and now by students.

Contrary to stories that the rates of COVID-19 were low in Thailand due to the prowess of the local medical industry and the authorities, there is no evidence to support this. In fact some are wondering any of the reported deaths in the country of the 58 individuals could have been due to the drugs being used as it was reported that treatment protocols during these stages also included chloroquine, hydroxychloroquine and favipiravir (drugs that certain studies including those by the US FDA have shown to have no efficacy against the SARS-CoV-2 coronavirus but could be lethal themselves.)
https://www.thailandmedical.news/news/breaking-covid-19-drugs-us-fda-drug-trial-concludes-that-most-drugs-being-used-including-favipiravir,-lopinavir,-ritonavir,-chloroquine-has-no-effects
Furthermore Thailand's authorities and doctors had announced in many mainstream local media that are famous for disseminating fake news and misinformation that that they had developed a treatment protocol that include Lopinavir/ritonavir and Oseltamivir for treating COVID-19 (both drugs have been confirmed by numerous studies including that by WHO's 'RECOVERY Study' to show no efficacy at all against the SARS-CoV-2 coronavirus coupled with the fact it was found that Lopinavir/ritonavir could interact with other drugs and cause even fatal issues.)
https://www.thailandmedical.news/news/covid-19-warnings-usage-of-antiviral-of-lopinavir-ritonavir-to-treat-covid-19-linked-to-numerous-drug-interactions-and-even-deaths
and
fits-in-hospitalized-covid-19-patients">https://www.thailandmedical.news/news/covid-19-drugs-recovery-trial-study-confirms-lopinavir-ritonavir-has-no-clinical-benefits-in-hospitalized-covid-19-patients
It is also interesting that there was so much hot-air during the early stages of the pandemic in Thailand including agencies trying to show their innovative prowess with announcements that they had created local diagnostic test kits and also special mask etc. There were never any published studies in any international journals to show the standards of these products and not much were heard of these products subsequently.
The only thing that stood out during the initial stages of the COVID-19 pandemic in Thailand was its true xenophobic nature when we heard senior authorities calling Western Caucasians derogatory names.
Scarily it now claimed that two different entities are now developing COVID-19 vaccines in Thailand although the immunological, genomic, target epitopes and identified antibodies strategies behind these vaccines have not been made public. Considering Thailand's track record in the past from such announcements that they created a vaccine for HIV, to finding a cure for Ebola etc, it was only the local non-credible media that carried these stories to appease the ignorant patriotic few while most are skeptical of these stories.
The Centre for Covid-19 Situation Administration today announced nine new coronavirus infections were reported, all from overseas an American family and five Thai returnees.
The new cases brings the total number of infected cases to said the to 3,425, most of whom have already been treated and discharged and most were foreigners or Thai returnees from other countries.
The total death toll remained unchanged since June 2, at 58.
It was reported that a Thai male, 34, and a Thai female, 36, arrived from the United States last Thursday. They were tested on Monday while in quarantine in Chon Buri, and the results were positive, although they were asymptomatic.
Also four members of an American family proved positive in their second tests on Monday during quarantine in Samut Prakan. They arrived in Thailand on Aug 19. The family comprised a man aged 48, a woman aged 49, a boy aged 15 and girl aged 13 years.
A 27-year-old male Thai student tested positive on Thursday after arriving from Australia on Aug 24. He was in quarantine in Chon Buri and exhibited no symptoms.
Also a Thai woman, 29, who arrived from Japan on Friday was found infected with the virus on Monday. She was also asymptomatic, the CCSA said.
In other new, it was reported that one of the two Myanmar men who fell ill after illegally entering Thailand and staying in a village in Thong Pha Phum district-Kanchanaburi has tested negative for Covid-19, provincial governor Jirakiat Phumsawat said.
It was said that the governor had posted the news on his Facebook page, to alleviate the Covid-19 scare caused by the two illegal migrants.
The Myanmar illegals both males men aged 20 and 17, slipped into Thailand on Aug 23 and stayed with a family in a house at Phulo village in tambon Lin Thin. Children also lived there.
It was reported that on Aug 31, the two men and a one-year-old boy at the house where they stayed had a high fever and went to a tambon hospital at Ban Kui Yae. The three were suspected of having caught Covid-19 and were transferred to Thong Pha Phum Hospital for testing.
They also had close contact with three other boys, students at Kui Yae School. The school director on Monday closed the school for three days, to await the test results. The three students from the same house were ordered into 14-day isolation, and the school was thoroughly cleaned.
Mr Jirakiat posted on his Facebook page on Tuesday, about 6.30pm, that the 20-year-old Myanmar man and the year-old boy had tested negative for Covid19. The result for the 17-year-old was expected on Wednesday.
He also said that the three-day closure of Kui Yae School was only a precaution against the virus spreading.
The governor asked individuals not to be overly scared. He would announce the test results of the other Myanmar man. On Wednesday morning, the governor also sent an urgent report to the Interior Ministry, updating it on the Covid-19 situation in the province.
Locals reported that although security agencies were keeping a strict watch along the border, there were as many as 40 natural crossings and some Myanmar nationals still managed to sneak into Thailand. Many are worried they would bring the virus with them from Myanmar, where an outbreak has been reported, mainly in Rakhine state in the west where many are especially infected with the more potent mutant strain D614G.
Thailand would be able to maintain its low case loads and its population protected from the more potent strains provided its keeps its borders closed and stop all incoming travel similar to what other South-East countries are doing. If it yields to economic greed to boost the travel and tourism industries, it could end up in a very dangerous position.
For more on
Thailand Coronavirus News
, keep on logging to Thailand Medical News.