Thailand Coronavirus News: Country On A Suicide Mission With The Way The COVID-19 Crisis Is Being Handled? Still No Lockdowns Or Real Mass Testing!
Thailand Coronavirus
News: Depressing news is emerging that not only are there many clusters emerging in the various crowded slums in the city but in various provinces, cases are also fast emerging.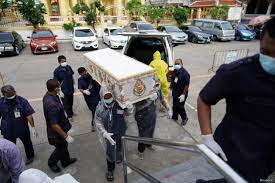 It was reported that just in Chantaburi alone, more than 137 infections were causes by an African gems trader and that cases related to this cluster has now spread to even the Silom and Suriwong Gems trade area.
https://www.bangkokpost.com/thailand/general/2114547/137-covid-cases-linked-to-african-gem-trader
In just two of the many prisons in Thailand, ie the Bangkok Remand Prison and also the Central Women's Correctional Institution , it was only reported after a student activists was released on bail and discovered to have contracted COVID-19 while in prison that there are now 2835 prisoners in these two prison infected with COVID-19. Details about infections rates in other prisons are not known.
https://www.bangkokpost.com/thailand/general/2114555/thousands-of-inmates-at-two-prisons-have-covid-19
The country's national sports teams are also reportedly getting infected with the COVID-19 disease and certain media has reported that the 22 members of Thailand women's volleyball team has been infected with COVID-19 disease.
https://sports.inquirer.net/422955/22-members-of-thailand-womens-volleyball-team-infected-with-covid-19
In Bangkok's neighbouring province, Nonthaburi, the situation is apparently getting out of control despite stringent measures with so many hotspots appearing by the hour. It was reported that just in one fresh market alone, more than 176 individuals working in the market were found to be infected with the COVID-19 disease.
https://news.thaipbs.or.th/content/304266
Even in Chiang Mai where there was a lot of propaganda that the province had got the COVID-19 situation under control and that a field hospital was closed yesterday as a result of no new infections, news is emerging about numerous small clusters propping up all over including one at Central Chiang Mai Memorial Hospital with 12 new infections.
https://news.thaipbs.or.th/content/304291
All over Thailand, various clusters are emerging and being reported like in Korat, where a new cluster due to a funeral at a village has led to 14 new infections being discovered in the last 24 hours.
https://www.thairath.co.th/news/local/northeast/2090353
In Bangkok, just in one slum area, Klong Toey, 246 new infections were found.
https://news.thaipbs.or.th/content/304282
The public does not trust the official figures released by the authorities each day wh ich seems to hover just below the 2,000 mark each day.
There was even an article in a Thai media today that says daily figures are not really cumulative of figures in 24 hours but just random figures!
https://www.thairath.co.th/news/local/2090086
Details of how many real tests are being conducted each day is not also properly disclosed but from some media reports it can be speculated that anything between 2,000 to 4,000 tests are only being conducted each day. This is truly laughable as this is what the locals are terming as mass testing out of a total population of about 70 million Thais and about 4 million more migrant workers and foreign expats in the country!
There are also not much details about what test kits are being used and whether the local versions that have not been approved by any international regulatory bodies are the ones that are being used. There are questions as to whether these locally produced test kits are really effective and can they pick up new mutations and emerging SARS-CoV-2 variants.
Foreigners and migrant workers in the country are being discriminated and treated as second class garbage when it comes to vaccines and also access to the public healthcare system. There are so many stories online in various social media platforms about this.
The same social media platforms are also listing how both local Thais and foreigners are being scammed by certain private hospitals in the country that are charging exorbitant amounts, Some reports are saying that once you are in moderate to severe stages, a 14 day stay in an ICU ward can easily exceed a million baht and can run into millions!
Meanwhile, the rich and those informed are stocking up on oxygen concentrators and even oxygen supplies. The Commerce Ministry has yet to impose price controls on these items and besides stocks running low, prices have escalated in recent days as many are anticipating that in weeks or months , Thailand might end up being worse than India.
The authorities are only emphasizing on vaccines to help solve the situation despite not many vaccines stocks easily available in the country yet!
To make matters worse, Thailand only offers two choices of vaccines at the moment, the Chinese Sinovac vaccine which many Western countries have rejected as it is claimed to have a low efficacy rate.
https://thehill.com/changing-america/well-being/prevention-cures/553096-alarming-covid-19-resurgence-in-worlds-most
and AstraZeneca, a vaccine that many countries are stopping to use due to a variety of side effects. In the last 24 hours more negative news has emerged about this vaccine.
https://www.cbc.ca/news/health/astrazeneca-vaccine-paused-canada-blood-clot-vitt-1.6022821
https://spectator.sme.sk/c/22657794/slovakia-suspends-the-use-of-the-astrazeneca-vaccine-what-does-it-mean-q-a.html
https://www.reuters.com/article/health-coronavirus-norway/update-1-norway-will-not-use-astrazeneca-covid-19-vaccine-says-daily-vg-idUSL8N2MZ3QA
https://www.mystratfordnow.com/82895/ontario-wont-offer-first-doses-of-astrazeneca-vaccine/
https://www.reuters.com/business/healthcare-pharmaceuticals/brazil-health-agency-calls-halt-astrazeneca-vaccine-pregnant-women-2021-05-11/
https://www.bbc.com/news/world-europe-jersey-57036970
https://www.theedgemarkets.com/article/indonesian-youth-dies-after-receiving-astrazeneca-vaccine-shot
https://www.reuters.com/world/europe/third-wave-pandemic-appears-be-broken-german-health-minister-2021-05-07/
There was however one substandard study done by unqualified Indonesian garbage researchers that claimed that the Sinovac vaccine was helping to protect its health care workers. It must be noted that since the early days of the COVID-19 pandemic, the Indonesian authorities played down the number of COVID-19 infections in the country either deliberately or they were clueless. Hence any studies by them should be disregarded!( according to Worldometer, Indonesia has to date more than 1.72 million COVID-1 infections and more than 47, 600 individuals have died from the disease so far according to supposedly official figures. Real figures could be much higher!)
With no lockdowns in sight as it is speculated that the authorities would not have sufficient funds to provide COVID-19 financial relief or compensation to the masses and businesses for such a lock down, it seems that the situation is expected to become worse in coming weeks.
The authorities are also busy setting more field hospitals despite claiming that they have the situation under control. (Not sure what they are not really telling us!)
Some of the dinosaurs managing the COVID-19 crisis had only last week made stupid comments that the situation had peaked or that the infection figures would drop to three or two digits a few days later!
In would be interesting to see the situation in coming weeks.
In the meanwhile those that are smart and have brains and care about yourselves and your loved ones, we suggest that you do some online due diligence about the prophylactic properties of budesonide nasal sprays (not inhalers!) and COVID-19, xylitol based mouthwashes and SARS-COV-2 and also about drinking hot concoctions of honey suckle, licorice root , green tea, nigella satvia, and various other herbs etc to help with the COVID-19 situation. It is also interesting to read up about the drugs ivermectin and also famotidine and while at it to read up about the teratogenic properties and inefficacy of favipiravir to treat COVID-19. Off course before taking anything, be it a supplement herb or repurposed drug, always consult a doctor first. (Provided you can find one that really has any knowledge about these things! Most are clueless and do not even question the recommended protocols and have not much detailed knowledge about the virus and how it affects the various cellular pathways etc in detail! There are only a few real doctors out there that truly experts in the field of COVID-19.)
For the latest
Thailand Coronavirus News
, keep on logging to Thailand Medical News.