SOUTH KOREA CORONAVIRUS EPIDEMIC: Containment Measures Failing, Situation Deteriorating. 1595 Infected, 13 Deaths, 18 Critical
South Korea
health authorities reported one more new death from the
coronavirus
and 334 new confirmed
coronavirus
cases, bringing the death in the country to 13 and the total number confirmed infected to 1595. There are 18 patients that are in critical condition and more than hundred thousand suspected cases all over the country.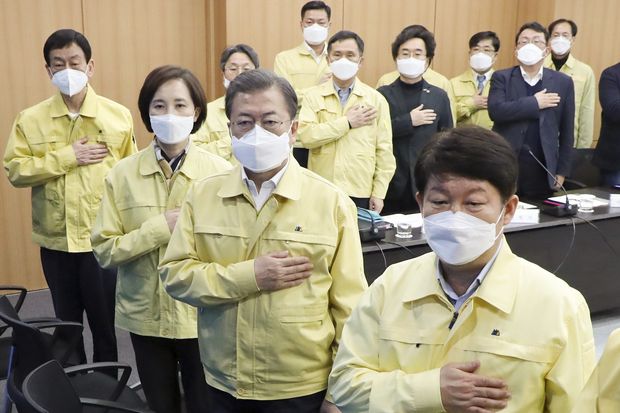 The latest death in
South Korea
was medical tourists from Mongolia who flew in for a liver transplant but instead contracted the
coronavirus
at a hospital in Seoul and died.
Almost half of newly confirmed cases came from a branch of a religious sect in the southeastern city of Daegu.
Of the 334 new cases, 307 are in Daegu, 300 kilometers southeast of Seoul, and four are in neighboring North Gyeongsang Province and the rest from other provinces.
All nine provinces in
South Korea
have infected
coronavirus
cases indicating that the spread is now nationwide ad containment efforts are failing to curtail the spread.
The total number of
coronavirus
infections in Daegu and North Gyeongsang stood at 1,017 and 321, respectively.
Seoul has seven confirmed cases so far but another 1,340 suspected cases in the city are being investigated and tested.
South Korea
n health authorities say that the number of confirmed cases is expected to jump in the coming days as health authorities began testing more than 210,000 members of the Shincheonji Church of Jesus, the main culprits behind the spread of the
coronavirus
disease in
South Korea
. Authorities said that 833 out of its 1,848 members who got tests in Daegu were confirmed to have been infected with the virus as of Wednesday.
Meanwhile more than 750,000 people in
South Korea
have signed a petition to impeach President Moon Jae-in over what they claim is the government's mishandling of the outbreak of Covid-19 in the country.
The online petition criticized Mr Moon for not banning all visitors from China, where the
coronavirus
originated, and for sending three million face masks to China. Only visitors from China's Hubei province are banned from entering
South Korea
.
The online petition calling for his impeachment was filed with the presidential Blue House on Feb 4.
One petitioner wrote: "Seeing Moon Jae-in's response to the new
coronavirus
, I feel that he is more of a President for China than Korea. We cannot just watch this catastrophe any more.... I call for impeachment."
On another development, Koreatown in Los Angeles, US is on high alert after a 25-year-old air hostess with Korean Air who had been sampling gourmet restaurants in the area tested positive for
coronavirus
.
An online post on a forum for Korean Americans on Wednesday said the flight attendant has visited four or five famous restaurants in central Koreatown and has likely to have come in contact with hundreds of people since long lines often form at the restaurants in peak hours.
Koreans there are worried and fear that anti-Korean sentiment might grow if she infected others in the area and damage business there.
The KCDC or Korea Centers for Disease Control and Prevention confirmed that the flight attendant was on the same plane as 30 Catholics who had gone on a pilgrimage to Israel and tested positive for
coronavirus
later. Their plane left Tel Aviv on Feb. 15 and arrived in
South Korea
the next day. She was then assigned to a flight to Los Angeles and returned to Korea on Feb. 22. The next day she was tested positive at a health center in Songpa, Seoul.
Meanwhile, few infected South Koreans that have been quarantined in Vietnam after testing positive on arrival with the
coronavirus
are causing a stir online by complaining about trivial details about their isolation despite the Vietnamese gracious manner of arranging for them to be put in in excellent accomodations and even taken care of in many ways.After posting certain unfounded claims online that destroyed Vietnam's reputation, many are calling that they be relocated to immigration detention facilities.
For more on
South Korea coronavirus
epidemic, keep checking at:
https://www.thailandmedical.news/articles/coronavirus