SOUTH KOREA CORONAVIRUS CRISIS ESCALATING! Total Confirmed Infected Now 204, Dead 1, Thousands Of Suspected Cases Now!
South Korea Coronavirus
crisis is now fast escalating with almost 100 new confirmed
coronavirus
cases bring the toll to now 204 as of press time.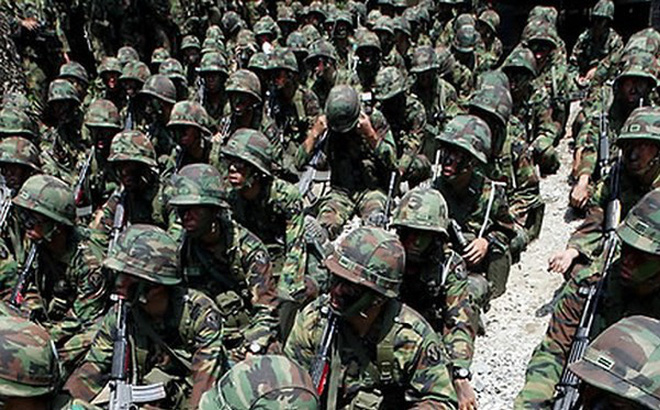 Thousands Of South Korean Troop Are Suspected Of Contracting The Coronavirus
However the numbers is expected to continue to mount as thousands are being tested with many exhibiting symptoms.
The total number in
Daegu
province alone stood at about 111
coronavirus
cases with the majority of cases originating from the Shincheonji Church of Jesus congregation. Another 409 members of the church are also complaining of symptoms but have yet to be tested. The church has an active congregation of about 1,200 members with thousands more members in other cities in
South Korea
.
Daegu
province has a population of about 2.5 million people.
Of the new
coronavirus
cases, three were soldiers including an air force officer at the Gyeryongdae military headquarters, another from the army and another a naval sailor, all coming from military bases with tens of thousands of personnel.
The
South Korea
Air Force Academy is having cadets remain in dorms to make sure they do not contact outsiders, after a parent of a new cadet was infected with
coronavirus
. The parent was from North Gyeongsang Province.
All Korean military personnel who recently visited China have been subject to examination, as the minimum incubation period for the
coronavirus
is about 14 days.
The
South Korea
military also set up a center for preventive measures and maintains a hotline with health authorities.
The Korean army has scaled down its participation in a multinational exercise in Thailand as the
coronavirus
continues to spread in Southeast Asia.
The 39th Cobra Gold exercise, co-sponsored by Thai and U.S. armed forces, is scheduled to be held from Feb. 26 through March 6.
It was said that the Korean Navy and the Marine Corps initially planned to send about 470 service personnel, eight assault amphibious vehicles and a naval ship. It has decided to send only 30 personnel.
Meanwhile, in another coronavirus cluster, The Daenam Hospital in Cheongdo, near Daegu, confirmed that there are now 16
coronavirus
infected cases, i ncluding five nurses, according to the KCDC.
There are now more than over forty thousand suspected cases all over
South Korea
including in Seoul, with a large number exhibiting symptoms.
Hospitals everywhere are overflowing with patients while businesses, companies, shops and malls have closed.
For more updates about the
South Korea Coronavirus
crisis, check out : https://www.thailandmedical.news/articles/coronavirus