Public Healthcare In Germany Collapses As Many Vaccinated Doctors And Nurses Are Falling Sick Due To SARS-CoV-2 BA.5 Infections!
Germany's COVID-19 News
: The current BA.4 and BA.5 surge in Europe is wreaking havoc across countries there and Germany which is one the most badly affected countries is also facing a collapse of its public healthcare services as besides the increased caseloads, hospitals are running out of qualified medical staff as many are themselves falling ill despite being fully vaccinated with boosters and all!
https://www.n-tv.de/panorama/Corona-Sommerwelle-duennt-Klinikpersonal-aus-article23442295.html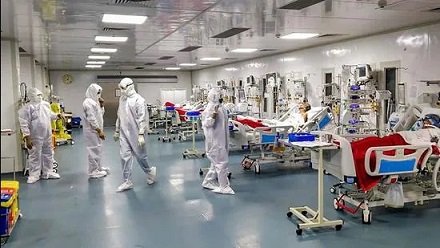 Germany's COVID-19 News
outlets reported that even one hospital had to declare an emergency after more than 70 doctors and 200 nurses all fully vaccinated contracted symptomatic BA.5 infection.
https://www.bild.de/bild-plus/ratgeber/2022/ratgeber/70-aerzte-und-200-pflegekraefte-infiziert-erster-corona-notstand-in-deutscher-kl-80580852.bild.html
(Cannot wait for the same situation to replicate in Thailand!)
Germany reported 147,489 new COVID-19 infections for the 4
th
of July.
While Certain stupid primates are claiming that the BA.4 and BA.5 variants are just as mild as the Omicron BA.1, the actual scenario in Germany is proving otherwise. Just on July the 4
th
alone, 2,178 new COVID-19 hospitalizations were recorded of which more than 1,000 were in ICU wards!
A total of 102 Germans died just in the 24 hours previous to the 4
th
of July!
https://www.rki.de/EN/Content/infections/epidemiology/outbreaks/COVID-19/Situationsberichte_Tab.html;jsessionid=9586C2ED18E94677CA2D66C9FFCE357A.internet052
Ignorant and incompetent German authorities made a stupid decision to fire unvaccinated healthcare staff months before dues to imposed vaccination mandates but now some hospitals are in dire need of doctors and nurses. Is it also ironical that it is the vaccinated that seems to be getting infected and also developing more severe symptoms compared to the unvaccinated!
Testing is also at a low level in the country as many free testing facilities have been shut and home test kits are not very reliable in picking up infections by some of the newly emerging BA.4 and BA.5 subvariants.
The German health authorities are also starting to charge its citizens 3 euros each for a rapid test kit and this also serving as a deterrent for people to get tested.
https://www.voanews.com/a/germany-to-charge-most-citizens-for-covid-rapid-tests/6633961.html
Hence many doctors and experts are predicting that the actual situation in Germany could be far more worse than even what is reported and it is expected that the death rates will rise exponential ly in coming weeks.
To make matters worse, Germany is also experiencing a monkeypox crisis with more than 1,145 cases so far and more than 3,712 individuals still being investigated and are waiting proper diagnostics to confirm their infection.
The monkeypox is also adding further stress to the collapsed public healthcare structure as even the diagnostic laboratories are having a shortage of lab technicians due to the COVID-19 crisis.
German chancellor Olaf Scholz and health minister Karl Lauterbach have to date not responded to the growing healthcare crisis in Germany and have not announced any new measures for the time being despite emerging protest from Doctors, Nurses and healthcare staff.
https://www.wsws.org/en/articles/2022/06/15/xuik-j15.html
The German health minister is however focusing on procuring and distributing more stocks of the oral COVID-19 drug Paxlovid and also increasing booster shots among it citizens.
https://www.channelnewsasia.com/world/covid-19-paxlovid-germany-move-boost-use-pill-severe-cases-2787596
This wrong strategic approach is most likely to backfire very badly on its local population as already its emerging that Paxlovid does nothing to help against the new BA.4 and BA.5 variants and already drug resistance is also developing in the emerging subvariants of these both variants. The booster shots are also of no help in the case of the new variants and in fact in might be aggravating the situation as emerging data is showing that these extra booster could be causing the host immune system to become dysfunctional while the concept of the original antigenic sin concept is also taking root fast in these new infections with the current vaccines being involved.
https://www.biorxiv.org/content/10.1101/2022.06.28.497978v1
https://www.biorxiv.org/content/10.1101/2022.05.21.492928v1
https://www.biorxiv.org/content/10.1101/2022.04.30.489997v1.full
Germany which has a population of 84.3 million people so far has more than 28.54 million people already exposed to the SARS-CoV-2 virus. (Actual figures could be as high and 2.6-fold!) and more than 141,397 Germans have died from the disease so far. (Actual figures could be as high as 4.2-fold including excess deaths related to COVID-19).
It is expected than in the next 8 weeks, more than 14,000 people are expected to die from COVID-19 in Germany on an optimistic perspective.
Thailand
Medical News
would also like to warn our readers of certain German and Indian entities peddling bogus COVID-19 and Long COVID-19 liquid phytochemical therapeutics that have no efficacy and worse it should be noted that phytochemicals in stored liquid forms do not retain their much of their bioactivity after less than 14 days after extraction and worse when recombined with other phytochemicals.
For proper prophylactics and also therapeutics for COVID-19 and Long COVID, join our Premium content section that will be launched on the 11
th
of July.
For the latest
Germany's COVID-19 News
, keep on logging to Thailand
Medical News
.