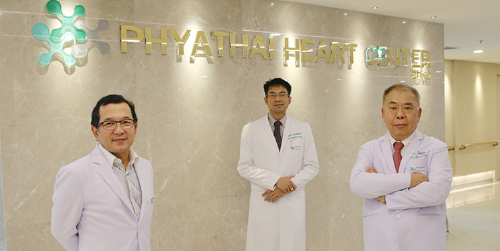 Phyathai 2 Hospital moves forward with their Centers of Excellence policy, invested more than 100 million baht ($3.12 million) into the Heart Center in efforts to optimize the quality of care and outfit with the most cutting edge medical technology to be the foremost cardiac treatment center in Asia.
Dr. Thouantosaporn Suwanjutah, Heart Center Director of Phyathai 2 Hospital said that the
hospital is expecting
increase in their heart patients to around 85% in Thailand and 15% from the overseas market. The main focus will be on China, Cambodia, Myanmar, Vietnam, Laos and the Middle East, drawing on its outstanding medical foundation that includes diagnostic tests and treatments for heart-related diseases, cardiac or chest treatment and surgery.
The Phyathai 2 Hospital's Heart Center is certified by the Joint Commission International Standards of Clinical Care Program Certifications (CCPC) on the Acute MI (Acute Myocardial infarction) program to service customers as the myocardial ischemia patients, medical services, heart disease patients, internal medicine and surgery including adult and child patients. The hospital has the cardiothoracic surgery team and surgeons available 24 hours per day with high technology medical equipment such as the Hybrid Operating room is developed to merge interventional approach with traditional surgical function of the operating room, allowing the cardiologist to perform minimally invasive and open-surgery techniques simultaneously. Phyathai 2 Hospital's Heart Center has the capacity to treat up to 150 outpatient per day, also inpatient and patients in recovery in around 30 patients per day, a total of around 1,000 patients per month.
"
Thailand has given the healthcare industry top priority
, as seen in the government's policy to promote and support the country to be the "Medical Hub of Asia" for several years. This is a perfect opportunity for Phyathai 2 Hospital to drive forward the Heart Center aims for Asia Cardiology Hub" said Dr. Thouantosaporn
Source: Phyathai 2