New single-tablet regimens show long-term effectiveness in HIV management according to studies.
The newest once-daily, all-in-one HIV combination pills can maintain undetectable viral load for two years and counting, according to a set of studies presented at ID Week 2018 this month in San Francisco.
Two phase 3 clinical trials showed that most people who took the bictegravir-based
Biktarvy
co-formulation or the doravirine-based
Delstrigo
pill for first-line therapy continued to have undetectable viral load at 96 weeks. Another study showed that the darunavir-based
Symtuza
combination pill maintained viral suppression for two years in people who switched from another suppressive regimen.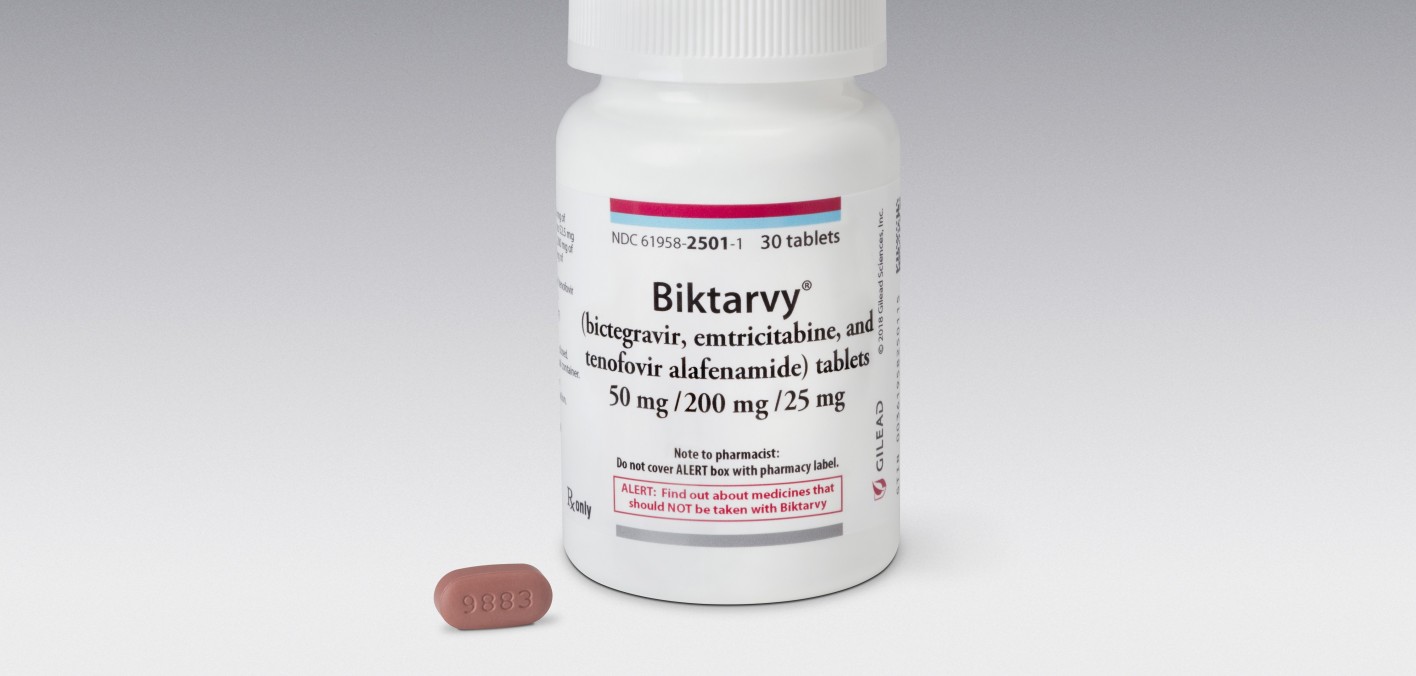 Biktarvy for first-line therapy

David Wohl of the University of North Carolina presented the latest results from a head-to-head comparison of the Biktarvy and Triumeq single-tablet regimens in 629 study participants in Europe and North America who were starting HIV treatment for the first time. The primary 48 week results were presented at the International AIDS Society Conference on HIV Science (IAS 2017) last summer.

Biktarvy contains the next-generation integrase inhibitor bictegravir, emtricitabine (FTC) and tenofovir alafenamide (TAF), a newer formulation that causes less kidney and bone toxicity than the older tenofovir disoproxil fumarate (TDF). Triumeq consists of the integrase inhibitor dolutegravir plus abacavir and lamivudine (3TC).

Most study participants (90%) were men and the median age was approximately 32 years. The median CD4 count was about 450 cells/mm3, but 10% had less than 200 cells/mm3, indicating substantial immune damage. Because they could be randomised to either regimen, they had to be HLA B*5701 negative to guard against abacavir hypersensitivity and could not have hepatitis B virus (HBV) co-infection, as Biktarvy but not Triumeq includes drugs that are active against HBV.
At 96 weeks, 87.9% of Biktarvy recipients and 89.8% of Triumeq recipients had HIV RNA below 50 copies/ml, demonstrating that Biktarvy remained non-inferior to Triumeq. The two regimens worked about equally well in people who started with high or low viral load, Wohl said. Virological failure was rare (0.6% and 2.2%, respectively) and no new resistance mutations were seen in either treatment group. Follow-up will continue to 144 weeks.

Treatment was safe and well tolerated. No one stopped treatment due to adverse events in the Biktarvy arm and five did so in the Triumeq arm. There were two deaths in the Biktarvy arm (a drug overdose and a suicide).

Drug-related adverse events were reported significantly less often in the Biktarvy group (28% vs 40%, respectiv ely). The most common adverse events in both groups were diarrhoea, headache, nausea and upper respiratory infections. Side-effects were generally similar, except nausea was about twice as likely among those taking Triumeq (11% vs 24%).

Estimated glomerular filtration rate (eGFR), a measure of kidney function, declined by a similar amount in both arms – changes Wohl said were probably clinically irrelevant. No Biktarvy recipients developed proximal tubulopathy, a type of kidney damage sometimes associated with the older version of tenofovir. Decreases in bone density after starting treatment were small and similar in both groups. Total and LDL cholesterol levels rose significantly more in the Biktarvy arm, but only about 4% in each arm were put on lipid-lowering drugs.

"These results provide further evidence of longer-term safety, efficacy, and high barrier to resistance of [Biktarvy] in people living with HIV-1," the researchers concluded.

Delstrigo for first-line therapy

Kathleen Squires of Thomas Jefferson University in Philadelphia presented updated findings from the phase 3 DRIVE-AHEAD study, which looked at first-line treatment with Delstrigo, a new single-tablet regimen containing the next-generation non-nucleoside reverse transcriptase inhibitor (NNRTI) doravirine plus TDF and lamivudine. Delstrigo was approved by the US Food and Drug Administration last month.

This study enrolled 728 previously untreated people. About 85% were men and the median age was 31 years. The mean baseline CD4 count was approximately 420 cells/mm3 and about 22% had high viral load above 100,000 copies/ml. They were randomly assigned to receive Delstrigo or the Atriplaco-formulation, which contains the NNRTI efavirenz, TDF and emtricitabine.

Squires reported 48 week results from the study at IAS 2017. At IDWeek she reported 96-week results, showing that 77.5% of Delstrigo recipients and 73.6% of Atripla recipients still had viral load below 50 copies/ml. Virological failure was uncommon in both groups (9% and 8%, respectively) and less than 2% developed resistance to doravirine or nucleoside/nucleotide reverse transcriptase inhibitors.

Delstrigo was also generally safe and well tolerated with prolonged use. About half as many people taking Delstrigo reported drug-related adverse events at week 96 compared with those taking Atripla(32% vs 65%, respectively). The difference was largely attributable to fewer neuropsychiatric side-effects in the Delstrigo arm including dizziness (10% vs 38%), sleep disorders (14% vs 28%), abnormal dreams (5% vs 12%) and altered cognition (5% vs 9%). Cholesterol and triglyceride levels showed little or no change in the Delstrigo group but increased in the Atripla group.

Symtuza as a switch option

Joseph Eron, also from the University of North Carolina, presented long-term results from the EMERALD study, which evaluated Symtuza – the first protease inhibitor-based single-tablet regimen – which contains darunavir, cobicistat as a booster, TAF and emtricitabine.

This phase 3 trial enrolled 1141 participants in Europe and the US. More than 80% were men and the median age was 46 years. They had been HIV positive for a median of nine years and were highly treatment experienced. The median CD4 count was 628 cells/mm3 and they had normal kidney function.

At baseline, they were required to have viral load below 50 copies/ml at for at least two months on their current regimen. Most (70%) were already using boosted darunavir in a multi-pill regimen, while 22% were on boosted atazanavir (Reyataz) and 8% were on lopinavir/ritonavir (Kaletra). They were randomly assigned to stay on this regimen or switch to Symtuza.

Eron presented the primary 48 weeks results at last year's IDWeek. At that point, those who had stayed on their baseline regimen could also switch to Symtuza.

This year he reported that after 96 weeks, 91% of those initially randomised to Symtuza still had HIV RNA below 50 copies/ml. Just 3.1% experienced protocol-defined virological failure using this viral load threshold, and 0.5% did so using a cut-off of 200 copies/ml. No new resistance mutations were observed.

Here too, treatment was generally safe and well tolerated. At 96 weeks, 22% of Symtuza recipients had experienced drug-related side-effects, but less than 1% were considered serious and only 2% led to drug discontinuation.

There were no clinically relevant changes in eGFR through week 96 and no one developed proximal tubulopathy or Fanconi syndrome. Hip and spine bone density rose after switching to Symtuza, with about a third of participants seeing at least a 3% gain. Cholesterol and triglyceride levels also rose after the switch, but there were no further increases between week 48 and week 96. Twenty people (3%) started lipid-lowering drugs by week 48 and 59 (8%) did so by week 96.

"The 96-week results from the EMERALD study demonstrate that Symtuza can offer clinically appropriate people living with HIV a single-tablet option that may help them maintain high rates of virologic suppression over time," Eron said.

Long-term data from the AMBER study, which is evaluating Symtuza for first-line treatment, will be presented at the HIV Glasgow Congress later this month.

Taken together, the results of these studies provide reassurance that people taking the most recently approved all-in-one antiretroviral regimens can expect ongoing viral suppression and continued good tolerability.

References
Wohl D et al. A phase 3, randomized, controlled clinical trial of bictegravir in a fixed-dose combination, B/F/TAF, vs ABC/DTG/3TC in treatment-naïve adults at week 96. IDWeek, abstract LB4, 2018.
https://idsa.confex.com/idsa/2018/webprogram/Paper74246.html

Orkin C et al (Squires K presenting). Doravirine/lamivudine/tenofovir DF continues to be non-inferior to efavirenz/emtricitabine/tenofovir DF in treatment-naive adults with HIV-1 infection: week 96 results of the DRIVE-AHEAD trial. IDWeek, abstract LB1, 2018.
https://idsa.confex.com/idsa/2018/webprogram/Paper73851.html

Eron J et al. Efficacy and safety of switching from boosted-protease inhibitors (bPI) plus emtricitabine/tenofovir disoproxil fumarate (F/TDF) regimens to the once daily (QD), single-tablet regimen (STR) of darunavir/cobicistat/emtricitabine/tenofovir alafenamide (D/C/F/TAF) in virologically-suppressed, hiv-1-infected adults: week 96 results of the phase 3, randomized, non-inferiority EMERALD trial. IDWeek, abstract 1768, 2018.
https://idsa.confex.com/idsa/2018/webprogram/Paper72755.html