New Rapid Acoustic Pulse (RAP) Device That Speeds Up Laser Tattoo Removal.
A company is in Houston, Texas is introducing new acoustic shockwave technology for quicker laser tattoo removal. What's more, the new device also shows potential in aesthetics market for cellulite and fat removal.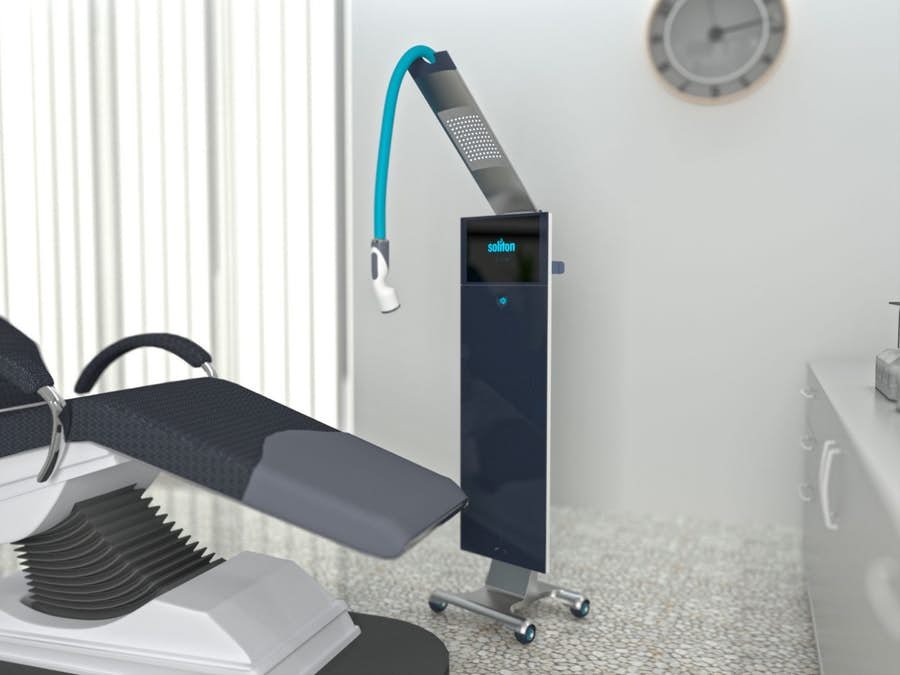 The patented Rapid Acoustic Pulse (RAP) device by Soliton Inc, uses acoustic shockwaves that accelerated the speed of tattoo removal when used with lasers, delivering results in as little as two to three treatments versus the 10 to 12 average with the current standard of care lasers alone, the company states in a news release.
The acoustic shockwaves from Soliton's RAP device are capable of blasting apart the ink clusters within the skin, making more ink particles vulnerable to laser treatment. Also, the RAP disperses the steam vacuoles created by the laser's heat, allowing multiple effective laser passes in a single office visit. In human clinical trials, this new method allowed the Soliton RAP treatments to be up to three or more times as effective than laser alone.
Although preclinical animal testing demonstrates the ability of RAP to accelerate tattoo fading in multiple colors, the Company's human clinical trials to date have been limited to black tattoos. There can be no assurance that RAP will show the same level of efficacy on colors other than black in future clinical trials. In pivotal human clinical trial of 32 tattoos, one treatment session using the Soliton RAP method resulted in an average of 49 percent fading, compared with just 16 percent fading using laser alone.
"We believe the Soliton RAP may be adopted as the new standard for tattoo removal. Because it significantly accelerates the removal process, we think tattoo owners will be much more likely to be satisfied with their results, which we believe will lead to a higher percentage of patients completing the process. Imagine how much better it will be if a tattoo could be gone after just two or three office visits – instead of the 10 to 12 visits over 1 to 2 years using current methods? Importantly, in our human clinical testing, the RAP treatment seems well tolerated by all patients and rated by most to be virtually painless," says Walter Klemp, co-founder and Executive Chairman of Soliton in a news release.
RAP Technology for Cellulite, Fat Removal
Soliton observed that RAP has the potential to reverse or eliminate skin laxity as well as the appearance of cellulite by creating mechanical stress at the cellular level and inducing significant collagen growth. This potential indication could position Soliton RAP as a stand-alone device, without the need for lasers or other procedures.
In animal studies, Soliton also discovered that their patented shockwave technology may have the potential to blast apart fat cells which could make today's most popular fat reduction technologies more effective. The Soliton RAP is already in a collaborative trial with a global aesthetics company to test RAP's ability to accelerate that company's own fat reduction technology. This clinical trial is early stage and intended as a proof-of-concept and there is no assurance that the trial will have a successful outcome.
"We are extremely encouraged with the RAP's potential applications in the
aesthetics industry
and are gratified that our Scient ific Advisory Board now includes a number of top dermatologists and that our Board of Directors includes current and past executives from the makers of CoolSculpting, who are able to provide important guidance as we develop this technology," Klemp says.
Reference: Tattoo Removal Trials by Soliton, https://www.soliton.com/trials/