Pancreatic cancer is one of the most lethal forms of cancer due to its resistance to traditional chemotherapy, but what is worrying is that the number of cases on pancreatic cancer is rising exponentially each year. Projections from the American Cancer Society indicates that about 45,000 people in the US alone and about 1.3 million people worldwide might die from this cancer this year alone , surpassing deaths from breast, brain or ovarian cancers.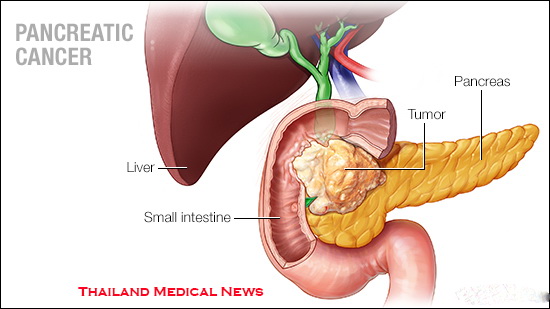 A team from West Virginia University is exploring whether the combination of cancer drugs called FOLFIRINOX , can assists in cases of pancreatic cancer that are termed "borderline resectable", ie conditions in which the tumor may be too close to critical blood vessels to be surgically removed safely, has discovered the effectiveness of that approach and also a new protocol for treatment.
In a phone interview with Thailand Medical News, Dr Brian Boone,lead oncologists of the research team and assistant professor in the School of Medicine's Department of Surgery commented,"most pancreatic tumors are very close to several important blood vessels that a patient cannot live without. FOLFIRINOX helps to shrink the tumor off of the vein and change it from borderline resectable to resectable, or removable by surgery."
Meta-analysis of 24 studies, and studies focused on 313 cases of borderline resectable pancreatic cancer that were treated with FOLFIRINOX found that FOLFIRINOX prolonged patients' lives, on average, and made surgery possible in more instances.
67.8 percent of the pancreatic tumors included in the study responded well enough to FOLFIRINOX such that they could be completely removed surgically. Normally, complete removal of the tumor is accomplished in a far lower number of patients without treatment before surgery and often requires removal of a portion of the vein.
Patients who took FOLFIRINOX survived for 22.2 months overall. Without the drug, patients with borderline resectable cancer tend to survive for about 12 months.
Reference: Quisette P Janssen et al, Neoadjuvant FOLFIRINOX in patients with borderline resectable pancreatic cancer: a systematic review and patient-level meta-analysis, JNCI: Journal of the National Cancer Institute (2019). DOI: 10.1093/jnci/djz073