MUST READ! COVID-19 Drug Research: Ivermectin Might Emerge As One Of The Most Suitable Drug Candidates For COVID-19
COVID-19 Drug Research
: For the past week, lots of media was abuzz about the results of an in vitro study by Australian researchers involving Ivermectin, a drug used to treat parasitic infections.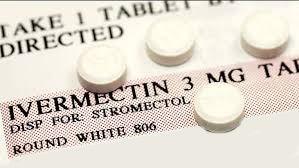 A single dose anti-parasitic drug was found to be able to stop the SARS-CoV-2 coronavirus from replicating in cells within 48 hours, according to findings from the vitro studies by Monash University's Biomedicine Discovery Institute (BDI), working with the Peter Doherty Institute of Infection and Immunity.
Dr Kylie Wagstaff from Monash Biomedicine Discovery Institute's commented, "We found that even a single dose could essentially remove all viral RNA by 48 hours and that even at 24 hours there was a really significant reduction in it."
The study was published in the journal On Antiviral Research.
https://doi.org/10.1016/j.antiviral.2020.104787
We at Thailand Medical News initially decided to hold off covering the development till more supporting evidence appeared, however it seems that there are more data that supports it usage but for whatever reasons, entities involved are holding off making any official announcements.
The US FDA approved drug, Ivermectin, has been used widely used for decades. It was introduced as a veterinary drug in the 1970s and subsequently was used to treat humans for a variety of parasitic infections and also head lice, scabies etc.
In the vitro study, the medical researchers infected cells with SARS-CoV-2, then exposed them to ivermectin. "We showed that a single dose of ivermectin could kill COVID-19 in a petri dish within 48 hours, indicating potent antiviral activity," says study co-author Dr David Jans, PhD, a Professor of Biochemistry and molecular biology at Monash University in Melbourne.
While the Australian researchers warned that it was still too early till studies were conducted in humans, which the same group has already started already doing so, it emerged that there were groups already conducting human trials in London and Maryland, US under special circumstances and that there were already animal studies done in early March by the same group in Maryland, US that did not want to publish the studies just yet.
Dr Jans said, "The main way ivermectin works is to target a key molecule of our cells that helps the virus to proliferate. By stopping this, the virus replicates more slowly, and so our immune system has a better chance to mount the antiviral response and kill the virus. Giving this or any antiviral drug early is thought to give the body the best chance of beating infection."
In past studies, the researchers say, the drug has been shown to work against dengue fever and to limit infections similar to COVID-19, such as the West Nile virus.
Dr Jans added that the drug is "safe at relatively high doses".
However, Thailand Medical News has come across reports that say the drug can be neurotoxic at doses above 35mg.
; "This vitro study certainly piqued our interest," says Dr Jill Weatherhead, MD, an assistant professor of adult and pediatric infectious diseases at Baylor College of Medicine in Houston. Her clinic uses the medicine to treat intestinal parasites found in international travelers or immigrants.
The critical caveat, says Dr Weatherhead, who reviewed the study but was not involved in the research, is that it was done in a lab. But "at this point, any lead we have should be investigated," she says. "What we really need to know is, could you translate that concentration of the drug used in the lab study into human studies and have it be safe?" (Dr Wethearhead at the time of making the comment was not aware that human clinical trials were already being conducted elsewhere.)
Royal Melbourne Hospital's Dr Leon Caly, a Senior Medical Scientist at the Victorian Infectious Diseases Reference Laboratory (VIDRL) at the Doherty Institute where the experiments with live coronavirus were conducted, is the study's first author.
Dr Caly commented, "As the virologist who was part of the team who were first to isolate and share SARS-COV2 outside of China in January 2020, I am excited about the prospect of Ivermectin being used as a potential drug against COVID-19"
Dr Wagstaff in the past made a breakthrough finding on Ivermectin in 2012 when she identified the drug and its antiviral activity with Monash Biomedicine Discovery Institute's Professor Dr David Jans, also an author on this paper. Dr Jans and his team have been researching Ivermectin for more than 10 years with different viruses.
Dr Wagstaff and Professor Jans started investigating whether it worked on the SARS-CoV-2 virus as soon as the pandemic was known to have started.
"In times when we're having a global pandemic and there isn't an approved treatment, if we had a compound that was already available around the world then that might help people sooner, it is best to explore it faster. Realistically it's going to be a while before a vaccine is broadly available."
However what is unknown to most people is that an animal study had already been conducted in early March using mice and results were promising while a human study underway in Maryland in US involving 31 has to date yielded positive results patients (3 did not respond to the drug while in one, the virus load actually increased and conditions deteriorated) but the entity does not want to make an official public statement yet nor have the study findings made available just yet. At least another other four studies involving invermectin are underway including in Britain, Cuba and also in two other South-East Asian countries.
While it was reported that in many media that invermectin was widely available and cheap, we found the situation to be actually the reverse.
Invermectin for humans in tablet forms were hard to procur as there are very few manufacturers making it over the last few years. Globally there were only like 4 manufacturers making it under two standard brand names. To make things worse, an important API (active pharmaceutical ingredient) that is key to manufacturing it is not easy to procur and needs at least a lead time of 6 to 8 months for production of just the API and not the actual finished product.
The product itself is not cheap, in Asia prior to the announcement about the success in vitro studies, retail prices were going for between US$28 to US60 per pkt of 12 tablets while after the announcements, prices have escalated to as high as US$1250 as the drug is yet to be placed under price controls or being restricted.
However, there are also draw backs that once governments place it as a restricted drug, it will mean that common people will no longer have access to the drug and it will be controlled by health authorities where in some countries, only the privileged, rich or influential will only have access to it.
It should also be noted that in some countries, drugs that are being advocated for experimental use to treat COVID-19, despite being repurposed actually have no proper efficacy studies to support its use but are being advocated for political and monetary gains.
For instance, Avigan or favipiravir a Japanese pharmaceutical product that China not only bought a generic license but now also has controlling interest in the company through proxies and also controls the supply of APIs to the company, has been aggressively promoted for use by China despite the fact that there were no real proper clinical studies to support its usage while many pre-prints and studies done in China were manipulated by the Chinese government.
An interesting point to note it that the drug itself is not widely used in China. However China has donated supplies to various countries to promote its 'goodwill' while countries have to order more from it or through the Japanese company at extremely higher prices and also with attached diplomatic conditions. Hence it is very apparent that China is using the drug as a sort of bargaining tool.
Should invermectin efficacy studies not be adopted by more countries quickly, bigger pharmaceutical companies and also governments might quickly "kill" it so that the spotlight remains on the more toxic antivirals like China's favipiravir, Gilead's remdisevir, French, Sanofi's and Trump's chloroquine, etc
Thailand Medical New
warns any readers against attempting to buy invermectin and consuming it without consulting a doctor. Also do not attempt to buy invermectin that is meant for livestock as consuming it as it can be fatal.
Invermectin for humans should be consumed in a right manner including test dosing for reactions before staring on the actual dosing.
In addition, other drugs and supplements need to also be taken as the drug will only eradicate the virus while existing symptoms need to be taken off and also repair to damage lungs, red blood cells etc needs to be addressed. We will be publishing the detailed guidelines soon.
For more on the latest development on
COVID-19 drug research
, keep logging on to
Thailand Medical News
Thailand Medical News urgently needs your help for donations to sustain this site and also for a private study to be done on invermectin in a neighbouring South-East Asian country. Please help us by donating via paypal at:
https://www.thailandmedical.news/p/sponsorship