More Than 100 Chinese Tourists With Symptoms In Krabi, Thailand, China Death Toll: 258, Infected 11082, Critical 1,932, Observation 257,320, Russia, Spain, Sweden Reporting Cases
(UPDATE: As of Saturday late morning , Mr. Somkuan Khanngern, Deputy Director of Krabi And Dr. Suphot Phu Kao-Luan, Director of Krabi Hospital, held another press conference at Krabi to announce that the earlier press conference on Friday by the Provincial health authorities were not true and that there are only five Chinese tourists in Krabi under observations and those too most probably had only common flu. Thailand Medical News recommends that all readers do their own due diligence as it seems that all announcements during official press conferences in Thailand can no longer be trusted and that there are even some individuals spreading fake news during media press conferences! This is not good as it can damage the country's image.)
Earlier Story:
Provincial health officials from the resort province of Krabi in
Thailand
have reported during a press conference yesterday that more than 100 Chinese Nationals in the province are exhibiting symptoms of the
coronavirus o
utbreak and are being put under surveillance while proper diagnostic tests are done to confirm whether or not they are really having the
coronavirus
or are just merely exhibiting symptoms of flu. 5 are reported in critical condition requiring immediate attention and also further tests to confirm the infection.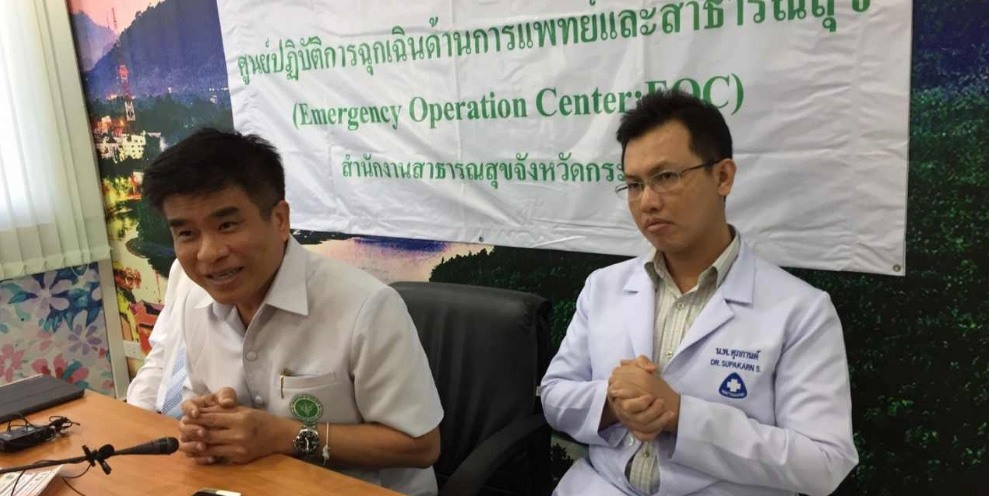 The situation in Krabi,
Thailand
was announced by Dr. Wittaya Watthanuengkowit, a doctor from Krabi Provincial Health Office in the evening yesterday. The provincial authorities in Krabi are also preparing all its provincial hospitals to be on alert and to accomodate an influx as it is suspected that there are lots more China tourists in the province who are infected but are hiding at the moment.
There a few suspected cases all over
Thailand
at the moment including in provinces like Chiang Mai, Phuket, Pattaya, Sri Racha and also Hadyai. Almost all of them are Chinese tourists and most of them are now adopting an approach of keeping a very low profile at the moment which is actually not helping the situation.
Meanwhile in China, despite reassurances of the Chinese government that they have the situation under control, nationwide, patients by the thousands are over crowding hospitals all over the country with many being turned away. Hospitals are overworked and there is acute medical supplies shortage. There is not even enough test kits and thousands of patients even in critical conditions have yet to be tested (read our previous article..
https://www.thailandmedical.news/news/one-of-the-important-item-in-the-fight-against-coronavirus-pcr-test-kits-thermocyclers-and-pcr-sequencers%E2%80%93how-many-countries-are-truly-prepared
)
The Chinese health authorities as usual released the death and infecte d tolls from the
coronavirus
with a focus on Hubei (in must be noted that all figures released by Chinese Health authorities are not reliable) while figures for cities like Henan, Shanghai, Chongqing, Guiyang , Shenzhen and Hengyang were not properly accounted for as these cities are now resembling Hubei in terms of people sick and dying.) reporting a total death toll of 258, numbers infected as confirming having the coronavirus as 11082, those as being in critical condition as 1,932.
Meanwhile Russia, Spain and Sweden have reported cases of the
coronavirus
in their countries joining countries like Britain and also Italy.
In Russia, there was two confirmed cases of the
coronavirus,
both Chinese nationals while in Spain, a man was confirmed with the virus on the remote island of La Gomera in the Canaries with another more four suspected cases.
Meanwhile in Sweden, A female patient in her early twenties at the Ryhov County Hospital in Jönköping, central-southern Sweden, has tested positive for the
coronavirus,
the Public Health Agency of Sweden (Folkhälsomyndigheten) confirmed.
The US has confirmed it seventh
coronavirus
case, an adult male in Santa Clara County, California who was tested positive.
The updated number of global
coronavirus
infected cases stands as :
Thailand
(19 cases), Singapore (16 cases), Hong Kong (11 cases), Japan (11 cases), Taiwan (9 cases), Malaysia (8 cases), Australia (7 cases), Macau (7 cases), South Korea (7 cases), United States (7 cases), France (5 cases), UAE (4 cases), Germany (4 cases), Canada (3 cases), Italy (2 cases), Vietnam (2 cases), Britain (2 cases), Russia (2 cases), Nepal (1 case), Mexico (1 case) Africa-Cote d'Ivoire (1case), Africa –Zambia (1 case) Sri Lanka (1 case), Ukraine (1 case), Finland (1 case), Philippines (1 case), India-Kerala (I case), Sweden(1 case) Spain (1 case), Brazil (1 case)
The virus has now spread to about 30 countries worldwide thanks to Chinese tourists. There are currently about 138 cases worldwide with thousands more being observed and pending test results.
For more updates about the
China

coronavirus

epidemic
or the
Thailand Coronavirus
scenario, keep on checking at :
https://www.thailandmedical.news/articles/coronavirus