Monkeypox News: More Than Another 100 New Monkeypox Cases In The Last 24 Hours! Total Confirmed Cases Globally Rises To 807 With Another 46 Probable!
Monkeypox News
: Looks like the Western gay communities are simply ignoring all warnings about monkeypox and are simply still busy 'humping away' recklessly! Various pride events and gay events often culminating in after event mass orgies or public sex are still taking place in various parts of Europe and the United States! Gay saunas and cruising hotspots are open with business as usual!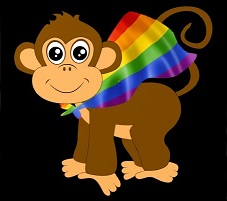 In the last 24 hours, more than a 100 new monkeypox cases have been detected globally bringing the total number of confirmed monkeypox cases to 807 with another 46 probable cases and thousands more undergoing investigations.
According to the latest
Monkeypox News
, the disease is now found in 35 countries mainly in Europe, North America and South America and in a few Middle-east countries like the UAE and Iran with hypocritical 'naughty muslims' who are not adhering to their religious practices!
The United Kingdom still leads the monkeypox 'race' with more 207 confirmed cases now and one probable case and another 1328 individuals under investigation. Spain has 156 confirmed cases and 20 probable cases now with another 452 under investigation. Portugal has 138 confirmed cases and Germany has 65 confirmed cases. Canada has 58 confirmed cases, 20 probable cases and 517 people under investigation. The United States has 22 confirmed cases so far with more than 896 individuals under investigation.
It is also surprising that Bangkok that is the gay capital of Asia has no confirmed cases of monkeypox so far despite all outbound and inbound travel restrictions being lifted. Perhaps it is because the primates in the healthcare sector are still deciphering as to how to diagnose the disease!
One of the gay apps that starts with G is planning a massive series of gay events in Bangkok in September with organizers and groups from Singapore, China, Malaysia and the United Kingdom involved and unless the Thai government steps in, such events could end up being super spreader events as well.
Almost 82% of the cases involved gay or bisexual men who contracted the disease via sex and the rest were individuals from the general population who contracted it via airborne transmissions.
What is now worrying researchers is that monkeypox which is a DNA virus that normally does not mutate much is now evolving fast and various genomic sequences from various countries are now indicating that more mutations are appearing.
https://www.thailandmedical.news/news/latest-monkeypox-cases-increasing-fasts-in-the-last-24-hours-uk-alone-now-has-180-confirmed-cases-new-data-shows-monkeypox-mutating-rapidly
Clinical manifestations and mode of transmissions also seem to be atypical of what is found normally in monkeypox cases in the African continent.
Most of the cases now are reporting besides the signature pustules, skin lesions especially in the groin areas that do not seem to be resolving despite use of steroids, antimicrobials or even other drugs. Also, many infected are displaying unexplained weigh loss, chronic fatigue, movement disorders and also cognitive decline which has never been see in previous monkeypox outbreaks in the African continent! Continued mild fevers and elevated body temperatures are also another common occurrence.
It should be interesting to see what happens especially in the United Kingdom as the monkeypox cases surge along with the start of the BA.4 and BA.5 wave in the country along with whatever pathogens or other diseases that are emerging among the filth in that country!
Countries should start implementing stringent screenings for arrivals from the United Kingdom as a safety measure and in fact stop allowing nationals from that country in order to be safe. Travel alerts should also be upgraded.
For the latest
Monkeypox News
, keep on logging to Thailand Medical News.