Many of the Young Who Died In Japan In the Ongoing Seventh COVID-19 Wave Caused By The BA.5 Variant Were Healthy And Had No Existing Comorbidities!
On the Friday 16
th
of September, Japan recorded another 173 COVID-19 Deaths and 75,902 new COVID-19 infections despite low testing rates.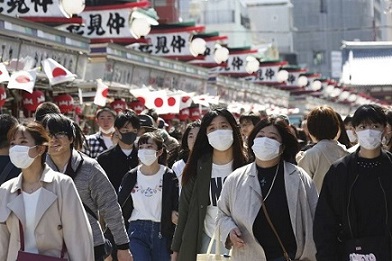 The country Japan confirmed 70,975 cases of the coronavirus infection on Saturday with another 138 deaths. Tokyo alone reported 8,018 new cases of COVID-19 on Saturday and ten deaths.
Since the 1
st
of August 2022 to till the 16
th
of September, the reported number of COVID-19 deaths stands at about 11,752. (Local physicians say the actual amounts could be as high as six to seven-fold!).
In reality the current COVID-19 wave In Japan is showing no signs of slowing and the only thing that has been observed are Japanese authorities trying to cut down and reduce testing while also creating an illusion to its citizens that the surge is over!
https://www.thailandmedical.news/news/what-is-really-happening-in-japan-covid-19-death-rates-are-spiraling-out-of-control-and-mortuaries-overflowing-but-authorities-are-painting-a-differen
What is even more concerning is that many who are dying daily are not the aged or those in the vulnerable groups such as the obese, the young, the immunocompromised, or those with existing comorbidities but rather young adults and youths who have been healthy and without ant pre-existing health issues!
The local Japanese news outlet…NHK World Japan, reported that a survey recently conducted by the Japan's National Institute of Infectious Diseases, alarmingly showed that among the many youths under the age of 2 who died in the ongoing wave, almost half were healthy individuals without any known health issues!
https://www3.nhk.or.jp/nhkworld/en/news/20220915_06/
Many also had already received the vaccinations!
The survey on a group of people under the age of 20 who died from the coronavirus has found that about half of them had no underlying health problems.
According to various
Japan COVID-19 News
outlets, Japan's National Institute of Infectious Diseases examined records on young individuals who developed coronavirus symptoms and died between January and August this year, when the omicron variant spread rapidly in the country. The institute reported results of its survey to the health ministry's panel of experts last Wednesday.
Medical researchers at the institute closely examined 29 deaths just from a single day. By age, eight were under 12 months old, six were aged from one through four. Twelve others were aged from five through 11, and three were aged from 12 through 19. Among them, 15, or about half, had no underlying health issues.
Interestingly, of the 15 who were eligible for vaccinations, two had been vaccinated twice.
Upon hospital admission, 79 percent had fever, 52 percent complained of nausea and vomiting, and 45 percent had impaired consciousness.
It was found that impaired consciousness, vomiting and convulsion were the most common symptoms among those without underlying health problems.
The medical researchers said that for this reason, it is important to watch for non-respiratory symptoms as well.
For the 26 people for whom there were records of the date symptoms began, 73 percent died in less than one week.
Dr Wakita Takaji, who heads the National Institute of Infectious Diseases, stressed the importance of having children take measures to prevent infections.
Besides the youths, many of the others who are dying are also young adults below the age of 50 again most without any existing health issues.
Dr Takaji added, "The number of daily COVID-19 deaths is still high , with the occupancy rates of hospital beds (for COVID-19 patients) rising and many patients unable to receive adequate treatment due to temporary closures of hospital wards caused by an increase of infected health care workers."
He further added, "The number of deaths during the seventh wave is exceeding that of the sixth wave but what is worse is that we might also be entering into the eight wave simultaneously with the new BA.2.75 variants and its various emerging sub-lineages."
He called on people to wear unwoven masks even while on holiday, as well as continue to avoid closed, crowded and close-contact, also known as the 3C settings.
He warned that said even if new cases are starting to decrease in some areas, medical institutions cannot be optimistic due to mass infections at facilities for the elderly. He said, "We are concerned about future developments in the situation."
Dr Takaji added that social and economic activities as a whole are being affected due to a surge in the number of people who had close contact with infected individuals.
For more latest
Japan COVID-19 News
, keep on logging to Thailand
Medical News
.