LATEST! Monkeypox Expected To Be One Of The Many Other Predominant Global Diseases This Year With COVID-19 Induced Immunodeficiencies!
As of the last few hours, the number of
monkeypox
confirmed infections has reached 150 cases covering 15 countries. Countries where cases have been confirmed includes: UK (21 cases), Portugal (34 cases), Spain (49 cases), Canada (26 cases), Italy (3 cases), Belgium (3 cases), Australia (2 cases), Netherlands (3 cases), France (1 case), USA (2 cases), Germany (2 cases), Sweden (I case), Israel (I case), Greece (1 case) and Switzerland (1 case). Thousands of probable or suspected cases are undergoing further clinical testing and suspected cases have also propped up in India and Singapore while in the African continent, it is now suspected that hundreds of cases are going undetected each day due to lack of access to medical facilities. It is also believed that the spread of this new
monkeypox
viral strains could have been going on for weeks now and there could already be hundreds of unidentified individuals who could be spreading the disease without even being aware as monkeypox has a long incubation period spanning between one to two weeks!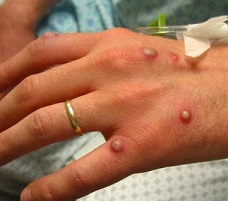 Already the WHO regional director for Europe Dr Hans Kluge today has warned that cases of the rare monkeypox virus could accelerate in the coming months, as the virus spread across Europe.
He said, "As we enter the summer season with mass gatherings, festivals and parties, I am concerned that transmission could accelerate".
The new strain of the monkeypox virus which is unlike those identified in the past, and a recent preliminary report by researchers in Portugal claiming that a genome sequencing study suggested that it belong to Western African Clade that is less fatal is not true as new data shows that the these new strains are different from the two distinct clades of the past. At the moment that is not data to show whether these new strains are more or less fatal that previous strains.
The new strain however causes the distinctive pustules seen in other infections with other strains and is often accompanied by fever, fatigue and also body pains.
Dr Kluge has said that the spread in recent weeks in many countries is "atypical" He added, "All but one of the recent cases have no relevant travel history to areas where monkeypox is endemic."
The WHO health official warned that transmission could be boosted by the fact that "the cases currently being detected are among those engaging in sexual activity", and many do not recognize the symptoms.
To date, most of the initial cases of the disease have been among men who have sex with men and sought treatment at sexual health clinics, Dr Kluge said, adding "this suggests that transmission may have been ongoing for some time".
The WHO or World Health Organization has said it is investigating the fact that many cases reported were people identifying as gay, bisexual or men who have sex with men.
The WHO's official's statement came as France, Belgium and Germany reported their first cases of monkeypox and Italy confirmed it now had three linked cases of the disease.
It was reported that Belgium's three confirmed cases of monkeypox were linked a large-scale fetish festival in the port city of Antwerp, organizers of the Darklands Festival said.
Health authorities in Spain now reported a total of 49 cases, most linked to a gay-friendly sauna in the heart of the capital. It was likely these figures had not yet been included in the nationwide tally.
French health authorities said the virus had infected 29-year-old man living in the area that includes Paris.
Despite most cases involved sexual transmissions, health experts are warning that the new strains are airborne.
Health officials in UK on Friday reported 11 more confirmed cases in England, taking its total to 21.
The UKHSA's (UK Health Security Agency) chief medical adviser, Dr Susan Hopkins, said she expected "this increase to continue in the coming days and for more cases to be identified in the wider community".
Dr Hopkins urged gay and bisexual men to look out for symptoms, saying a "notable proportion" of cases in the UK and Europe came from this group.
To date, monkeypox has never been described as a sexually transmitted infection, the UKHSA said. It can be transmitted through contact with skin lesions and droplets of a contaminated person, as well as shared items such as bedding and towels.
Sajid Javid UK Health Secretary sought to reassure the public, tweeting: "Most cases are mild and I can confirm we have procured further doses of vaccines that are effective against monkeypox."
Symptoms of the disease include fever, muscle aches, swollen lymph nodes, chills, exhaustion and a chickenpox-like rash on the hands and face.
The first monkeypox case in was announced on May 7, in a patient who had recently travelled to Nigeria.
https://www.thailandmedical.news/news/breaking-uk-health-authorities-confirms-first-case-of-monkey-pox-imported-from-nigeria-with-more-individuals-under-investigation
Subsequently, two more cases were reported a week later, in people in the same household. They had no link to the first case.
Authorities from UKHSA said that four further cases announced May 16 all identified as gay, bisexual or other men who have sex with men and appeared to have been infected in London.
The UKHSA also said two new cases reported on May 18 also had no history of travel to countries where the virus is endemic and "it is possible they acquired the infection through community transmission".
On Thursday, health authorities in Italy announced the country's first case of monkeypox, in a young man recently returned from the Canary Islands. On Friday they said two further cases, linked to "patient zero", had been confirmed.
Two cases of monkeypox have been detected in Australia, following reported cases in several European countries. Both are in men just returned from Europe.
Medical experts are warning that with billions across the world who have been exposed to the SARS-CoV-2 virus, many will have dysfunctional immune systems and majority also experiencing COVID-19 induced immunodeficiencies and as such, a lot of people will be susceptible to secondary opportunistic pathogenic infections including monkeypox.
Also, there is a new hypothesis circulating that with billions experiencing immune dysfunctions and COVID-19 induced immunodeficiencies, a lot of dormant pathogens ranging from viruses, bacteria and fungi will start to emerge and also the human host which undergoing a shift in its immune landscape, will also induce some of these pathogens to also evolve and hence give rise to new strains or variants of these pathogens.
It is expected that not just monkey pox will become a predominant global disease in coming months but also many other infections and diseases including things like mumps, various different types of herpes, EBV and HPV infections, TB, various types of fungal infections, etc
As more SARS-CoV-2 emerging variants emerge that are more immune evasive and transmissable, we can expect non-stop cycles of the host immune system being 'bombarded' and becoming more weakened and dysfunctional and being more susceptible to secondary opportunistic pathogenic infections that themselves are also evolving due to the new host immunity landscape!
The coming months and years will indeed be fun times as the human population is expected to deplete.
For more, keep on the
monkeypox
crisis, keep on logging to Thailand Medical News.