Latest: Coronavirus Spreading In The Middle-East Fast. Besides UAE, Lebanon, Egypt, Iraq, Iran and Israel, Now Cases Emerging In Kuwait, Bahrain and Afghanistan.
The first
Middle-East
coronavirus
cases were reported in
UAE
on the 29
th
of January 2020 when a family of four locals had contracted the disease on a trip to Wuhan, since then the number had only slowly grown to a total of 13 confirmed
coronavirus
cases in the whole of
UAE
, of which 3 have since 'recovered' and only two are in critical condition.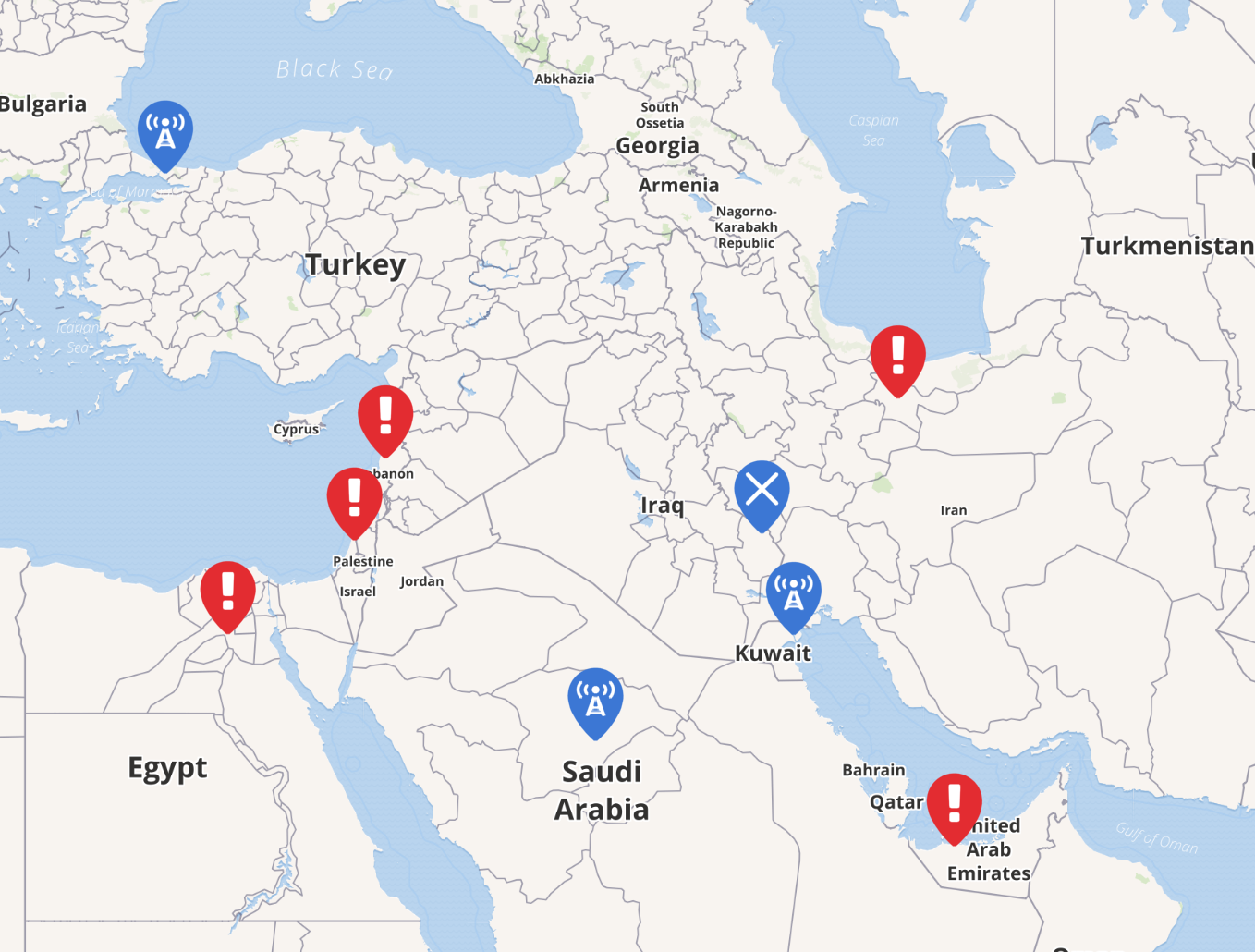 Subsequently single cases were detected in
Egypt
, Lebanon and two in
Israel
.
On the 19
th
Of February,
Iran
announced its first two cases of the
coronavirus
, of which both died the next day. (Sources are saying that the
coronavirus
infections were already manifesting in
Iran
much earlier but local authorities and doctors were 'mistaking' it for another influenza strain.)
As the
coronavirus
epidemic spiraled out of control in Iran over the last few days with more than 12 deaths now (Monday 24
th
February as of 4pm Bangkok time) and more than 47 confirmed
coronavirus
infected cases. (in reality the figures are much higher), the Covid-19 disease has now spread to
Iraq
, (I case) ,
Kuwait
(3 cases, )
Bahrain
(1 case) and
Afghanistan
(1 case).
Though the numbers look small, the worrying factor is that there are thousands of suspected cases that are being investigated all over in each country with the majority in Iran.
The lack of sufficient test kits and adherence to proper protocols is making diagnosis an issue while certain countries do not even have testing facilities such as
Afghanistan
,
Iraq
and
Lebanon
.
The
Middle-East
could be the next hotbed region if coordinated efforts are not put into place which is most unlikely considering that there is a long history of mistrust and conflict between each other in the region.
The new cases in
Kuwait
and
Bahrain
involve people who had visited Iran, which has reported 47 cases of
the covid-19
disease.
The state news agency KUNA said that
Kuwait
detected the
coronavirus
in three people among 700 who had been evacuated on Saturday from the north-eastern Iranian city of Mashhad
Kuwait
government officials identified them as a 53-year-old Kuwaiti man, a 61-year-old
Saudi
man and a 21-year-old whose nationality was unclear. It said the Kuwaiti and
Saudi
had been asymptomatic while the third person showed initial symptoms.
Meanwhile, the health ministry in
Bahrain
on Monday said a Bahraini national who arrived from
Iran
had been diagnosed with the disease and that &ld quo;all necessary measures have been taken with individuals in contact with the patient".
Also
Afghanistan
's minister of public health said on Monday the country had identified its first case of
coronavirus
, following dozens of cases of the disease and twelve deaths in neighbouring
Iran
.
Ferozuddin Feroz, the minister of public health, told a press conference in Kabul one of three suspected cases had been confirmed in the western province of Herat. He announced a state of emergency in the province, which borders
Iran
, where dozens of cases of the disease have been confirmed and twelve people have died.
Qatar Airways
announced it will quarantine passengers arriving from
Iran
and
South Korea
who show symptoms for the virus. Passengers who show symptoms will be transferred to the communicable disease centre at the Hamad Medical Corporation. All incoming passengers from
Iran
and
South Korea
whose final destination is
Doha
and are showing no symptoms will be asked to stay in home isolation or a quarantine facility for 14 days.
For more on the
Middle-east
Coronavirus
situation, kindly keep checking at:
https://www.thailandmedical.news/articles/coronavirus