Iranian Government Totally Incompetent At Handling Coronavirus Crisis. MP Dies. Dead 145, Infected 5823, Hospitalized 16,725
Iran
will ultimately suffer massive deaths and infected cases unless the WHO and UN intervenes as its government is totally incompetent at handling the coronavirus situation despite all their initial cover ups and lies and even tactics of intimidating doctors and healthcare staff from talking to the media.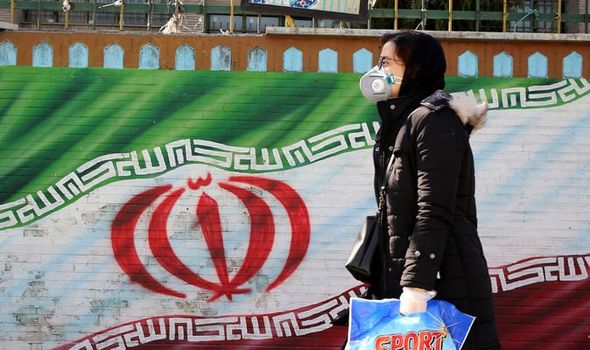 To compound to its incompetence, it is estimated that more than 23 per cent of senior government officials are infected with the SARS-CoV-2 coronavirus that causes the Covid-19 disease.
The semi-official Tasnim news agency reported on Saturday (March 7),that an Iranian law MP has died from the coronavirus, in an another sign the disease is spreading within state institutions.
The Iranian MP who died on Friday is Ms Fatemeh Rahbar, a conservative lawmaker from Teheran, Tasnim said. It did not say if she was included in the country's official toll of 124 deaths from the virus, given on Friday.
Just a few days ago, On March 2, Tasnim reported the death of Mr Mohammad Mirmohammadi, a member of the Expediency Council, intended to resolve disputes between Parliament and the Guardian Council, a governmental body that vets electoral candidates, among other duties.
Iran's deputy health minister, Mr Iraj Harirchi, and another MP, Mr Mahmoud Sadeghi, have also said they have contracted the virus while also a Vice-President has also been reported infected.
Iran has been scrambling to contain the rapid spread of the virus and on Saturday reported 21 new deaths and 1,076 fresh cases in the past 24 hours, bringing the overall tolls to 145 dead and 5,823 infected.
"More than 16,000 people are currently hospitalized as suspect cases," health ministry spokesman Kianoush Jahanpour said in a televised news conference as he announced the tolls.
Iran has closed schools and universities, suspended major cultural and sporting events and reduced working hours across the country to slow the contagion, which has spread to all of its 31 provinces.
Healthcare professionals are complaining that there are no test kits (We were contacted by Iranian officials saying that they wanted to procure test kits but they never responded back!) and medical supplies were in acute shortages. To make matters worse, their healthcare infrastructure was not even prepared to handle any such breakouts as they lack even basic equipment like CT Scans, X -Ray machines, ventilators etc.
Infected Iranian families are desperately trying to flee the country by trying to get onboard flights to countries that have yet to ban them, causing a potential dangerous situation for other countries.
For more developments on the
coronavirus pandemic
, keep logging on to:
https://www.thailandmedical.news/articles/coronavirus